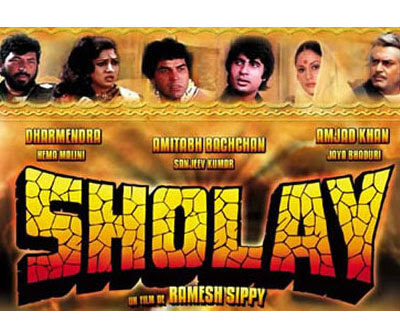 Sholay is set to be released 37 years after its original release on August 15, 1975 to the day. Yes, on August 15th, 2012 Independence Day, the magic of Sholay will once again no doubt fill cinema halls with its all star cast of Dharmendra, Amitabh Bachchan, Sanjeev Kumar, Hema Malini, Jaya Bhaduri (Bachchan) and Amjad Khan. 
Sholay, which when first released ran for 286 weeks straight and was ranked by IndiaTimes as one of the 'Top 25 must see Bollywood films' as well as being awarded 'The Best Film of 50 Years' in 2005 by Filmfare; and making BFI'S 'Top Indian Films.'
Nobody can deny that Sholay was a hit and that the film has gone on to become a phenomenal success. However, rumours circulating seem to suggest that Mukhta Arts who previously had been working on turning Sholay 3D have removed themselves from the project due to the Sippy family (Owners of the Film) being involved in legal hassles.
Now, the project seems to be in the hands of Pen India Private Ltd who told TOI, "We are planning to release the movie on Aug 15 because it was released on the same day in 1975. The idea of the 3D version came from copyright owners of the movie. I believe, it is the best movie to augment with special effects. After 20 years of its release when the movie was first screened on DD national, it registered a TRP of 65. That is the highest TRP of any movie showcased on Indian television. We hope, people will like its 3D form as well."
Big plans are being made for Sholay 3D, with Jayanti Lal Gada (distributor and financer of Sholay 3D) talking about promotional gear being made such as, "Jai, Veeru and Gabbar merchandise like games, toys and even biscuits." While also adding to the Hindustan Times, "We've made a Rs. 25 crore investment for the 3D conversion. The film is targeted at the entire generation that hasn't seen the magic of Sholay in theatres, as well as those who have seen the film countless times."
Gada is confident that the 3D version will do well whilst Shaan Uttam Singh one of the copyright owners of the movie told TOI, "The project is almost complete and will release on August 15. The movie is a classic and people will love to watch it with the technological augmentation."
As Anupama Chopra – author of Sholay – The Making of a Classic said, "Sholay is no longer just a film, it's an event." The 3D Sholay will surely be a magnificent event, one which will be celebrated for years to come.