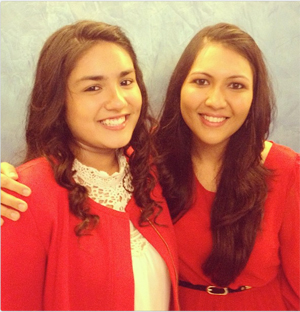 Coming out on May 10th is a film that has caught everyone's attention from stars, to directors, to producers and to fans people can't wait to see Gippi. Directed by newcomer Sonam Nair, Gippi is a new type of film for Indian cinema because it is the coming of age story of a young girl.
Gippi is a 14-year-old girl who lives in Simla with her mother Pappi and little brother Booboo. She is overweight and awkward and doesn't know how to handle the physical, emotional and social changes happening in her life. In school, she is a backbencher and is constantly bullied by the popular queen-bee Shamira. In the middle of all this chaos, she falls madly in love with an older, brooding heartbreaker. When her love story comes to a humiliating end, and she is publicly scorned, she decides to take her life in her hands and accepts Shamira's challenge to stand against her in the school elections. Whatever the final outcome might be, Gippi makes sure she has a great time in the journey, filling it with delicious desserts, funny teachers, school crushes, and Shammi Kapoor dances. Gippi is a coming-of-age story of an ordinary, overweight girl, who, through the course of the film, learns to love herself for exactly who she is. It is also a tale of an underdog, who picks herself up from nothing and finds herself at the top of her own little world.
Check out what fabulous Sonam Nair had to say about the story, the message, the casting, what KJo said and more as she talks about all things Gippi! I loved talking to her and I know you will love reading about her enthusiasm, excitement and love for this film!
What inspired you to make this film?
Actually my own life. It is very heavily based on my own experiences as a teenager going through that puberty stage and also being overweight at that point of time and how that affected my self worth. I thought it would be a fun thing to write about because I had been through it. I think now, looking back at it, it seemed like a really fun, different experience, but while you are going through it, it is really tough and agonizing.
Tell us about how Gippi came to be.
I worked on Wake Up Sid and I worked on Saat Khoon Maaf and then after that I kind of got over AD-ing (Assistant Directing). So I thought I would write a script just to show people, 'Listen, I am a good writer! Hire me to write your scripts!' because I didn't think anyone would let me direct. I wrote the script and gave it to Ayan [Mukerji], who directed Wake Up Sid, and asked what he thought. He said, 'Listen, this is a really good script and it should be made into a movie, so do you think you can do it?' I was like 'YA, I CAN DO IT [you can hear her enthusiasm! – ed] … but who wants to put their money and faith in me?' He said, 'Why don't you work on the script a little bit and I will take it to Karan [Johar]'. After a couple of drafts, he gave Karan the script and said, 'It is a cute script – you might want to read it'. Karan started to kind of read it and then he got really hooked on it and he kept reading it. The next day he called me and he said to come for a meeting. I went thinking, okay, he will be like, good job, stay around Dharma, something like that, but he said, 'I really like your script and I want to make it'! It was pretty much overnight.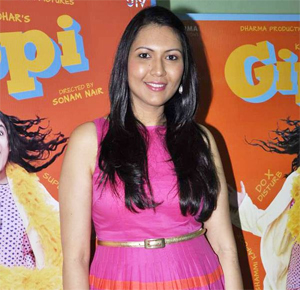 So what was your reaction when he said that to you?
I was actually really blank and I was in denial. (Laughs) I couldn't believe him. I thought it can't be this easy: I can't just write a script, give it to him and three days later he tells me he wants to make it. So, yes, I was in a bit of denial for a couple of weeks. Then Dharma called me and they said, 'When did you want to start working? Do you want to hire a couple of people?' I was like, 'Oh My God, this is really happening! Oh, okay then, I guess I will just make a film now'.
Okay so then first day, first shot, what was that first feeling?
You know I didn't think of it as a really big thing. I don't know why. It was just a really young, fun atmosphere on set. We all had been doing workshops and hanging out together anyway to get all the kids comfortable. It just seemed like another day and I just went on. It was really comfortable. I didn't think I was doing something really out of my comfort zone. I was like… Okay, great now it is time to put it on camera…Roll Camera – Action! (Laughs)
Tell us about casting Gippi.
OH GOD! I think this was the toughest part of the entire experience was finding Gippi and finding her classmates. Gippi is the most important, but then you have these five-six kids who are really important to the story as well. We knew that we would not be able to find actors at that age. We don't really have that kind of age group in India, so I knew I would have to cast real kids. So we went to about 50-60 schools in Bombay and Delhi. We first started to just look at kids and see if any of them looked like the characters. Then we would see, okay can they act even a little bit or anything? (Laughs) Because you know they were just going to class one day and we would be just like, 'Hi guys, we are here for a film, come talk to us'. It was a long process and we saw about 30,000 children. And it wasn't like I was spoiled for choice by the end; I barely had one or two choices for each character. I just went by my gut feeling. Casting was very, very tough.
Riya is amazing… in just the trailer and songs she has such a great screen presence and is just so natural. As you said she had no acting experience, so how did you get that out of her…
She is so shy and withdrawn in real life that you would never guess that she was going to be a lead actress of the film. What helped is that she never was acting. I had to explain the scene to her and I would tell her why Gippi is doing this and what she is going through. It was pretty similar to her own life – all these kids were going through that stuff. The natural thinking she did very easily, because she doesn't know how to act, she didn't face the camera and give any fake expressions, she would just say the lines as she would in real life, so that helped. Then, well, I would just well basically have to do it and then she would imitate me. We really became a good team where she knew how to imitate me perfectly and then we would get the scene.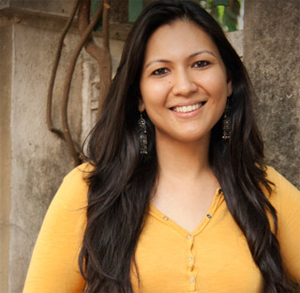 I bet you had a lot of fun doing that…
(Laughs) Ya! I love acting and like I said, I had written the character based on myself, so it was really easy for me to say, this is how I would say it so now you say it like that.
It seems a director almost has to be an actor at the same time, would you say that to be true?
That was how I directed everybody on set, even the experienced actors. I told them the scene and I explained to them the motivation of the character. But the easiest thing I found, because also I had to finish my film really quickly, was to act everything out and they would just get it and I didn't have to explain. But I think more experienced actors might find it a little condescending. (Laughs)
So there is an old saying, never work with kids or animals on films, what would you say about that?
Yeah!(Laughs) I loved it! I thought it was one big party with kids. They were so much fun. There was never any kind of egos on set. There was never a filmi environment on set. It was always like you were at a summer camp doing a little bit of film as a project. It really helped everything to be easy and everybody just talked to each other really casually. There was no this person is a star, this person is a lesser star, this is a character actor, everybody was kind of like a big group of kids. My crew was also consistent of really young people. I had a lot of fun. Also they were so hungry to work they would never say okay that is enough… I could get 30-40 takes out of them and they would still keep giving it.
Tell us about working with the amazing Divya Dutta.
She is such a good actress. Her character has a lot of depth. The other kids are having fun and they are going through life in the movie, but her character has a past. She is a single mother, she is trying to cope; she just wants her kid to be happy. She is a little sad and lonely so her character needed this kind of dual personality thing going on. Each scene where she is really happy and bubbly, you know there is an underlying sorrow to her that is unspoken. It was a really tough thing to pull off and she would do it really well. Her scenes are the best scenes I think performancewise. I still cry for a couple of her scenes and she does too and she says I have never made myself cry. They have come out really well, I think.
How was it to work with Taaha Shah on the film?
I always thought of him as one of the kids. I just didn't think of him as an experienced actor though he is slightly older than them. But it was really fun. His character is like this brooding, cool, bad boy, so we all kind of had fun with it. I would give him tips on how to talk and how to seduce girls. (Laughs) I was like come on man you should know this. (Laughs) But it was really sweet because he also was really hungry and wanted to do a lot with each scene. It wasn't like I will just do it and go home, he would come fully prepared with hundred questions and I would like be okay, fine I will answer each one. (Laughs) He is a very, very hungry passionate actor so I hope he gets a lot of work after Gippi because he is really good in it.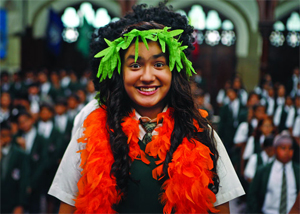 He told me about how excited you were on set and about your calling cut and how you would say it really enthusiastically…
(Laughs) I was having the time of my life on set because I was getting to make my film. Every day I woke up really happy and I would be excited on set! I think that it was also needed because you need to motivate the kids like that. I couldn't go all grumpy and let's just do this scene. I had to get them excited. I was like a little kid myself. I did these things to make them feel like they have done something good today. If they have a really good take I would scream on the mike 'THAT WAS AWESOME!!' and come give them a hug and it was so happy. I would just yell something and it just makes everyone feel happy that they did something good, you know? I think that sometimes I would forget he's an adult or the other stars are adults and I would do the same to them. (Laughs)
One of the things he said he loved about the film is that it talks about and the message is you have to confident in you own self. Would you say that to be the message of the film?
Yes and not just confident, but the message is you should love yourself for who you are and not try to be like other people or try to set standards that are not meant for you. It just shows how, especially at that age, you feel very kind of insecure. You don't know were you stand on the ladder of what's good, what's not good, where do you fit and you just listen to your peers and what they say. So if someone calls you ugly you feel ugly, if somebody calls you stupid, you feel okay, I am ugly, stupid. You don't know what you are, you haven't figured out who you are yet. Especially at that point, a lot of how you feel about yourself then kind of defines how you think about yourself forever. I think it is an important message to put out there, so at that time, when you are going through puberty and becoming an adult just kind of try and like yourself at that point, otherwise you are going to have serious issues when you grow up.
This is a new avenue for Bollywood, a teen adolescent film, which even as I watching the trailer I said yes this is something that cinema needs…
Yeah! When I wrote it, I didn't think of it like that, but now that it is coming out I really think it shocking that we don't have a film like this already. It is so shocking. It is not really a very complicated plot, it is just a simple thing that every girl goes through and we haven't yet managed to put these things up on screen… I don't understand why that happened or how that happened. I am very happy that I am going to be the first one to talk about what a girl goes through during puberty, in India at least. That is a cool thing for me. I hope we can be a little more proactive in dealing with these kind of subjects that exist around us, but I don't know, people just shy away I guess because they think it won't make a lot of money.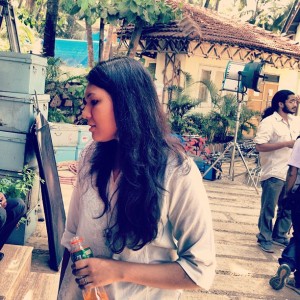 How was it to work for Karan Johar?
He is awesome. He is totally generous and giving. I mean first that he made the film, is really generous of him and then he just never says no. I didn't go to him a lot because I was a little hesitant to go to him with all my problems. But whenever I went to him and I said, 'Can I have this space? Can I have this? Can I have Vishal-Shekhar? Can I have the rights to some song?', he was always like, 'Ya, ya sure, sure, we will arrange it for you don't worry.' He just doesn't say no. And he lets you make the film you want to make. He doesn't interfere; he doesn't constantly look in on you. I am so thankful he has the confidence in me to let me make my own film but then you get a little extra scared actually, because he has given you so much freedom… you better deliver. So that's a tactic I think that worked. (Laughs) He's great. I don't think I can work with any other producer after him.
You mentioned the great Vishal-Shekhar, Tell us about the music of the film.
I went to Vishal-Shekhar and I said I know I am coming with a children themed film, but I want music that everyone would like. I don't know why but people limit themselves to the genre of the film and say okay, for example, if my audience is children I want only kids music. I didn't want that, I didn't want only kids music. I wanted music that everybody can dance too and have fun. It is a very eclectic album. There is a Bhojpuri track 'Baby Se Babydoll', which is my favorite. It is so quirky and out of the blue. It is super fun! Kids love it, adults love it, truck drivers love it, businessmen love it (laughs) everybody loves it and that is what I wanted for the entire album. The first song ['We Are Like This Only'] was a bit modern, 'Baby Se Babydoll' is full rustic, the third one ['Pehn Di Takki'] is a Punjabi track and it again is like a club super fun dance song. Then I have a love song, which is a waltz, which is so pretty and has a beautiful symphony that they recorded in Chennai. That also has the best video I think because it is this girl Gippi in love. She is just in love and it is that first love. It is the best video. Then I have a sad song, which Shekhar has sung. It is really beautiful. He has sung it like I don't think he has ever sung before, so beautifully.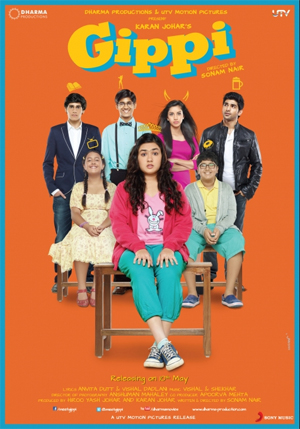 The response has been so fabulous from the first trailer; did you expect that because this is something different for Hindi cinema?
It was a risk. I obviously was hoping for the best, but none of us knew what was going to happen the day we put the trailer up. We really didn't know because it could just be a wash out and nobody gives a shit or could be like something everybody found interesting. Thankfully it was the second thing that happened. It created a buzz and now the film has to speak for itself. Thankfully without any stars or glamour or any like new thing, you know, usually if there are no stars there is sex in it or horror in it or something really dramatic. This is none of those things. It is just a simple sweet film and I guess that worked on its own level.
What are your hopes for Gippi?
I don't know I am just happy I made a film and it's going to be watched by people. (Laughs) I hope that I can establish my own voice with this film because it is 100% my voice. I have written it, I have lived through it and I have directed every little ounce of it myself, there are no other opinions or voices in there. I think that will be nice, that people can see me and what I am about and know what I can offer to the industry.
Are you happy with your final product?
I am very happy!! I love my film. When people ask me I just tell them, 'Listen, my film is really good, just watch it!'
So after this more films?
Ya, Ya I can't stop! I have already been thinking about my next film. I have a few ideas jotted down. I am going to meet Karan the day after my film releases on what's next. So yeah this is something I will never stop doing. It is addictive. It is the best job ever!
Be sure to check out Gippi on May 10th!