The first half of 2012 has featured some of the best soundtracks in quite some time, with music directors creating innovative songs that kept us hooked. However, even though we may love gems like Gangs of Wasseypur or From Sydney with Love, and biggies like Cocktail and Rowdy Rathore, the lineup for late 2012 looks just as promising. Fall 2012 is definitely Khan season, with Shah Rukh's untitled film with Yash Chopra, Aamir's home production of Talaash, and Salman's humongously awaited sequel to Dabangg all being released. Despite this, the latter part of the year is going to have a gratifying number of heroines dominating: Sridevi, Kareena Kapoor, Rani Mukherjee and Preity Zinta each have their films releasing during September and October. Vanessa and I had such a lively conversation on what's got us excited for the rest of 2012. Here's some of the soundtracks we cannot wait to hear!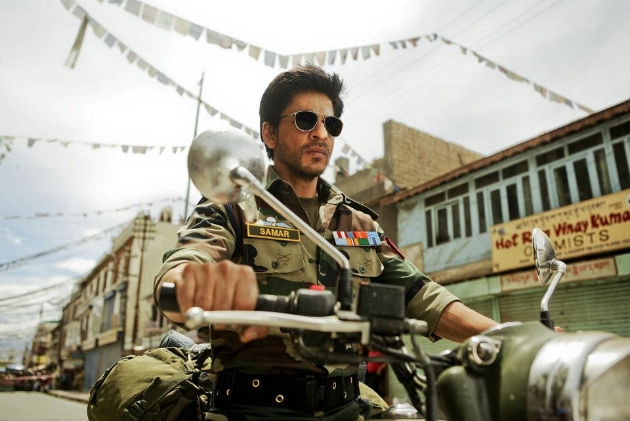 Yash Chopra's Untitled Project
It's safe to say that this is definitely a biggie for all involved. Yash Chopra is making a directorial comeback to his key romance genre, Shah Rukh looks to be reprising that loverboy charm, and AR Rahman is working for the first time with Yashraj. Shah Rukh is paired with Anushka Sharma and Katrina Kaif, and from the stills we've seen it looks pretty cute.
Ness: So let's start with Yash Chopra's Untitled Project because it's A R Rahman and Gulzar. COME ON, this is going to be amazing
Rum:  I know, I am a bit skeptical with how AR Rahman is going to approach the Yashraj sort of formula. There's usually the Punjabi wedding song, the peppy contemporary song, the endless romantic ones, and the rustic number. I feel like AR could do it, as I'm sure it will come together seamlessly. I've recently heard that they've asked Katrina to sing which could be great or embarrassing!
Ness:  Yeah – he hasn't worked with Yash Raj films before, but then, I feel like he can work within the constraints of the "genre" songs. I mean, who expected the Rockstar soundtrack to be THAT epic? And yes Kat…it could be awful. Let's hope that's a rumour.
Rum:  Haha, I hope so too! I will further claim that I WAS SO WRONG about Rockstar, the movie really helped in appreciating the songs. With AR, his Ekk Deewana Tha didn't gel very well, so there's quite a lot riding on this.
Ness:  Well and also – look how well Sohail Sen managed to inject a little life into a YRF soundtrack, working within the mainstream but not being overly generic with his work on Mere Brother Ki Dulhan.
Rum:   Totally, if Amit Trivedi has been able to invert the YRF formula in Ishaqzaade then definitely AR could do it. Which is what I think is key with most AR Rahman songs, as his range and arrangements are so expansive and wide, that it completely comes together onscreen.Just look at something as grand as Taal, where the music was so sweeping and romantic but worked for the overblown and characteristic Subhash Ghai style.
Ness:  YES!  It will definitely be interesting to see how YRF and AR Rahman come together
Rum:  I think the usual Gulzar and AR Rahman pairing could really work for the expectations of the films being a giant and epic Yash Chopra movie.
Ness:  Oh, the pairing definitely adds credibility.
Rum:  And Gulzar's lyrics are often so eloquent and poignant that it completely suits the romance of the   film!
Ness:  Yes,just reading those two names associated with the film makes me really excited for the music at the very least!!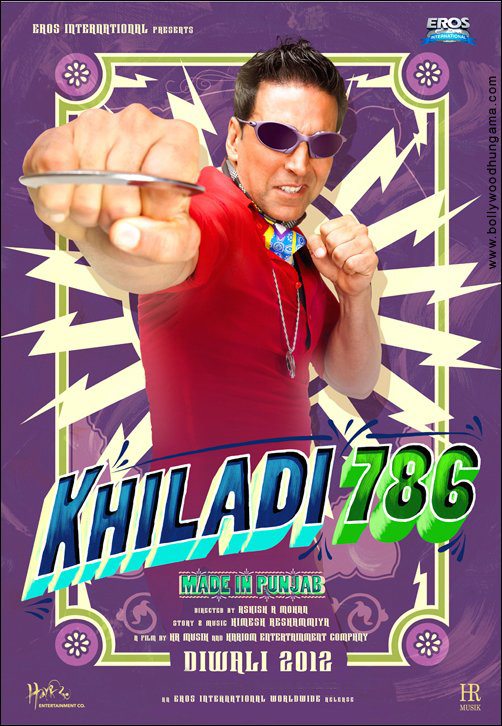 Khiladi 786
As you may or may not know, we are extremely ardent fans of Himesh Reshammiya and especially when he acts on screen. Often Himesh's films are not ones you would usually shout out that you adore, but we're guilty of that. I loved Radio, and Vanessa praised Damadamm to the skies. So we are super excited for Himesh getting into the big leagues by featuring in Akshay Kumar's return to his iconic Khiladi franchise. With Akshay's dream run at the box office, the film has a lot street cred and the album has already been released with music by Mr, Himesh himself. Take a listen, we liked the old school and retro sound that recalls an 80s or 90s masala film!
Ness:  The combo of Akki and Himesh being in the film is awesome. I know many people will be like "OH NO!" about Himesh acting though!
Rum: Yeah! But I am so looking forward to that! As you know I love him, as an actor…which brings more badnaam to my tastes!
Ness:  I reckon if he's IN IT he'll give himself a song, SURELY! There are rabid Himessssshhh fans like us out there, KHILADI 786 FOR THEM!
Rum:  I know, I mean I liked the Dangerous Ishq OST, so I think this could definitely be impressive.
Ness:  Say what you like about his acting (haters) but he's a fantastic composer.
Rum:  Himesh was definitely one of those Bhatt camp guys in the beginning, and much of Emraan Hashmi's hit songs come from him. I think this kind of a masala film could really do well for him. To regain that hit streak, and show that he can keep up with Sajid and Wajid who've taken over the masala territory.
Ness:  Definitely! A masala, awesome action retro franchise revival spectacle: HELLO! Fun city! The soundtrack will be a great opportunity to show he's still got it. I loved the Damadamm soundtrack and there were hints in there of his masala soul wanting to break out.
Rum: The soundtrack definitely has that retro sound that worked for many of his early millennial films.
Ness:  It's been 12 years since a Khiladi film, maybe the vibe they were going for is as if this one follows on from the last. The retro sound completely works as a kind of masala revival that we're seeing these days.
Rum: But the vintage vibe is something that really works here, people may find it as super cheesy but given the Khiladi franchise it slightly works!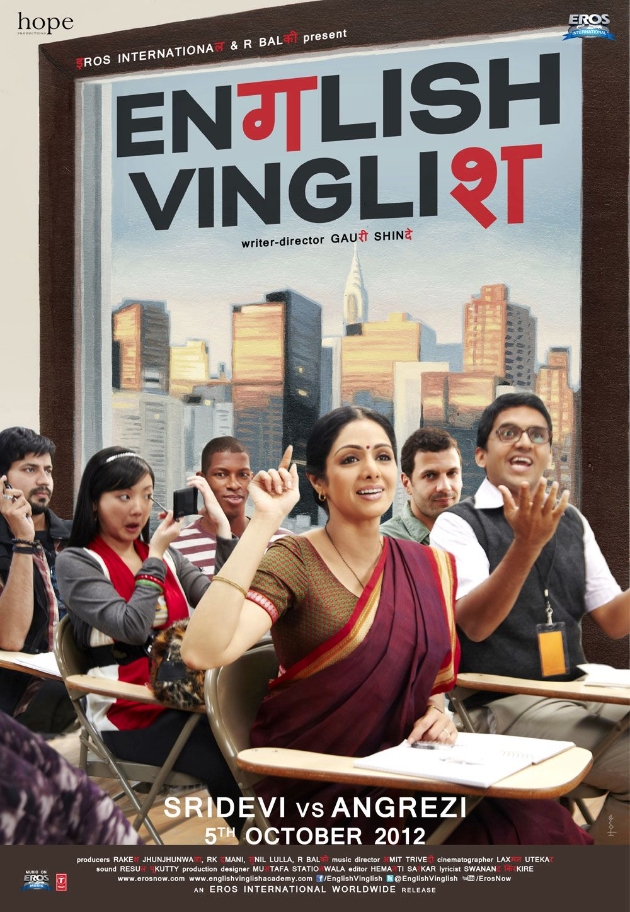 Aiyya and English Vinglish
Make no mistakes we absolutely love anything Amit Trivedi churns out, because his music sounds lovingly crafted and original. Ishaqzaade was definitely a gem of 2012, and Ekk Main aur Ekk Tu showed a different side to his style. Both soundtracks were ones that grew on you, as there was something to savour even in ones you might not have expected to like on first listen. Trivedi is at the helm of two heroine films with Sridevi and Rani Mukherjee returning to screens after a hiatus. While the themes of each film seem wildly different, there's definitely a chance that Amit Trivedi will have a musical hattrick on his hands.
Rum: I'm curious about English Vinglish as it seems like more of a lowkey movie where songs seem perhaps secondary to the narrative.
Ness:  Like Kahaani maybe, no actual picturisations?
Rum:  But there's likely to be one song that will convey all that Sridevi charm.
Ness:  Yeah it would be a shame to have a Sridevi film and no Sridevi shimmy
Rum:  Ya that's what I'm thinking, it might be a waste not to have Sridevi dancing or using that face to charm us!
Ness:  Amit Trivedi is kind of an interesting one, too, he's proven his ability to do a wide range of stuff. I mean, compare…EMAET with Dev D, apples and oranges, really
Rum:  I know, he's so versatile from soundtrack to soundtrack. From the YRF formula for Ishaqzaade to EMAET, he really knows how to invert the song tropes
Ness:  But he keeps it interesting and hooks you in! I remember when EMAET came out people were like…WHAT? but then got addicted
Rum:  I know his music sounds so different from the usual fare, that it does take a while for an album like EMAET to grow on you.
Ness:  Do you think Aiyya, with all the reputed item songs, will make up for the possible lack of big numbers in EV?
me:  I think his lyricist is Swanand Kirkire which should be really great in perhaps using the songs to highlights moments in the narrative. I think Aiyya is guaranteed to be the showstopper, because either if EV doesn't grow on you then there's Aiyaa to make up for it
Ness:  They'll both be good though, right?! I can't imagine being disappointed by an Amit Trivedi album
He's one of the fresh breezes stirring up the industry.
Rum:  I know that's true, I think 2012 will be a great year for Amit, as Ishaqzaade is already a winner, so he can only go from strength to strength. Since it's an Anurag production, he usually gives his composers leeway to get creative
Ness:  Yes, and look at the glory that came from the Anurag/Amit collaboration of Dev D.
I anticipate a Tamil influence: it has Prithviraj as the hero of the film. And Rani is playing a Marathi girl so I reckon the soundtrack will play on the clash between the cultures.
Rum:  I think my expectations are a bit more amped for this one, as if Rani's billed as the star attraction then the music numbers need to be fantabulous.
Ness:  Yeah, Rani is on a whole other level – the music has to be fantastic to match.
Rum:  Hahah i hope he uses some more dubstep as he's made me really give that genre another chance!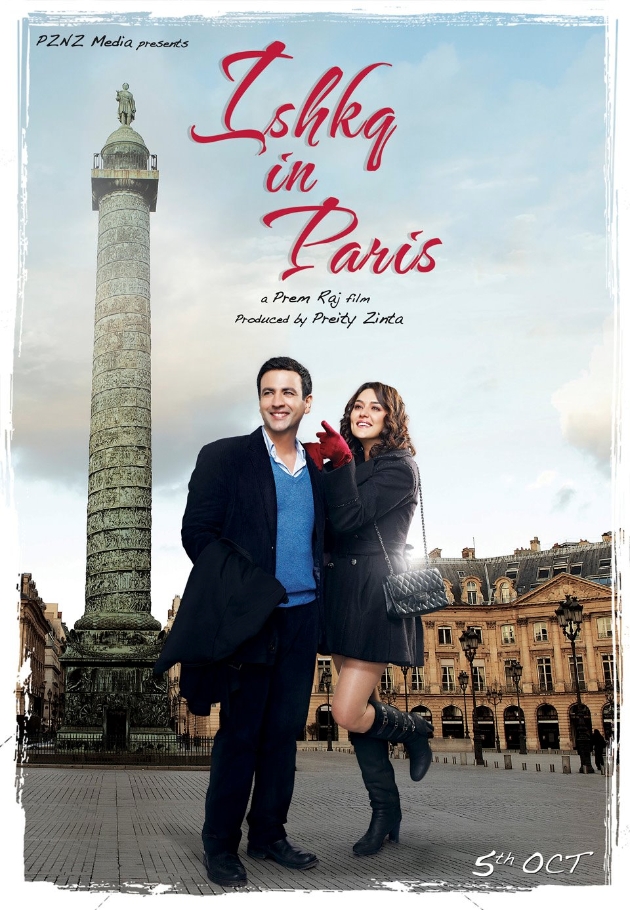 The Heroine Brigade
We took a slight digression to look at how packed Fall 2012 is with so many heroine comebacks and perhaps stronger roles for women in general. There's Aiyya, Ishqk in Paris, English Vinglish, Heroine, and so many more to look forward to. Songs always become part of the success factor in ensuring that heroines create big comeback or that their songs become entrenched in the filmi canon. Who can think of Munni without Malaika Arora Khan?
Rum: As for Aiyya, I think the expectations are amped since the latter half is heroine dominated and it's as much a competition for the next hit song for the Preity/Kareena/Rani/Sridevi brigade as it is for box office glory.
Ness:  It's nice to see most of those names are heroines from like, a decade ago. I mean, Katrina and Anushka are the only new ones who'll be in the mix
Rum :  I know, and I think the music landscape has definitely changed for them in order to be associated  with hit songs. With Rani, she's got a good music composer at the helm, who can probably do justice to her music numbers.
Ness:  Yes, and look at the response that 'Go Go Go Govinda' item number got recently. Sonakshi – fully covered, JUST MATCHING PRABHU DEVA STEP FOR STEP
Rum:  I know and he's a pretty crazy dancer!
Ness:  And people are saying NOW THERE'S AN ITEM NUMBER! It's so good! I think people are tiring of heroines who shall remain nameless starving themselves and coldly gyrating and attemptimg to look "sexy"" in skimpy clothing because it ends up all item numbers are interchangeable.
Rum: And i love how traditional ones like a lavani one for Aiyya and Vidya's one are coming back in fashion, it doesn't just have to be gyrating and western beats!
Ness:  Yeah there seems to be a definite backlash against the glossy Western numbers, matched by the  rural, rustic numbers.
Rum: I think most music composers are trying to bring that South Indian beat, and ganpati sounds to make it appeal across the boards.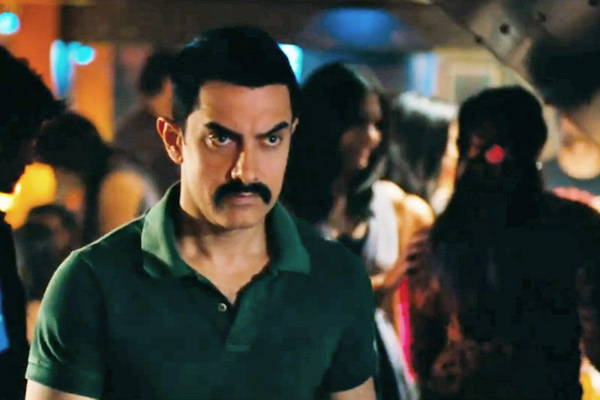 Talaash
Ram Sampath is making his third outing as music director after the huge hit Delhi Belly, which was such an varied and eclectic mix of punk, fusion, and a fabulous disco qawalli. While his initial run as music director for 2004's Khakhee was quite memorable, Delhi Belly certainly gave Sampath a new sound and energy that was lacking from his earlier efforts. On his second major album, Talaash is bound to be something unique and interesting given the thriller style of the film. Aamir Khan definitely trusts in Sampath's vision as his songs on Khan's show Satyamev Jayate were some of most soulful and eloquent songs ever that uniquely conveyed the issues of every program. With Talaash, there's been no real rumblings of Aamir modifying the music or adding his characteristic stamp to the music, so it's all on Sampath to deliver another gem!
Ness:  Undeniably Delhi Belly was THE HIT of last year so this one is gonna be epic.
Rum:  I think Ram Sampath has so many expectations on his shoulders for this one.
Ness:  Yeah hopefully he doesn't suffer from dreaded 2nd album syndrome!
Rum:  But if Delhi Belly and his gorgeous songs on Satyamev Jayate are anything to go by then it should be pretty amazing. I hope he doesn't crack under that much anticipation for this one.
Ness:  Talaash has been in the works for AGES though. Aamir Khan is a notorious perfectionist and there have been no rumblings about the music.
Rum:  Okay its Ram Sampath and Javed Aktar as a team, and that should be a good pair.
Ness:  I think all izz well
Rum:  That's true, as I don't know if Aamir is as picky with his music, but he's given Ram a chance on his movie and his show, so I think he'll probably have a good one on his hands.
Ness:  If he's producing the film though, he'll want all the elements to be right. Look how long Delhi Belly took to release!
Rum:  I'm just thankful it's coming out this year!
Ness:  Yeah, excited to see what this one is like. Talaash is a thriller, right? Wonder if the music will be as eclectic as Delhi Belly or if it'll be a more cohesive, unified sound.
Rum:  I know, this one seems like it could be a mixed bag, maybe a more atmospheric sound like Kahaani, or one that has the formula, as I think they said Kareena had some item song. But with this one, I think Ram Sampath has a dream launchpad for album #2. Here's hoping its a good one!
Ness:  Indeed!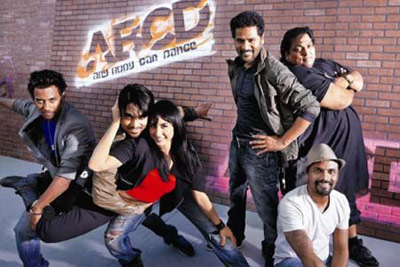 ABCD – Anybody Can Dance!
Choreographer Remo Fernades makes his second directorial debut with a film that seems to suit him to a tee! Being touted as India's answer to the Step Up franchise, ABCD is being filmed in 3D with two of the most fabulous choreographers at the helm: Prabhu Deva and Ganesh Acharya. This one is bound to be a really innovative movie that showcases so much of Prabhu and Ganesh's styles. We cannot wait for all of those dance-offs!
Rum:  Okay lets go on to, ABCD? That mega 'awesomesauce' 3D dance movie.
Ness:  Okay, this soundtrack will be BANGING!
Rum:  I KNOW! It's Sachin and Jigar at the helm. And I kinda liked the peppy soundtrack for FALTU
Those two did Shor, Kya Super Kool Hai Hum, and going by these ones they really know how to capitalize on songs that appeal across the board.
Ness:  It's gonna be India's first dance movie a la Step Up – so lots of tunes, I'm guessing.
Rum:  They seem like more of a 'desi' duo, but for this one the music is expected to be pretty amazing. And it has to be good enough for Prabhu Deva and Ganesh Acharya to sign off on
Ness:  Dancefloor friendly, beats heavy, remixes…
Rum:  Yep, there'll probably be a ton of remixes!
Ness:  Actually, potentially a mix of various genres too, because that's what those dance contests are all about. It's not ALL techno or hip hop or rap, it's "can you dance to this remixed classical indian song?"
Rum:  Prabhu is probably gonna do one of the classical ones with his signature body popping twist! He was absolutely nuts on the new iifa's!
Ness:  Yeah, this will be an awesome, massy album for sure
Rum:  With Ganesh Acharya there's definitely gonna be a rustic number.
Ness:  Yeah that's what I mean: there's gonna be a bunch of different styles. like, Bappi Lahiri style disco OOOH, I HOPE!
Rum:  I think it's going to be pretty epic, with Remo as director who'll no doubt help with some choreographers and Ganesh and Prabhu. I want DISCO!
Ness:  do you think there'll be more tracks than usual, like, approaching Rockstar proportions? Actually, interesting we keep talking about Rockstar as a long album. What's Your Raashee did it first.
Rum:  I'm thinking there'll be between 10-15 songs. I mean if its 3D and a proper masala film it's gonna need to make it massy enough of an album and film to appeal everywhere. I'm so excited for this one
Ness:  Yeah I think definitely epic if they pull it off (which they will! look at the names involved!). Salman Khan is listed too. I wish Govinda was involved.
Rum:  Oooo I'm thinking there's be some great number planned for Sallu to unveil another of his odd and funny moves! The collar lift from Wanted, the belt shuffle from Dabangg, the crotch scratch from Ready, and the bicep pump from Bodyguard. WHAT IS NEXT?!
Ness:  Haha yeah I love Sallu
Rum:  And I know! Chichi would be so excellent for a movie like this.
Ness:  Maybe he is a secret special VIP appearance (HOLDS BREATH AND CROSSES FINGERS)
Rum:  I'm going on a limb here but I hope they do a cameo-athon of all the best dancers and choreographers' ala 'Jalwa' in Wanted
Ness:  Yes!  Like that song in Om Shanti Om…but DANCING
Rum: I hope they pull that off otherwise we'll need to drop our careers to become the next Farah Khan masala duo
Ness:  Yes. We need to be advisors to the film industry. CONSULTANTS!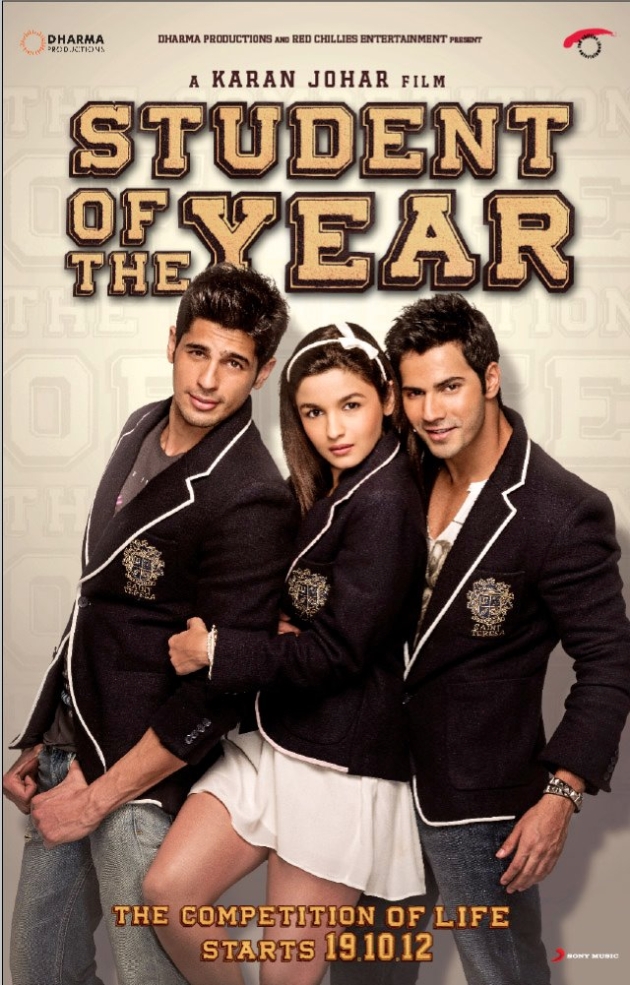 Student of the Year
Karan Johar is also heading back to the director's seat with this cute college film, and this time without Shah Rukh Khan in a major leading role. Perhaps looking to recreate the success of his debut Kuch Kuch Hota Hai, Karan is launching three star kids Alia Bhatt (Soni Razdan and Mahesh Bhatt's daughter) Varun Dhawan (David Dhawan's son) and Siddharth Malhotra (Manish's younger brother) who all look to conquer and charm at the box office this year. Vishal and Shekhar take the music this time, and with their previous successes with Karan's films, this one is bound to impress as well.
Rum:  So Student of the Year has Vishal and Shekhar taking over. I think they are my faves in balancing the popular movies with gems like Kahaani.
Ness:  Yeah V&S are reliable.
Rum:  With this one it's got that KJO look which again seems to offer the romantic, peppy college one, the punjabi/desi wedding, hip hop, etc!
Ness:  LOL but V&S can do that and do it really nicely. I'm thinking of Dostana, for example and Ra.One more recently. They can pull off popular easy peasy
Rum:  But My Name is Khan had a great bunch by SEL. And if this is a return to KJO's college romance roots then I'm definitely excited for what V&S can do
Ness:  Yep I have no doubts about this.
me:  Totally, they can definitely do their mainstream ones really well along with creating songs that stay with you and the filmi universe too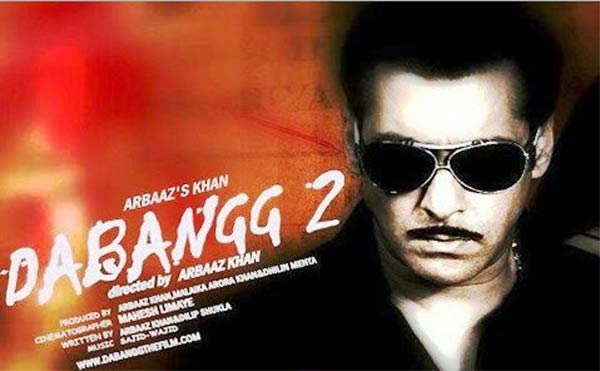 Dabangg 2
Now if the end of Dabangg kept you tantalized for the next one, then we've just got to wait till Salman Khan creates box office mayhem with this sequel in December. With Arbaaz Khan taking over for Abhinav Kashyap, Dabangg 2 is high on our list of movies to see this year if not simply because there's no hero quite like Chulbul Pandey. Dabangg 2 has a lot to follow, as the original film was a gamechanger for filmi music as it got the rustic and desi numbers back in fashion along with an 80's style hero who could bash up 10 villains and romance his girl at the same time. Here's hoping it'll recreate that magic all over again.
Ness: If it's as good as the first Dabangg then BLOCKBUSTER. Or chartbuster even.
Rum:  I think its Sajid and Wajid. The expectations are going to be through the roof on this one.
Ness:  They did the first one, right? So my hope will be that they…build on but don't just recreate the first one.
Rum:  They certainly have a lot to prove in bringing something new to their masalaness.
Ness:  I hope it's not like "Oh we need a new Munni".
Rum:  Ya totally, but there's already Kareena coming for an item song!
Ness:  What would be interesting is if they took it in a whole new direction. I really don't see that happening but it would be a surprise. Because the first one was shocking/surprising for being SO RUSTIC and that was a new thing.
Rum:  I know, now the rustic item and sound is in vogue, and they'll have to drawn on something new or making it wildly original and different from everything they have influenced since.
Ness:  Yeah exactly, because everything since has tried to be "the next Dabangg"
Rum:  While i do love S&W i want them to really go to town like they did with Rowdy, and bring the kitsch and retro sound of the 80s films the films draws inspirations from.
Ness:  I'm interested to see if they stick with what worked the first time, or actually push further. Yes! I LIKE YOUR IDEA!  The 80s revival worked in The Dirty Picture.
me:  I know – the disco beats, or just that sort of Ram Lakhan or Himmatwala massive drums and the like… this one has already got me curious to see what they'll do.
Ness:  Yes, definitely one I am curious about!
Rum:  So in review, we're curious and excited for: English Vinglish, Aiyya, Talaash, ABCD, Dabangg 2, Student of the Year.
With contributions by Rumnique Nannar and Vanessa Barnes