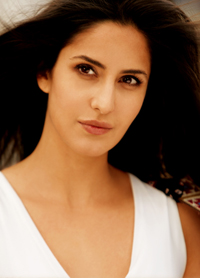 YRF recently gave fans an opportunity to chat with Katrina Kaif. Fans grabbed this chance to ask her anything under the sun from her favorite color to questions regarding the release of her new film Jab Tak Hai Jaan. Charla followed the chat and even managed to ask her three questions.
In the chat, Kaif reveals she has not seen the whole movie, but hopes to do this soon. "To be very honest I have not seen the whole movie. I hope it is my favorite movie, its a very special movie. It has the potential to be something great."
Asked about the music, Kaif said, "This will become a lot more relevant after the release of the movie, cause it makes a lot more sense when you see it in the film."
The 28-year-old actress also talked about her character name Meera. According to Kaif, she is a modern interpretation of the Yash Chopra heroine. "She got a very strong character. is very idealistic in her approach to love. She gives it the most importance over anything else. She cannot be easily persuading. She is very strong about her believe and what is right and what is wrong."
She adds that Meera is very different from her own personality. "Meera is very adamant. She makes a decision for a particular reason or believe that she has and she can stick to it no matter what. No matter how in love she is with a person or what she actually wants. She'll stand true to her word. I find that very different. I don't know if I would be able to, just for a believe, stick to something that would keep me away from the person I loved. That is one difference."
In reply to the question how special Jab Tak Hai Jaan is for her, the actress said: "Jab Tak Hai Jaan is very special for all of us. Especially me, for one reason, because Mr Yash Chopra is without a doubt India's most famous and loved director. Beyond that, having a body of work which is not just about having successfull films but films which have always been very iconic. And Jab Tak Hai Jaan being his last film. I think it's a very special time. In a certain way it's almost the end of an era of sorts. The kind of cinema he brought in and stood for was a whole wave on it's own. This is his last film. So I think the film is a lot bigger than just me, Anushka or even SRK for that matter. It is really about being Yash Chopra's last piece of work."
One of her fans asked her how is Jab Tak Hai Jaan different from any other love triangle. "That's a very good question," she says. "Probably you'll have to take that call after having seen the film. Yashji's approach and his treatment of the film is very different from anyone else's. I think primarily because Yashji is not judgmental on what is right and what is wrong."
In all the madness, even three of my questions came through and got answered by Katrina.
I asked her what her most memorable moment was during shooting? "My most memorable moment in the film was when we were in Ladakh. There was a moment when we were shooting on a bridge between these two mountains and Shah Rukh stood there in his army outfit, and I was wearing a white salwaar kameez. Yashji was standing on the bridge. And all of a sudden there was a strong breeze/storm. We all had to hid. It was memorable because I always wanted to be in a Yash Chopra film and be a part of the beautiful visuals of his films to be finally there, it was a nice moment. It was like I envisioned it of being a Yash Chopra heroine. Those moments, that kind of classicness, and that kind of poetic visuals. I think that seemed like a dream come true with that moment."
Another thing I wanted to know is what she would like to do Jab Tak Hai Jaan. She had to think for a while here. "That's a good question. Be happy, I guess. Keep working, spend time with my family, find happiness, inner peace, all those things."
Because the film is a love story, I wanted to know what her all time favorite love story in general is. After a long pause, she says, "In more recent times, my favorite love story is Devdas."
In reply to one of the last questions about why she is always fighting with Shah Rukh Khan during interviews, Kaif said: "Because he never lets me finish my sentences. And then I don't let him finish his sentences. So it looks like we are fighting, but we're not actually fighting…. or maybe just a little bit."
Watch the whole chatsession here:
www.youtube.com/watch?v=Fo7IVS4tHWw