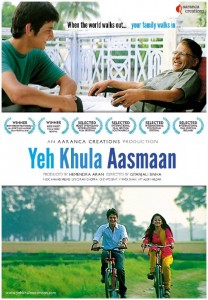 The music duo brothers Anand-Milind are back! They were successful award winning music-directors throughout the eighties and nineties, having composed for around 200 Bollywood films. Remembered for hit soundtracks such as Qayamat se qayamat tai, Dil and Beta, amongst many others, the duo have contributed to film successes for all three of the top Khans and also had a successful partnership with Govinda and David Dhawan.
However, the duo could not really make a successful transition into the 21st century, with no memorable soundtracks in the last decade. They are now back with the film Yeh Khula Aasmaan, which is due for release on 25th May. The film is inspired by a true story and portrays the extremely challenging phase of an IIT-aspirant young boy on the verge of succumbing to academic failures, and highlights the value of strong familial systems to help nurse bruised young minds.
It is an award winning film and is the first ever Bollywood film to have won the Best Foreign Feature Film at the All Sports Los Angeles Film Festival and has also been shortlisted for numerous other international film festivals. The film is directed by newcomer Gitanjali Sinha, who is trained from both the New York Film Academy and Subhash Ghai's Whistling Woods Film Institute in Mumbai.
The lyrics have been penned by Ravi Chopra and has songs featuring hit Bollywood singer Kunal Ganjawala, Suresh Wadekar and international award winning Bollywood artist Raghubir Yadav, who also stars in the film. The music launch took place in Mumbai this week with legendary lyricist Javed Akhtar as the guest of honour. Speaking at the launch Javed Akhtar said, "I have had a long standing association with Anand-Milind and it feels great to welcome them back to the Bollywood music industry."
Talking exclusively about the music and working with Anand-Milind, the director Gitanjali shared, "It's an honor to work with distinguished music artists such as Anand-Milind-ji and Kunal Ganjawala. I have been a huge fan of Anand-Milind-ji since their Beta and Raja Babu days. Being my first film, Yeh Khula Aasmaan is very special to me and I consider myself lucky to have got them on board as the music directors. Undoubtedly, I consider the music of Yeh Khula Aasmaan to be the USP of the film."
Anand-Milind added, "Yeh Khula Aasmaan has been one of the most challenging works of our entire career. It feels great to come back to Bollywood mainstream music after a while, and we wanted to make sure that the album is equally special. We can proudly say that this is one of our best works so far and hope that the audience feels the same."
We wish Anand-Milind a warm welcome back to music directing and hope to hear much more from them in the future…