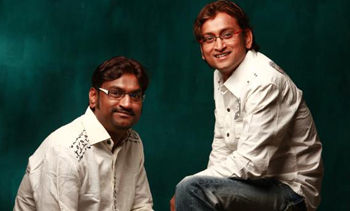 They are the new kids on the block in the Hindi film music industry, but brothers Ajay and Atul Gogvale have been creating award winning soundtracks and background scores for Marathi films since 2004. Their first foray into the Hindi film industry was the Ajay Devgn starrer Singham. Audiences fell in love with their range and depth of sound in the songs 'Maula Maula', 'Singham' and 'Saathiya' and could not wait to hear more. Karan Johar and Karan Malhotra apparently agreed and hired them to create the sound for their version of Agneepath. Using their Marathi flavor as a basis and taking into consideration the new telling of this classic, the brothers say as soon as they heard the script of Agneepath they knew they had to create music that was full of grandeur and that it needed to be larger than life. We got the chance to chat with the composers and we talked of course of the hit 'Chikni Chameli', but also many other things music.
Tell us how the music of Agneepath came about.
We were busy with our Marathi films and our very good friend, Mr. Riteish Deshmukh, got to know that Karan Johar was remaking Agneepath and said to him: 'You should listen to Ajay-Atul's music'. Karan Johar and our director Karan Malhotra both listened to music from two of our Marathi films (Jogwa and Natarang) and the earthiness and the grandeur in the films and our music, I think that is what made them call us and offer us this film.
What sort of brief did Karan Johar and Karan Malhotra give in terms of the kind of music they wanted for the film?
That exact grandeur and an exact larger-than-life sound, even in the songs, even in background scores. This Agneepath is totally earthy. If you've watched the original Agneepath that is totally different – the hero and the villain are very glamorous, but here the villain and hero are very much earthy. The story is very heavy. When we heard the whole script and the whole storyboard we knew what we wanted and what we had to do. Immediately we got the whole picture and the whole idea about what sound and what kind of grandeur we have to create. It was very simple sort of actually, yet challenging too. We love the original Agneepath and have seen that film so many times, we know who these characters are; what their mannerisms are. When we work we follow the character's mannerism, what is their storyline, what is their thinking process to make our music.
It must be amazing to see your music come to life on screen.
Yes, yes. Even now we are doing the background score for the film and it is looking awesome on screen. I am basically overwhelmed because the people are appreciating all the songs. The first song we composed was 'Deva Shree Ganesha'. 'Chikni Chameli', the item song in Agneepath is so huge and popular. People are appreciating the other 5 songs also and it's looking awesome on screen.
Let's talk 'Chikni Chameli': the song is actually your hit song 'Kombdi Palali' from the Marathi film Jatra translated for this film. How did that all come about?
This thought totally came from our producer Karan Johar and Karan Malhotra. We were composing another song for Agneepath, but the pace and tempo of this song is so high and the point at which this song comes in the movie is after interval and the story needs that fast pace. This song perfectly matches with the screenplay and storyboard at that point. So they came up with the idea that we'll use one of your already super duper hit songs. We were very happy that our original song was going on an international platform. It's a next step for our Marathi film industry.
When you first saw Katrina in the song, what were your first thoughts?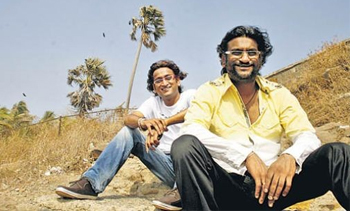 We were like ohhhfff…(Laughs) The energy that she has given for this song. I know the back-story of this song: she was rehearsing for eight days and the shooting went on for nine days and she was dancing continually. If you listen to that song, any artist and even if I was dancing to it, would get tired in just two minutes, but it's a 5-6 minute song. She has taken it to another level. She's awesome. She's fabulous.
The reaction from fans has been amazing…
We are really happy. The reaction from our Bollywood celebrities has also been really good. They like the songs too. And I think it's really good and we are really happy with whatever 'Chikni Chameli' is creating.
One of my favorites is 'O Saiyyan'…
Well, that song was very tricky actually. Tricky in the sense that song is a romantic song and it's from a heroine's point of view, but the singer is a male here. And it's the style of our Sufi music where a male singer sings or can sing from female point of view. The main thing we wanted someone with a true Sufi voice. So we got our very good friend Roop Kumar Rathod. We were already searching for a chance to use his voice and this song was perfect. He has come up with very beautiful vocals.
How do you decide which singer is best for which song?
Well it's all our imagination. When we compose a song, at that time, the tune itself asks us, 'I need this voice'. So it's not like it's the producer call or it's not like we want to promote anyone. Not at all. The second we compose the song immediately we hear that song in that singer's voice.
What is your process of composing songs?
We both sit and compose our songs and then we call our director to listen. I'm happy that till date no tune has ever been rejected. Whatever we came up with first it was approved and everyone liked it.
What do you think of Hindi film music today?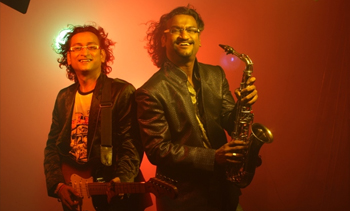 It's doing good, but one thing I miss and I think everyone is missing, because I'm getting the feedback from overseas and some of our fans are also talking about it, is that in the 90s and before that Hindi film music has got its own sound. You know the cinematic sound, even in background score, even in a song, you know, the grandeur was there. I'm really missing the live instrumental and the typical Indian percussions – tabla, dholak, duff, dhol. Those percussions are missing. I am missing the orchestral part. I'm missing the choir section. I'm missing the strings arrangement. I'm missing brass. Because everything now is created on keyboard, software and plug-ins and everyone is using that. I think that has to be changed. It is not like there are no artists who can create or compose these kinds of sounds. But we are missing the 90s sound, we are missing that grandeur. Like in the master John Williams' work, the way his background scores sound and even in Bollywood Laxmikant-Pyarelal, R.D. Burman they created the background score. I think we are missing that.
What do you think you guys bring to the music of films?
It is not like we want to bring or we want to do any special thing. The thing is, and I don't know if it is a drawback or a plus-point, is that whenever we imagine any song or any background score it always comes as larger-than-life. We can never imagine or we can't compose anything with just few instruments. Yes, we have done it in some of our films using less instruments, but melody has to be there in any case. People have been talking about that melody is missing; melody is missing and being a music director I think that should not happen. The basic need of any song or any tune is melody. We should not talk about that melody is missing, because if melody is strong you don't need any kind of other things. Any tune, any superb tune or any melody can sound awesome even on just a piano. So melody is something we should not forget about.
We cannot wait to hear what these talented composers will bring us next but for now we will eagerly await to see their deep layered compositions on screen when Agneepath hits theaters. Starring Hrithik Roshan, Priyanka Chopra, Sanjay Dutt and Rishi Kapoor, this new take on the classic opens worldwide on January 26th.