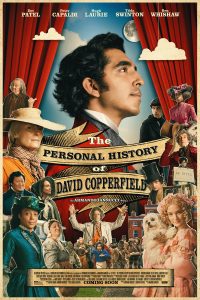 The Personal History of David Copperfield, which opens in North American theaters Friday, August 28th, re-imagines Charles Dickens' classic ode to grit and perseverance through the comedic lens of director Armando Iannucci. Iannucci and co-writer Simon Blackwell lend their wry yet heart-filled storytelling style to revisiting Dickens' iconic hero on his quirky journey from impoverished orphan to a burgeoning writer in Victorian England.
The film stars Oscar nominee Dev Patel in the title role and features a diverse cast of stage and screen actors from across the world including Aneurin Barnard, Peter Capaldi, Morfydd Clark, Daisy May Cooper, Rosalind Eleazar, Hugh Laurie, Tilda Swinton, Ben Whishaw, Paul Whitehouse, Gwendoline Christie, Anthony Welsh, and Benedict Wong.
From the first moment of the trailer, I knew I wanted to see this intriguing comedic take of Dickens' dark story play out. And play out it did – brilliantly! It is quirky, fantastical, moving, ebullient in scene and tone, so, so funny, odd, full of light and so much feeling. This is not a retelling of David Copperfield, which for many can have negative connotations; this is an enhanced and inventive look into Charles Dickens' great work.
I have to admit it has been a moment or years since I read David Copperfield. Take a breath for the full title: The Personal History, Adventures, Experience, and Observation of David Copperfield the Younger of Blunderstone Rookery (Which He Never Meant to Publish on Any Account) The last time I watched the movie was when Daniel Radcliffe played young David. So, though I knew the story in essence and the characters in part, there were things I did not remember. With leaps and bounds, The Personal History of David Copperfield, does tell the story, and at first, I kept trying to remember what happened in the book, but then I got utterly lost in this tale and forgot to think about the book. I am glad I did not reread or even brush up on the original because then I enjoyed this for what it was.
One of the best things about the film is that Charles Dickens wrote these incredibly rich, heartfelt, colorful characters in the very dingy, dark, and often tragic story of David/Trotwood/Daisy/Doady, and this film brings the essence of those characters to full color in life. It is as if you fell down the rabbit hole, or into Mary Poppins' chalk painting, or in this case through a curtain, and saw the characters in all their magnificent glory, the sometimes missed comedy of the story and the true heart of David Copperfield's world. It is a masterpiece of character-based storytelling.
The cast, oh the cast were superlative. They were the Dickensian characters but the focus was on them in this world, and they shined. Every actor was par excellence at almost instantly producing a totally believable character as if they walked out of the book. If there had been another cast or even one person that was played by a different actor I think the movie might have gone off the reel or been difficult to follow, but this set of fine actors made the film. I think when I do reread the book, I will see these performers as the characters of the book. That is the highest compliment I can give.
What an actor Dev Patel has become. Fully entrenched in this role, he had to play every emotion from anger, to sadness, to joy, to love, to being lost, to finally knowing his place in the world and you felt every emotion with him on this journey. Even when he is playing a low emotion, he exudes force. He had energy, this spark, but at the same time depth and pathos. This is an actor in full mastery of a role. He also delivers pitch-perfect impersonations of the other characters. I have always admired him as an actor and through his career, he has grown so much. He came into his promise of excellence in Lion, but with this he exceeded my thoughts of how incredible an actor he truly is. His performance is pure brilliance. Bravo!
Jairaj Varsani as young David also deserves praise. His eyes spoke volumes. Many times with a child actor you feel as if they are playing a role but he was David. Mention must be made of the scene with Micawber and 'flittin' – it was laugh out loud perfect.
Peter Capaldi as Mr. Micawber was fabulous. You could always see there was something going on behind his eyes. He was Micawber to the core. Every scene he was in was made better for his presence in this role. Something definitely turned up!
Morfydd Clark as Dora was wonderful. You never felt as if she was being the role, she was completely tuned into the essence of this interesting at times dim but wonderful girl. Then, in the end, her final line is delivered so perfectly it made her performance.
Rosalind Eleazar was perfectly cast as Agnes Wickfield. She was the grounding of the characters and sometimes the story. You did not see an actress you saw Agnes and her eyes told many a tale that maybe David did not see until later.
I honestly cannot see anyone else ever playing loving Peggotty than Daisy May Cooper. What is even more amazing is that I read in the production notes that she never read the book and the director told her not too, so this was purely her role. She was Peggotty in heart and brought her to life. I wanted one of her hugs. Brilliant.
Paul Whitehouse as Mr. Peggotty was a minor character but in the scenes he was in he was so truly there and so truly Mr. Peggotty. He was excellent.
Hugh Laurie as Mr. Dick was outstanding. He had this twinkle and then this lost look in his eyes that really made you know and feel who this man was. He was perfect. It is another exceptional performance from a truly incredible actor.
From the first moment Tilda Swinton enters the frame as Betsey Trotwood she is a stand-out. The character is a bit on the odd side and she owns her strong personality yet is still endearing. An applause-worthy, marvelous piece of acting by Ms. Swinton.
It is interesting when I envision Uriah Heep I see a gothic, red-eyed character, but in this film, he fully portrayed the seemingly obsequious man who really is an odious plotter, and you get that fully. Ben Whishaw relished and attacked the role and, much like his mother's cake, it is very filling and flavorful! He was superb at making us despise his character.
I often decry what I call arty shots, especially in period pieces or, honestly, in any film. A shot for the sake of a mood or to have a cool angle or image like the long look through the keyhole or the shot up a staircase that curves always seems to take me out of the story. However, this is full of incredible and at times odd camera angles, perspectives, and shots. It also uses interesting textures and compositions like scenes of film being played on the wall, Dora's hair, David jumping into the story, and more. You would think this would be distracting especially in a period story, and a Dickens one at that, but it was not. I was all in for it, which honestly surprised me! It is one of the things that makes this film so new, quirky, special and so, so enjoyably good.
When doing a review you usually try to also find the flaws in the film, but honestly there was very little I would say stuck out to me. It was a bit level in tone at some early points and you wanted a bit of a change of pace, or some up/down in the mood. There were some big time jumps in the storyline which seemed jarring, but that may be down to trying to get a 624-page novel into a 2-hour movie. I wanted more of the movie, so this is a critique and a compliment.
This is movie-making, acting, shooting, and storytelling at its finest. It had such magic and I know that term is overused, but to me, this was magic. Captivating and so entertaining. It is so full of lightness but with genuine emotion, which is not what you would think a Dickens movie would be. After the film was over, I did not want to come out of this fantastical world. I did not want to watch anything else – I just wanted to be in the moment. It leaves you with such a good feeling and the world really needs that now! I cannot wait to experience it again.
Whether you are a Dickens-David Copperfield aficionado or someone who read it years ago or someone who saw the trailer and smiled or someone who just loves someone in the cast or, well, to everyone, I highly, highly recommend The Personal History of David Copperfield!