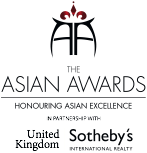 The third annual Asian Awards are set to take place on the 16th April at the Grosvenor House Hotel in London, in order to recognize and applaud the finest talent from fields in arts, business and entrepreneurship as well as technology and sport.
Traditionally honouring outstanding achievers with origins from the South Asian community this year the awards are set to include entrants originating from China, Japan, Korea, Singapore and other South and Far East countries.   
The founder of The Asian Awards Paul Sagoo, of consultancy Lemon Group, refers to this expansion as a significant step forward.
"This geographical expansion means that The Asian Awards can now truly live up to its name and celebrate global Asian achievement on an even grander scale. We had always planned to recognise the achievements from the global Asian community and this is an exciting time for The Asian Awards."
Spanning two years, The Asian Awards has established itself as one of the world's most prestigious events and this expansion now gives the awards unparalleled global appeal.
The Asian Awards will once again host a star-studded night of glittering entertainment, sumptuous fusion cuisine, rousing speeches, and a charity auction with proceeds going to Arms Around the Child and the esteemed awards ceremony. The event will be hosted by London 2012 Olympic mastermind Lord Sebastian Coe KBE and will see the likes of Ivanka Trump, James Caan, Gok Wan, Nancy Delallio, Colin Jackson, Beverley Knight and Dame Judy Dench all attend the prestigious event.
Legendry actor Sir Ben Kingsley CBE will be in attendance at the event where he is to be honoured with the Fellowship Award for his outstanding contribution to cinema.
Speaking about the attendance of Sir Ben Kingsley, Paul Sagoo said, "Ben Kingsley is without a doubt one of the most accomplished actors of Asian descent and we are incredibly proud and excited to celebrate the remarkable career of such an outstanding individual."
Bruce Lee is also to be honoured with the prestigious Founders Award for his iconic status and impact on western cinema. Linda Lee Cadwell, Lee's wife, is set to collect the award at this year's ceremony.
Previous inspiring and high-profile winners have included record-breaking cricketers Sachin Tendulkar and Muttiah Muralitharan, legendary artistes Asha Bhosle, Freddie Mercury (posthumously), Amitabh Bachchan, Jay Sean and Academy Award Winner AR Rahman to powerful business magnates Ratan Tata, Vijay Mallya and Dr KP Singh, and leaders in technology such as Google's Amit Singhal.