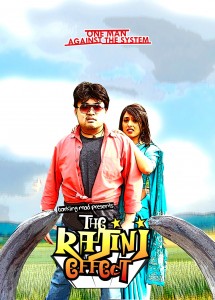 The Rajini Effect, a film produced by the UK based Barking Mad Productions, is set to make its premiere on the 20th of July at the prestigious 10th Stuttgart Indian Film Festival. The film is directed by the London based duo Nelson and Kuvera Sivalingam and stars Jonathan Truong, Ramesh Vethanayagam, Mandeesh Gill and has special appearances by several popular Tamil actors. The quirky comedy also has cinematography by Krshna Naganpillai with music by Charles Bosco.
The Rajini Effect – A Japanese Rajinikanth?: The film is about a Japanese guy TAIHO who wants to become the next big Tamil film superstar just like his idol Superstar Rajinikanth. Together with his 50 year old, budding filmmaker/accountant friend RAMU, they decide to enter an Indian short film competition looking for 'Tomorrow's Superstar'. 
With no cast, no money and very little time, can they make the film and win the competition? Can a Japanese guy become the next Rajinikanth? We are all about to find out!
Director Nelson Sivalingam tells us, "We're super-excited to premiere The Rajini Effect at the 10th Stuttgart Indian Film Festival and to unleash Super Duper Star Taikanth on the audience for the first time.
The film is a homage to the films we grew up watching and ultimately it would be great to show it to the Superstar himself -Rajinikanth."
The Rajini Effect will be screened with a number of films from India and beyond, including the Aamir Khan starrer Taalash and Akshay Kumar starrer Special 26.
Find out more about the film here! http://www.facebook.com/TheRajiniEffect