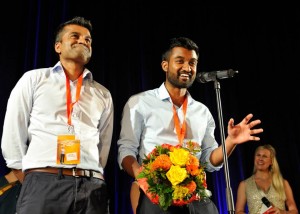 We told you last week about 'The Rajini Effect' having its world premiere at the prestigious Stuttgart Indian Film Festival, now we have some even better news! 'The Rajini Effect', directed by the London-based brothers Nelson and Kuvera Sivalingam, has won the audience award for best film at the 10th Stuttgart Indian Film festival. The film, a quirky comedy about a Japanese Brit who wants to be an Indian movie star, brought down the roof at the screening – with the German audience loving the Rajinikanth inspired comedy and its affable hero.
When interviewed, the directors said: "We are speechless. Watching the audience react to our first feature like that was truly overwhelming and we would like to thank each one of them for voting for our film."
The Rajini Effect – A Japanese Rajinikanth?: The film is about a Japanese guy TAIHO who wants to become the next big Tamil film superstar just like his idol Superstar Rajinikanth. Together with his 50 year old, budding filmmaker/accountant friend RAMU, they decide to enter an Indian short film competition looking for 'Tomorrow's Superstar'.
With no cast, no money and very little time, can they make the film and win the competition? Can a Japanese guy become the next Rajinikanth? We will have to wait and watch! The film has music by Charles Bosco, cinematography by Krshna Naganpillai and stars Jonathan Truong, Ramesh Vethanayagam, Mandeesh Gill, Paul Dudley and Akiko Motomura.
The other winners include 'Calcutta Taxi' for best short film, 'Filmistaan' for best feature film and 'Salma' for best documentary. Hansal Mehta picked up the 'Director's vision award' for his film Shahid.