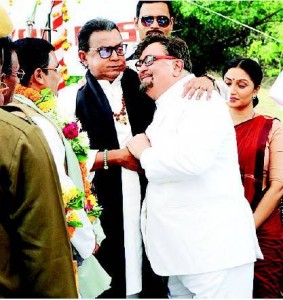 After a five-year hiatus, the Showman is back with a new film, Kaanchi, which also launches a new face, Mishti.
Mirror lensman Sachin Haralkar was present at Film City, Goregaon, where a fresh schedule of the movie was being shot by Subhash Ghai.
Seen in the photograph are Mithun Chakraborty and Rishi Kapoor hugging each other and looking rather animated as if having a fun conversation.
An eyewitness said: "The two of them get busy talking to each other in between shots. Ghai too joins them and sometimes, gets nostalgic, taking a trip down memory lane. However, once it is time to shoot, they all become rather focussed and concentrate on what they are supposed to do."
According to the eyewitness, as Ghai has worked with Rishi and Mithun previously, the trio share a great equation and the atmosphere on the sets is always charged. Apparently, at some point during the shoot, Ghai even remarked: "Magic is created by two things, the characters written in the script and the characters played by the actors. And I only work with people I have a rapport with."