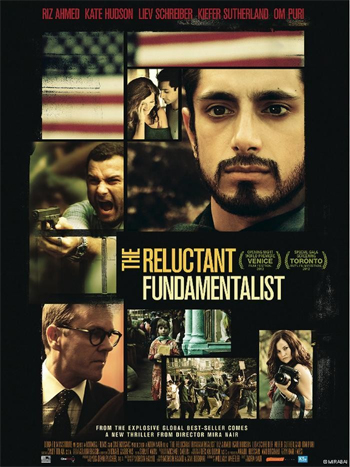 Mira Nair's powerful new film, The Reluctant Fundamentalist, based on Mohsin Hamid's best-selling and critically acclaimed novel, will open across the UK and Ireland on 10 May 2013, released by Mara Pictures.
The film, featuring an exceptional cast including Riz Ahmed, Liev Schreiber, Kate Hudson, Kiefer Sutherland and Om Puri, had its World Premiere at the Venice Film Festival, followed by screenings at Toronto, London and Doha, winning the inaugural Centenary Prize and a Silver Peacock at the Film Festival of India.
Student demonstrations are raging in Lahore in 2010, as young Pakistani professor Changez Khan (Ahmed) and a journalist, Bobby Lincoln (Schreiber), share a cup of tea and conversation. Princeton-educated Changez tells Lincoln of his past as a brilliant business analyst on Wall Street, working for the ruthless Underwood Sampson (Sutherland). He talks of the glittering future that lay before him and the beautiful and sophisticated Erica (Hudson) with whom he was set to share that future. But then 9/11 changes everything.
Attitudes shift dramatically – his very name and face rendering him suspect. Returning to his homeland and the family to whom he is very close, he takes up a post as lecturer at the local university, a hotbed of radicalism and the new militant academia. The collegial pretense of the meeting in a Lahore tea house, between Lincoln and Changez, slowly gives way to why the unlikely pair has gathered on a summer day – another professor has been kidnapped by extremists, and the clock is ticking toward a deadline for his execution. Changez's family is being harassed and is in real danger. Bobby is there to listen, with an agenda of his own. Leading us through the culturally rich and beguiling worlds of New York, Lahore and Istanbul, THE RELUCTANT FUNDAMENTALIST is an exploration of bias and the phenomenon of globalization.
Award-winning Mira Nair comments, "Over the last few years, we have seen many films about the Iraq and Afghanistan wars, but always told from the American point of view. In our story, the encounter between the characters of Changez and Bobby mirrors the mutual suspicion with which America and Pakistan (or the Muslim world) look at one another. We learn that as a result of America's war on terror, Changez experiences a seismic shift in his own attitude, unearthing allegiances more fundamental than money, power, and maybe even love.
"But other forms of fundamentalism are revealed along the way, including the kind practiced by Changez's former employer, Underwood Samson. The remarkable aspect of THE RELUCTANT FUNDAMENTALIST is that it is a true dialogue about the identity and perception of two very different worlds, and issues around the divided self in the era of globalization."
The Reluctant Fundamentalist is Mira Nair's (Salaam Bombay, Mississippi Masala, Monsoon Wedding, Vanity Fair) most ambitious project yet. Compelling, thought provoking, moving and sensual, the film was hot in five cities on three continents with a truly international cast and crew of Hollywood, Pakistani and Indian stars.
The film is produced by Lydia Dean Pilcher from a screen story by Mohsin Hamid and Ami Boghani, and a screenplay by William Wheeler.
Music is always a vital ingredient in Mira Nair's films, and this is no exception. Working with American composer Michael Andrews, layered the film's score is layered with traditional Pakistani songs including beautiful Qawwali singers, Urdu poetry set to music, cutting-edge Pakistani pop, funk and rap, vocals from Amy Ray of folk group the Indigo Girls, and a new original song from Peter Gabriel, an old friend of Nair's. This music represents the intertwining of old and new, of ancient and modern, which is a major theme of the movie.
The Reluctant Fundamentalist will be released on 10 May 2013.