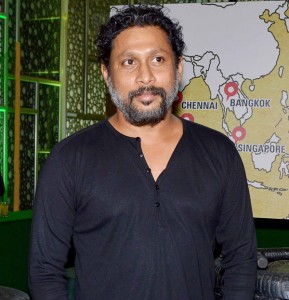 After winning much accolade from audiences and critics alike Vicky Donor director Shoojit Sircar is back. He directs his then producer John Abraham and Rockstar actress Nargis in his latest political action thriller. Here's what Shoojit had to say about the film to us.
Madras Café is an interesting title. Why Madras Cafe for the title?
Madras cafes are very famous all over the world, be it Tokyo, New York or London. The main turning point and the plotting takes place in the café. Hence, this place is of prime importance. That's how we decided the name.
Jaffna or Madras Cafe?
Jaffna was the most loved name for the movie. Since, the main conspiracy starts at the Madras Cafe, we decided to rename the film as 'Madras Cafe' instead of Jaffna.
Do you like experimenting with the kind of films you make?
All my previous films were of different genres and Madras Cafe is an entirely new one. I haven't touched such a topic before. I like to challenge myself.
What inspired you to make a political thriller?
Since my childhood, I have always been around Tamil friends. I am a sensitive person and whatever happens around me, affects me a lot. Therefore, I wanted to touch the topic of politics in our country and showcase how it has affected our country throughout.
Shooting a civil war couldn't have been easy, how was the process?
Shooting a war scene gets quite challenging. The plan was to shoot in Sri Lanka, but had we shot there, we wouldn't have done justice to the scenes. So we decided to shoot in our territory – India, mainly in Kerala and Tamil Nadu.
You collaborated with John for the second time, this time as an actor, how was the experience?
John is a very creative and wise person. He doesn't interfere but at the same time, is able to give suggestions in a very righteous way. I appreciate his approach towards work.
And how was the experience of working with Nargis?
Nargis is a very strong person who exhibits the required things on screen. It was a pleasure working with her.
Do you think Madras Cafe will be at par with your earlier award winning films like Vicky Donor, Yahaan and Shoebite?
I believe in making good films and I will keep doing this. This is my aim. I hope to deliver a good message to the audience, so I am eagerly waiting for its release.
Is Madras Cafe a typical action movie?
I would say, it is a different kind of action movie with bikes and cars banging, as it doesn't happen in real. We have tried to give a real flavour to the film which you shall see once you watch it.
Your thoughts on how the film is turned out?
So far, it has been a good ride. In fact, I am happy with the way this film has shaped up. This script is the life of the movie.
Madras Cafe is releasing in both Hindi and Tamil on Friday the 23rd!