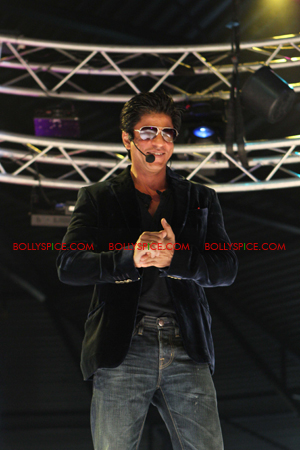 On the 9th of July Shah Rukh Khan posted the following on twitter: "going to Denhag Holland tomorrow…hope to meet some of you there…been a while since i came to Amsterdam..loved walking in the streets late at nite. incredible India show…here i come"
The Incredible India Festival was all about entertainment, culture, arts and feeling of India. As one of the special events, Shah Rukh Khan and Arjun Rampal were present for a live interactive session with their fans.
One of the coolest things about BollySpice is that we have writers all over the world and I am the correspondent in Holland, so you know when I saw that tweet I immediately went to see what coverage I could get.
Why not behave like a fan?
I have been a professional journalist since 1999 covering events and I was hoping for an interview with Shah Rukh Khan, but unfortunately that wasn't going to happen. So, I thought why not take this opportunity to behave like a fan and interact with other fans on a totally different level. To be honest for this event it made the experience of seeing SRK and Arjun Rampal even better. So sit back, relax and enjoy this first-hand experience of a fan.
Shah Rukh Khan Take 1
Once we arrived at the venue, which was about an hour away, my friend Elly and I made sure to get a good place in front of the round stage. Shah Rukh Khan's flight was delayed so there were several performances to entertain us while we waited. Finally he arrived and when SRK took to the stage the crowd just went berserk. Now honestly, there weren't too many people there, but people were pushing, pulling each other to just get a glimpse of the star.
SRK explained he wasn't going to perform (very understandable with that knee of his) but instead do a live interactive session with the audience and we could ask him questions. Everyone had questions and they were about everything, including questions such as Can I marry you…, what's your favorite food, can you say dialogues of movies.
Then came my chance!
I asked him about the Ra.One playstation game. I was not even finished and SRK's enthusiasm was noticeable. He answered the question with a huge smile. "Ra.One is the first movie in India which will have a Playstation game to go with it. It's a fighting game. It has girls also, we even have two characters of Kareena in it, one good Kareena and one bad Kareena. It's a very interesting game. As a matter of fact, I saw it just yesterday. So I'll put it on Twitter, so you can see it."
Did he just say two Kareena's? Yes, he did. Will there a good Kareena and a bad Kareena in the film as well? Hmmm.. we will have to wait and see in October.
I surprised SRK
Back to SRK. I had read earlier on that the game would only be available as a download, so I asked him if the game will also be sold in stores as well. "It's a full DVD-set, which will come out. And I think we will Inshallah release it in September. I ask them if they can, because we are having the show in Berlin. When I'll come down to Berlin, I might come down here also to launch the game." Then THE SRK asks me a question: "I didn't know girls liked Playstation games?" I replied by telling him that I love Playstation games and then he says the following with his famous dimpled smile: "Fantastic! You're my kinda girl!!"
Forgive me but here comes total fangirl Charla mode: He ended with a huge smile on his face and I went home with a huge smile on my face.
Shah Rukh Khan was amazing and entertained us with his funny one-liners. After the question rounds he went around to take pictures with people.
If that was not cool enough I have more to share! The next day, the 10th of July was going to be my day. I still cannot believe I went to the venue again and saw not only Shah Rukh Khan but Arjun Rampal as well.
The SRK Experience Take 2
On day 2, after SRK was on stage interacting with the crowd he once again came down to take pictures with all of us. I became a bit nervous to be standing in front of him but I had waited 12 years for a picture with SRK. I gave him my camera without realizing the lens was still closed. SRK took my camera and look at it for a while, turning it and searching for the on/off button. He got tired of looking for it and gave it to his bodyguard, who gave him a look which read: Dude… the button is right here…SRK smiled. The bodyguard took the picture. SRK shook my hand and he held it. I got brave and asked him for a hug and he came back to hug me. Everybody behind me went crazy and were screaming for a hug as well.
God Bless who?
He then again shook my a hand and slowly started to walk away from me when I said God Bless You. He looked at me and actually came back…. turned his face so I could say in his ear what I had said… I guess he didn't hear it well enough with all the screaming going on. I told him: God Bless You and touched his face….he replied with Thank You Darling!!
Dewaani Charla fan girl mode: I had the biggest smile on my face!!! That was the best moment ever!!
But wait there is more!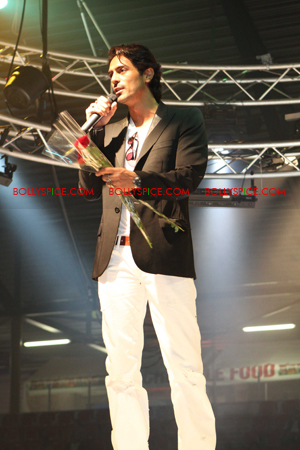 The Arjun Experience
Also in town was Arjun Rampal! He comes on stage looking very good, of course. He is so sweet and humble, smiling all through… Arjun asked who has a question, so I screamed Yeah, me about Ra.One. On hearing Ra.One, he turned towards me and I got his immediate and full attention. "Will you be doing the voice-over in Ra.One: The Game just like SRK is? He answers: "I am Ra.One and yes, I am doing the voice-over for the game."
But he went on and gave us a bonus and talked more about Ra.One. "The film will release in October and you will not see me in any promos…until 10 days prior to the release of the film." He explained why. "They have thought of a whole strategy for promoting the film and a part of that strategy is that we don't reveal the bad guy…so you'll have to wait." Then there is a small part of the audience going aaaaaah… to which he replies: "Yeah you know… SRK doesn't want to promote me, he only wants to promote himself", he says tongue firmly in cheek and with a huge smile on his face.
A rose for me?
The next thing is a bit of a blur to me as I don't remember this happening before or after I had asked my question. At one point Arjun takes a seat on the small stairs in front of me. He waves at me, he even winks at me. Then this guy comes with roses in a bucket. Everybody starts to scream. Arjun suddenly grabs one rose and comes walking towards me and he gives it to me with the sweetest smile ever! I took it with the biggest smile ever and he shook my hand and started to go. I stopped him and asked him if I could get a hug. The guy looks at me and opens his arms and gives me the biggest hug ever. People were going crazy near me.
Pagal Charla fan girl mode: I just couldn't believe what was happening…. SRK and Arjun…I got a hug from two of my favourite men.
Picture abhi baaki hai
After a few questions, he comes to take pictures. When he arrives at our side again I say Arjun: Picture abhi baaaki haaaaiiiii and he came over and took a picture with me. He then shook my hand and turned around ready to go to the other fans, but he was still facing me.. so I grabbed the opportunity to take another picture…. and the flash of my camera went straight in his face… you should have seen that look. He didn't mind though and he actually posed for me. I didn't know what to say: I told him: You're too late yaar with the pose and he said no problem, smiled to me and he left. I will never ever forget that posed look with the twinkle in his eyes.
After having met all the fans… he took over the stage and danced to 'Dhanno' with a large group. You can see a video here, but I was a bit far away.
Then it was time to go! I hope you enjoyed my thodi fan-nish story… okay my bahut fan-nish story! 

I wonder if SRK and Arjun ever talk about this event if they will remember a girl talking to both of them about Playstation!!
Back to Film Journalism
I am glad I took the oppurtunity to experience just being a fan where I could feel, and live the excitement of fans. And I hope every fan in the world may atleast once enjoy the excitement of meeting their Idol. Next time hopefully I will get to interview them and I will be back to journalist Charla again (still fan girl screaming on the inside though!)
Keep watching this space for more action!
Here are some shots of the event!
Pictures provided by Taj Events and me!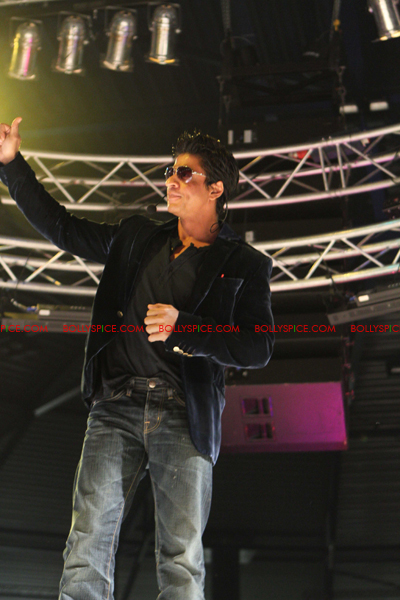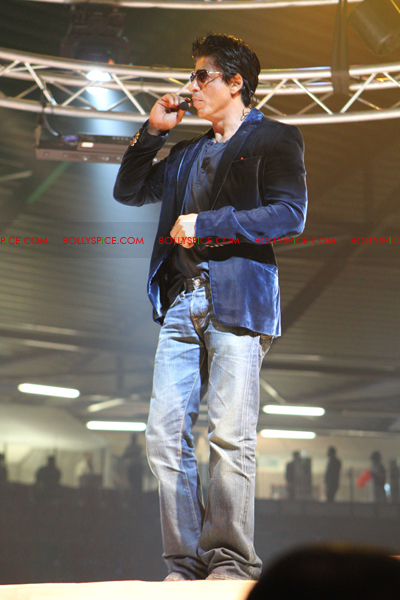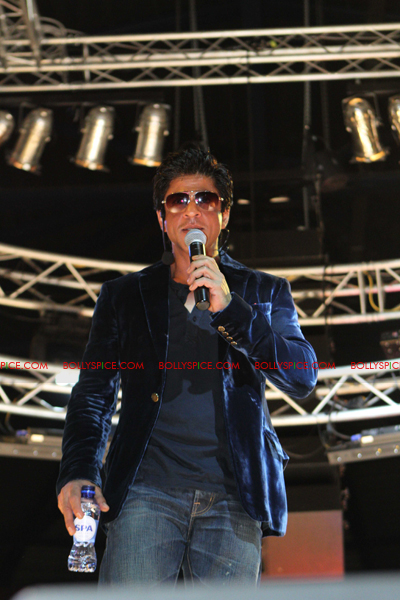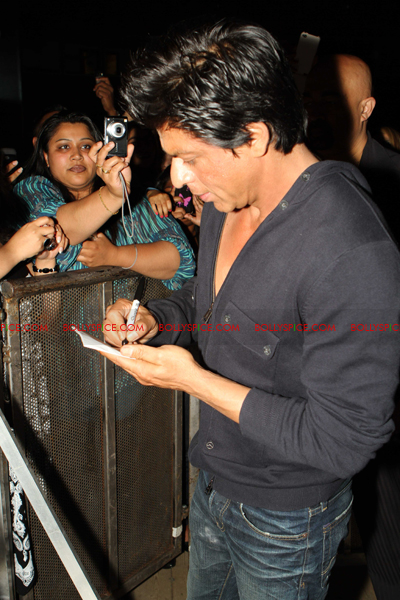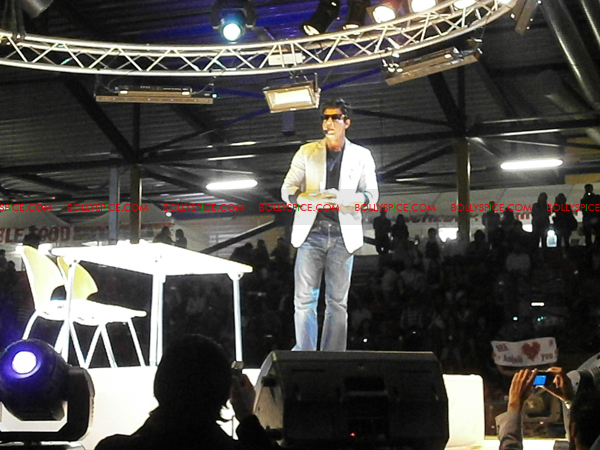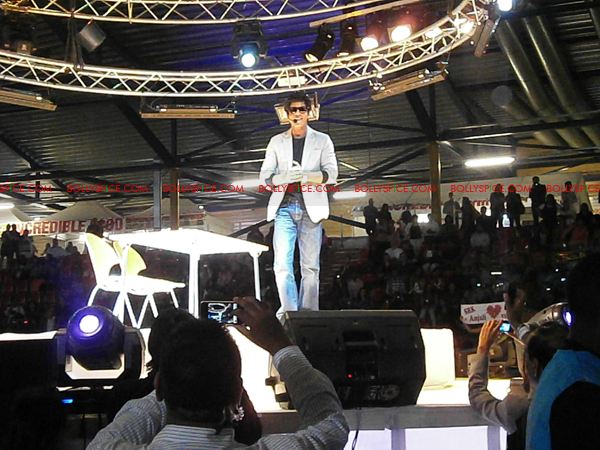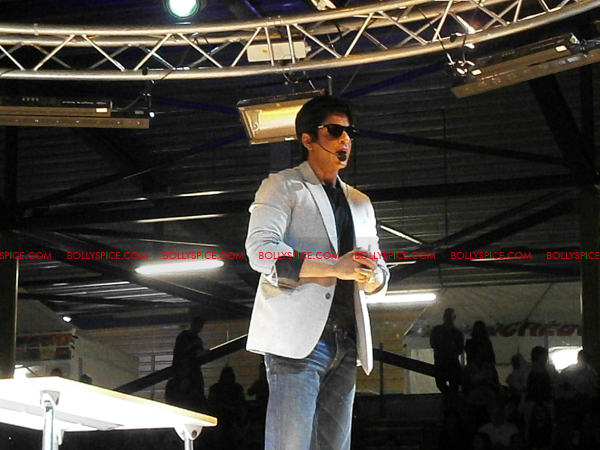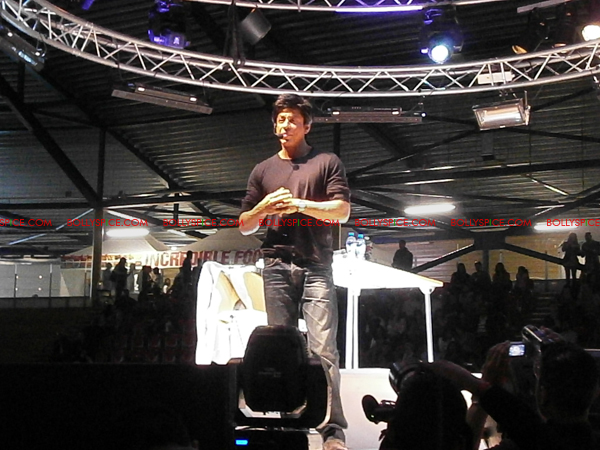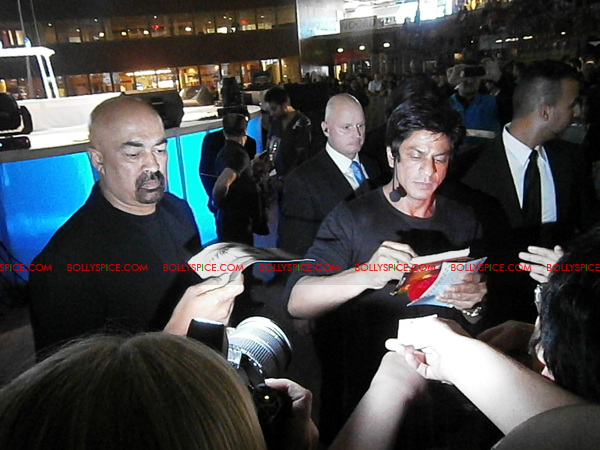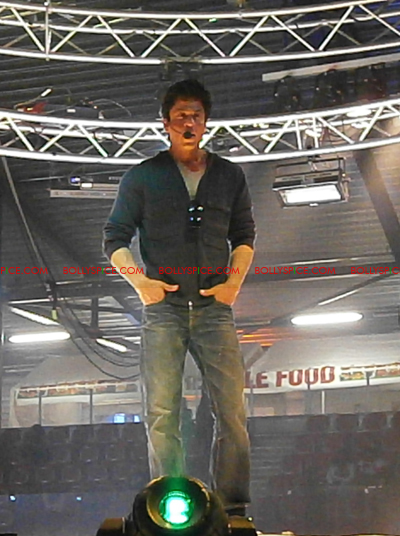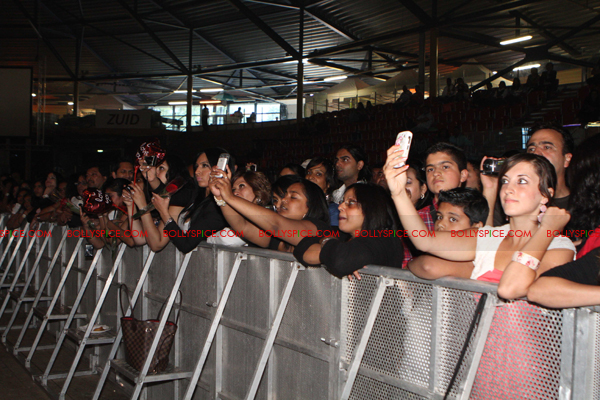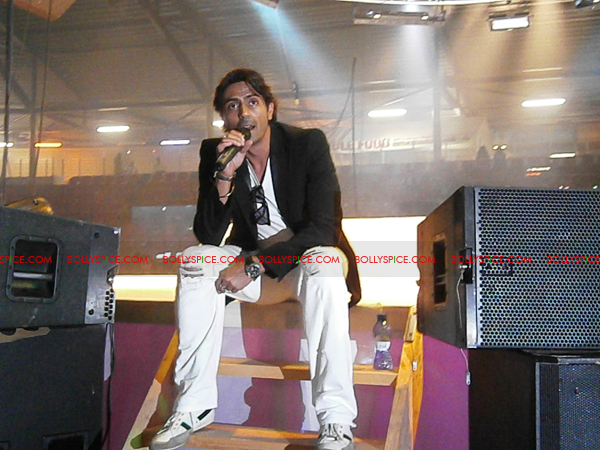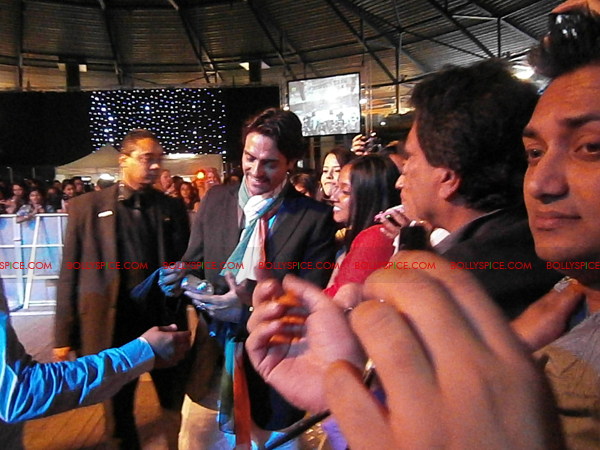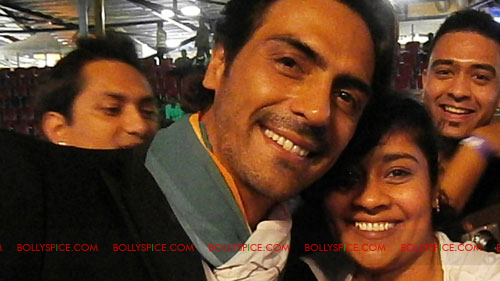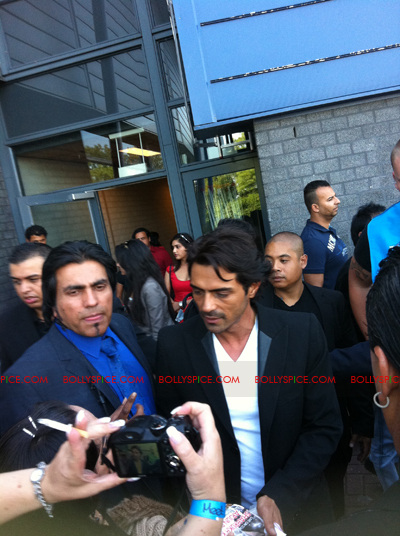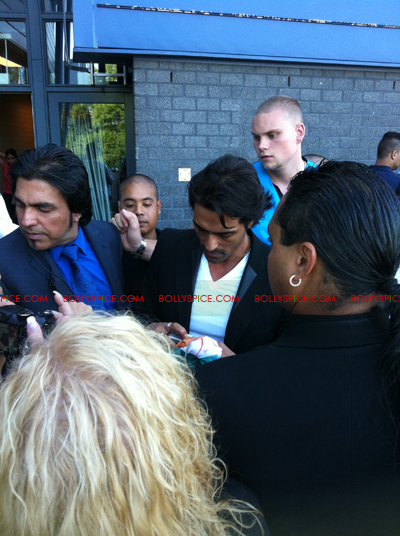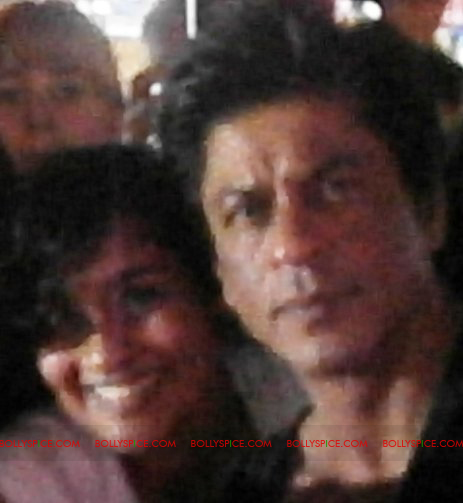 SRK made my camera go all fuzzy!