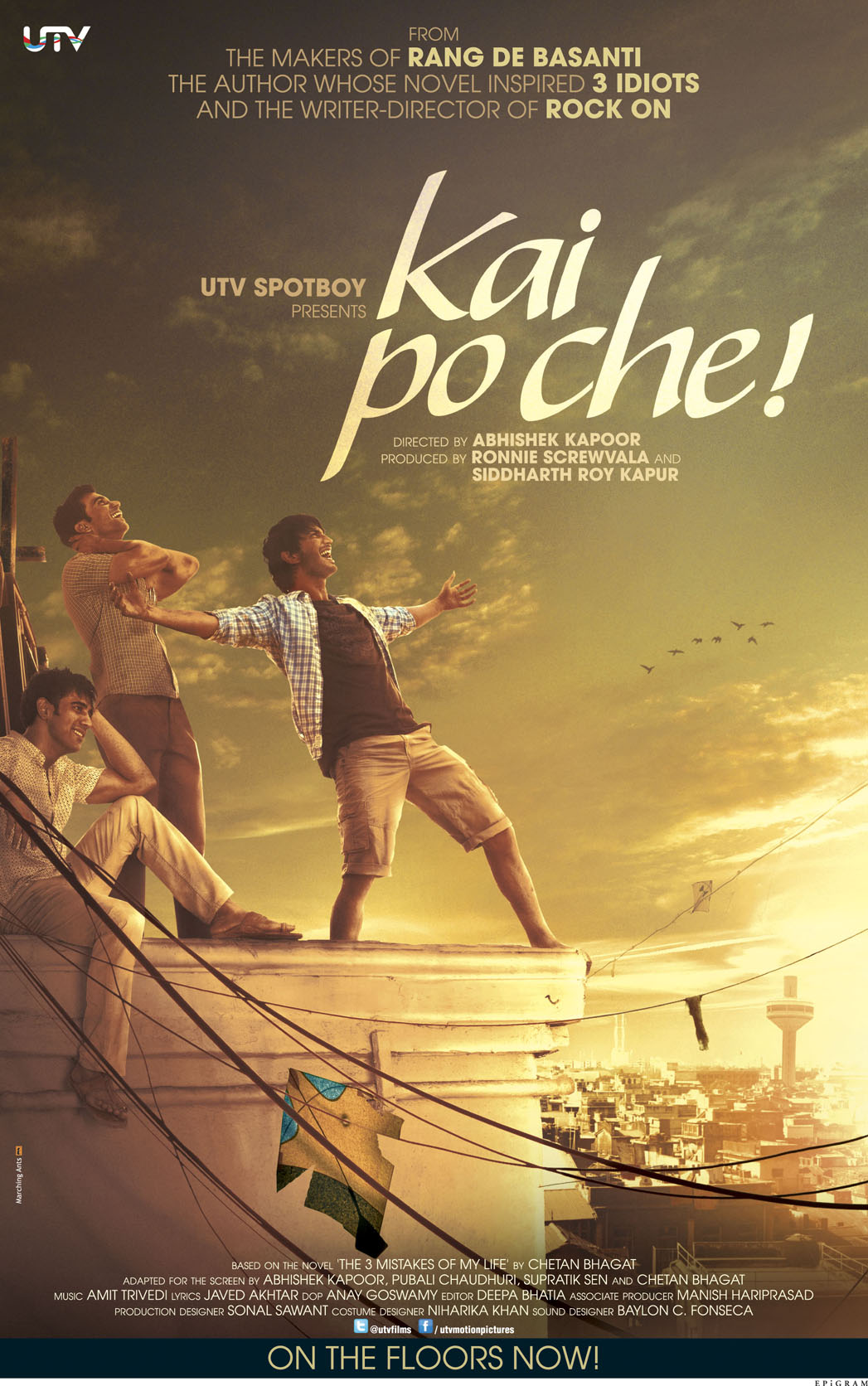 After his book inspired 3 Idiots, India's biggest blockbuster of all time, Chetan Bhagat is set to see another one of his bestsellers 'The 3 Mistakes of My Life' made into a movie by the acclaimed director Abhishek Kapoor. Abhishek's subtle and nuanced understanding of characters and friendships, which he handled brilliantly in Rock On!, makes him the only film maker who could have directed Kai Po Che!
UTV has officially bought the rights to the bestselling book that was first published in May 2008 and had an initial print-run of 420,000 copies with many reprints after that. Abhishek Kapoor dons the director's mantle for the first time since Rock On! with a screenplay also written by himself, Pubali Chaudhuri, Supratik Sen and Chetan Bhagat.
The film, which has dollops of fun, friendship, masti, and highlights the coming of age of a group of three middle class youth, starts shooting in April. A fresh new cast will be launched in it.
Kai Po Che! has already created headlines as the Gujarat government has agreed to give their full support to the production. The flamboyant Chief Minister of Gujarat, Narendra Modi, has himself given a go-ahead to UTV to shoot freely in the state.
Announcing the movie, Siddharth Roy Kapur, CEO of UTV Motion Pictures says, "If ever there was a script that captures an era in our history and defines an entire generation on celluloid, this is it. Abhishek, Pubali, Supratik and Chetan have done a magnificent job of adapting Chetan's book into a screenplay that has the potential to emerge into an iconic film like Rang De Basanti or Dil Chahta Hai, which captured the essence and aspirations of the youth. We are thrilled to be collaborating with Chetan, Abhishek, Javed Akhtar, Amit Trivedi and a fresh new cast on what promises to be a landmark film."
The 3 Mistakes of My Life is the story of three friends and is based in the city of Ahmedabad. The plot sees a young boy in Ahmedabad named Govind dream of starting a business. To accommodate his friends Ishaan (the central character) and Omi's passion, cricket, they open a cricket goods and training shop. However, each has a different motive: Govind's goal is to make money; Ishaan desires to nurture Ali, a gifted batsman; Omi just wants to be with his friends. The events that transpire against the backdrop of all that occurred in the city during that time, change the lives of each of the friends in very different ways.
Chetan is excited to see his novel made into a movie by UTV. He says, "3 Mistakes of My Life is a very special book for me. It has ingredients of making a great film about friendship, romance, dreams and setbacks. I'm delighted that UTV is adapting it for the screen and the man who gave us Rock On, Abhishek Kapoor is directing it. The team has worked three years on the script, and am sure the film will match expectations and live up to the huge buzz already created on the social networks."
Kai Po Che! will also see the musical sensation Amit Trivedi (of Dev.D, Udaan fame), who is also working with UTV on Luv Shuv Tey Chicken Khurana and Ghanchakkar, composing for it, in collaboration with the poetic genius Javed Akhtar who is penning the lyrics. Abhishek Kapoor, who dons the director's hat after three years, reveals more about the project. He says, "I'm being true to the roots of Chetan's brilliant novel that is set in Gujarat. The title Kai Po Che! and the decision to shoot in Gujarat, stem from the fact that the film is about the journey of three friends who hail from the magnificent state of Gujarat. We wanted to be as true to its ethos as possible. The story is universal, but the soul is uniquely Gujarati. We have some exciting new talent in our film who we will unveil soon. This is my first venture with UTV, whom I'm very excited to work with. They've have had the far-reaching vision and rock-solid conviction in this project to support it wholeheartedly."