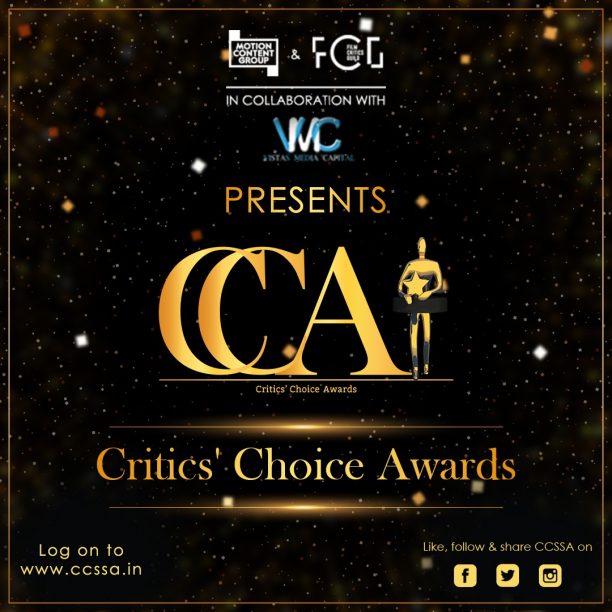 After two successful editions of Critics' Choice Awards, Film Critics Guild and Motion Content Group in collaboration Vistas Media Capital join forces again for the third edition of the highly acclaimed awards, to honour talent, artists, and technicians in feature films, web series, and short films across all Indian languages.
With winners such as Vijay Sethupathi, Ranveer Singh, Shefali Shah, Manoj Bajpayee, Mammootty, Nani and Samantha Prabhu, who were all recognized for their craft in the previous editions, the Critics' Choice Awards is back for the third time. The upcoming edition is going to be truly exciting as it will be a personal experience for viewers this time around given that the awards ceremony will unfold virtually. This ceremony is a reminder that even in a year where all our lives have been affected due to the pandemic, Critics' Choice Awards has made sure that hard work, talent, and good content does not go unseen and unrewarded.
Shefali Shah, the lead actor in the International Emmy Award-winning show Delhi Crime, was lauded and honoured for her role in the show by the critics last year, Shefali Shah mentioned, "Last year, I won the Best Actress award for Delhi Crime, by the Critics' Choice Awards, and I felt absolutely thrilled to be chosen & to be awarded by some of our top critics."
While receiving his first Critics' Choice Award last year, Ranveer Singh said, "I am thrilled to have received this honour. It is my first Critics' Choice Film Award and hopefully, with your love, support, and blessings and this kind of positive encouragement, I will be able to hone my craft and get better as an artist and keep doing some good work."
Anupama Chopra, Chairperson, Film Critics Guild says, "2020 has tested us in many ways. I think this year's stories sustained us more than they ever have. So it gives me great pride that we can showcase and honour the best storytelling at the 3rd edition of the Critics' Choice Awards!"
Sudip Sanyal, Business Head- Motion Content Group India shared, "We want to stay true on our promise to the audience of delivering quality content initiatives even in these strange times. We are truly grateful to the Film Critics Guild for wholeheartedly sharing the same vision in launching the 3rd edition of the Critics Awards. 2020 has been quite a year for all of us, and the content world has been incredibly active across genres, languages, and formats. It is only but natural for us to know and applaud the incredible performances put forth this year, across the country, for us as an audience to enjoy. This year the Film Critics Guild will be awarding the Best across Short Films, Web Series and Feature Films as a unique initiative with some interesting tweaks weaved in. We hope that the Awards continue to resonate with the audience and fraternity, as we keep striving to make it bigger and better every year."
After two successful editions, to further enhance their repertoire, the critics will be recognizing the best of Indian short films, web series, and feature films, across all Indian languages, on the same stage for the third edition.
The dates of the award ceremony will be announced soon.