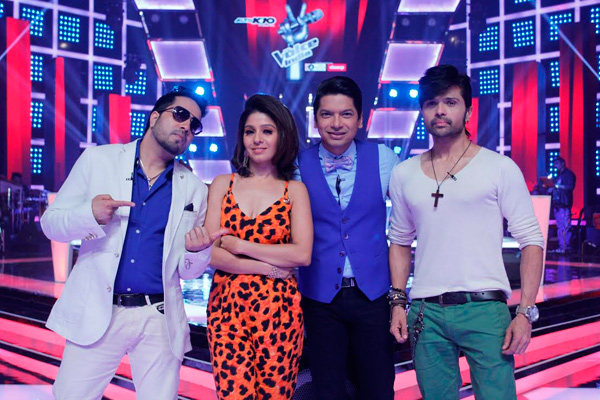 All four coaches on The Voice India (Himesh Reshammiya, Mika Singh, Shaan and Sunidhi Chauhan) have finally chosen 14 members of their team. It is now time for their contestants to battle it out against each other and prove themselves in the forthcoming Battle Rounds.
The contestants (after being mentored by their respective coach), will be singing the same song against another team member. It will be their coach who will decide from the performance, who will remain in their team and who will be eliminated.
Speaking to RadioandMusic.com, the 'fabulous four' coaches gave their views of the Battle Rounds. Shaan said, "The experience so far has been simply amazing, the quality of singers is exceptional. Blind auditions were challenging and with the Battle Rounds it is only going to intensify." (Mika) Singh added, "I received some fabulous reviews on the Blind auditions from my colleagues in the industry. The Voice India is the purest form of singing reality show currently on television and an absolute entertainer. Selecting the team was a tough job and now eliminating artists from the team is going to be even tougher." (Sunidhi) Chauhan said, "The Blind auditions were a tough call with superior quality voices auditioning for a chance to be a part of The Voice India. Now, with the battle rounds ahead the job is only getting tougher, the coaches will have to eliminate their own team members. The levels ahead are difficult yet exciting and I am looking forward to it." Our favourite coach Himesh Reshammiya added, "The Blind Audition rounds was a wonderful showcase of The Voice talent and the best of the lot have been chosen. In the Battle Round, it is all about survival of the fittest. I have a wowtastic team and I am looking forward to coaching them to give it their best."
Watch The Voice India every Saturday and Sunday 9pm on &TV. Stay with BollySpice for a written update of the show every week!
In association with www.himesh-reshammiya.com