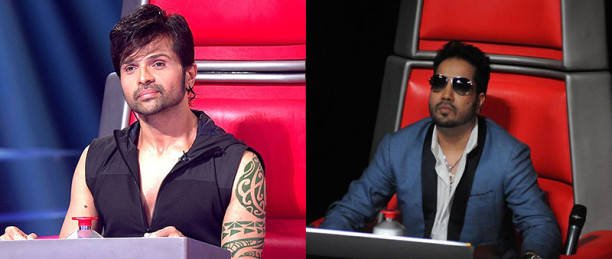 The popular musical reality show The Voice India has some of the finest talents from the music industry, coaching new singing talent. Experienced Music Director, Singer, Actor and Producer Himesh Reshammiya, popular singer Mika Singh and household names Sunidhi Chauhan and Shaan complete the coaching line up.
During the Blind Audition rounds of Endemol Shine India's ultimate singing talent hunt 'The Voice: India,' the coaches had wooed and bribed the contestants in various ways to persuade them to join their team. Sanjana Bhola, a 16 year old popular jagrata singer who performed 'Chhap Tilak' was one such contestant that coaches Mika Singh, Sunidhi and Himesh wanted on their team.
As the coaches tried their best to have Sanjana in their team, and whilst Sanjana herself was deciding which coach to pick, Mika Singh was so impressed with Sanjana's singing talent and voice quality that he announced then and there that his foundation Divine Touch would sponsor her education irrespective of which coach she selects or how far she goes in the competition. Though the young talent ultimately chose Himesh Reshammiya as her coach, Mika Singh kept his promise and his foundation handed over the letter of sponsorship to Sanjana (which will be showcased in an upcoming episode). The young talented singer was pleasantly surprised and very touched by this kind gesture and sincerely thanked Mika Singh and his foundation.
As well as Mika Singh, it is a well known fact that multi talented Himesh Reshammiya has been nurturing new talent within the industry for many years now. Himesh has appeared as a judge on many reality shows and has launched many new singers. The list is endless! Now with his own music publishing company HR Musik, Himesh is constantly searching for fresh unconventional voices. Having already promised singer Sayan Chaudhary and Shuchi Singh from The Voice India a chance to sing play back, Himesh Reshammiya too had promised a contestant Sachet Tandon that he would gift his golden shoes to him if he would join his team.
Himesh very proudly gifted his famous golden shoes to Sachet during the coaching session which he wore during the battle round. Sachet considers those shoes as his lucky charm as he won the battle round against fellow contestant Sayan.
To catch such more interesting moments tune-in into The Voice: India on &TV every Saturday and Sunday 9pm! Catch written updates of the show every week on BollySpice.com!
In association with www.himesh-reshammiya.com