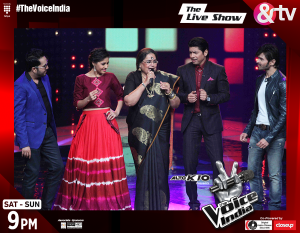 Saturday's episode of 'The Voice India' began with the public voting results of team Mika and team Shaan. Host Karan reminded viewers that the winner would receive a record deal with Universal Music and prize money. The special guest for this episode was legendary playback singer Usha Utthap. Ushaji has sung many famous Bollywood numbers from 'Dum Maaro Dum' to the more recent 'Darling' from Saath Khoon Maaf.
It was then time for host Karan to announce team Mika's public voting results. Tanvair was safe and Passang was eliminated. Passang thanked all four coaches for supporting her through her journey on the show and she feels very lucky to have made it to the Top 4. Host Karan then announced the public voting results from team Shaan. Snigdhajit was safe and Ritu was eliminated. Coach Mika took a selfie with Ritu and her brother. Now each team has 3 contestants.
Host Karan decided to quiz the coaches and the audience by giving clues about each contestant before they came on stage. Sahil was the first to perform from team Mika and he sang 'Aahun Aahun' from Love Aaj Kal. All four coaches were very happy with Sahil's performance and he received a standing ovation from all four of them! Ushaji then performed an impromptu performance of her hit 'Kaali Teri Choti' with coach Mika. Host Karan reminded the audience that the grand finale of 'The Voice India' would be on 30th August.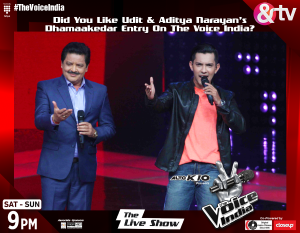 Team Shaan were next on stage with Pawandeep who sang 'Tujhe Bhula Diya' from Anjaana Anjaani. Coach Shaan was amazed with the way Pawandeep performed so effortlessly. Coaches Mika and HR were also very happy with his performance. Ushaji said that she loved Pawandeep's honest, natural voice. As Pawandeep is from the Uttar Pradesh state in India (UP), Ushaji requested him to sing a Bihari folk song. Host Karan then asked Pawandeep who is his competitor out of all the contestants and he said it was Sachet. Meet was in the red room with Sachet who reacted to Pawan's statement.
Team Shaan continued to perform with Akash who sang 'Meri Adhuri Kahani' from Agneepath. Akash received a standing ovation from coaches Shaan and Sunidhi and special guest Ushaji. Akash became emotional upon seeing this. Coach Shaan was very happy and coach HR congratulated Akash in his own unique style! Team Mika were back on stage with Parampara (Parampara is the only girl left in the top3!) who sang Ushaji's hit song 'Koi Yahan Naache Naache'. Ushaji loved Parampara's style and confidence. She received a standing ovation from coaches Shaan, Sunidhi and Mika. Coach HR sang a few lines of the retro classic 'Deewana Mujhsa Nahin' to show his praise for Parampara's performance. We were then shown Meet who was in the red room and there was a friendly fight between contestants Rishabh and Tanvir!
Back to team Shaan and Snigdhajit performed with a song from Bhaag Milka Bhaag. He received a standing ovation from coaches Shaan, Sunidhi and Mika. Coach HR also complimented Snigdhajit and gave a special mention to his 'topi' (hat!). Host Karan also asked Snigdhajit who was his competitor and he said it was Parth from team Sunidhi. Team Mika were back on stage with Tanvir who sang 'Laung Da Lashkara' from Patiala House. Tanvir received a standing ovation from coach Shaan. Coach Mika was very happy with Tanvir as he performed under difficult circumstances and coach HR said that Tanvir would hve performed even better had he been feeling better. Host Karan also asked Tanvir the competitor question and he said that Sahil was his competitor. Sahil is also from his team Mika!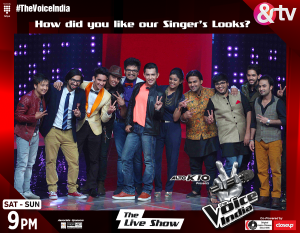 Before it was time to announce the results, it was time to say bye to Ushaji who performed a special medley of songs with the 'fabulous four' coaches. The results were then announced and coach Shaan decided to save Pawan while coach Mika saved Sahil.
Sunday's episode saw team Sunidhi and team HR sharing the stage together. It was time for host Karan to announce the public voting results of team Sunidhi. Vishwa was saved while Shristi was eliminated. For team HR's public voting resulst, Deepesh was safe while to everyone's surprise, Sanjana was eliminated. Sanjana dedicated a few lines of 'Naina' from Omkara to the coaches before she left. Special guests for the episode were Father and Son duo Udit and Aditya Narayan. I must mention here that Aditya had performed his hit song 'Tattad Tattad' from Goliyon Ki Raas Leela Ram Leela with the Voice contestants, however this was not shown in the UK!
Uditji entered singing his most popular song 'Main Yahan Hoon' from Veer Zaara. They both received a warm welcome from the coaches! Team Sunidhi were first to perform on stage with Rishabh who sang the retro classic 'Aaja Aaja Main Hoon Pyar Tera'. Coach HR was seen enjoying Rishabh's performance! Rishabh received a standing ovation from all four coaches. Coach Sunidhi was naturally very happy! Host Karan continued asking the competitor question and Rishabh said that his competitor was 'deadly Devdas' Piyush from team HR!
Team HR were ready to perform on stage with music teacher Sachet who sang Uditji's most famous song 'Pehla Nasha' from Jo Jeeta Wahi Sikandar. Coach HR was encouraging Sachet throughout his performance! Uditji was very happy that Sachet had sung the song in his own way without trying to copy the original. Coach Sunidhi also appreciated Sachet's improvisation. Sachet told host Karan that his competitor was Pawandeep from team Shaan. Aditya then presented our favourite coach HR with a special gift 'Sabse Bada Dil/Dayavan' (the biggest heart) award! This was because coach HR had gifted his famous golden shoes, jackets, watch and song recording invites to all the contestants! This was a wonderful gesture and a very well deserved award.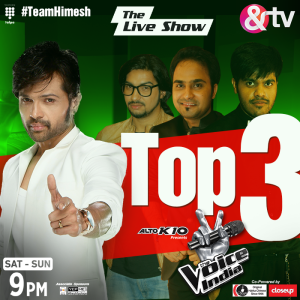 Team HR continued to perform with Piyush who sang 'Ek Haseena Thi' from Karz. Coach HR admitted that he was not happy with Piyush's song choice but as Piyush insisted, he gave in to this risk. Coach HR then requested to sing his own hit composition 'Tumse Milna' from Tere Naam with Uditji (who sang the original song) on stage. They also performed 'Ruk Ja O Dil Deewane' from Dilwale Dulhaniya Le Jayenge and the title track 'Kaho Na Pyar Hai'. Deepesh (team HR) performed next with 'Mast Kalandar'. Coach HR was very happy with Deepesh and kept encouraging him throughout! Coach Sunidhi was so happy with Deepesh's performance, tha she stood on her chair to show her appreciation! Coach HR said this was a historic performance! Deepesh also answered host Karan about his competitors and he said they are Piyush and Parth.
Back to team Sunidhi with Parth who performed the title track from the film Saathiya. Coach Sunidhi was very happy with Parth's performance despite the minor mistake he made in the antara. Coach HR felt that Parth's 'fear' was stopping him somewhere from performing even better. Parth told host Karan that his competitor was Rishabh, Pawan, Sachet etc! Cishwa (team Sunidhi) performed next with 'Kun Faya Kun' from Rockstar. Coach Sunidhi was encouraging him throughout his performance. Vishwa became emotional after he performed. Coaches Mika and Shaan were very happy. Coach HR said that Vishwa sang very well and he connected very deeply with the song. Vishwa told host Karan that his competitors are Parth and Pawan.
Coach Sunidhi then requested Uditji if they could both sing 'Gazab Ka Hai Din' together as she has always loved this particular song of his! It was then time to find out the results of today's episode. In team Sunidhi, as always, Sunidhi saved Rishabh. Coach HR saved Deepesh for the first time! Public voting results would be announced next Saturday and the grand finale would be next Sunday.
Keep watching 'The Voice India' every Saturday and Sunday at 9pm on &TV with written updates every week at BollySpice.com!
In association with www.himesh-reshammiya.com