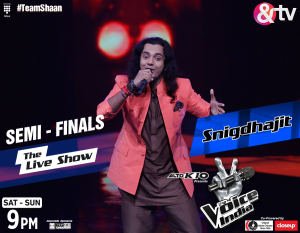 We have finally reached the last weekend of The Voice India! 13 weeks of pure music and singing with expert coaching, have sadly come to an end. This is our last update for the show and it features a detailed insight into the semi final and the finale episodes.
Saturday's episode of 'The Voice India' was the semi finals. From this episode, only 1 out of 2 singers would be saved from the public voting. All contestants with their respective coaches were on stage while host Karan announced the results. For team Shaan, Snigdhajit was saved while Akash was eliminated. Team HR's Piyush was out while Sachet was safe. Team Sunidhi's Vishwa was safe and Parth was eliminated and team Mika saw Parampara being safe and Tanvir eliminated.
Now each team was left with their final top 2 contestants. The coaches were not allowed to save anyone anymore, they would mark their scores (out of 100) and keep them in an envelope. The scores would the be added to the votes from the public to determine the ultimate winner of The Voice India.
Team Mika were first to perform with Parampara who sang a medley of songs including 'Mera Naam Chin Chin Chu', 'Badtameez Dil' from Yeh Jawani Hai Deewani and 'Eena Meena Deeka'. Parampara received a standing ovation from coaches Shaan, HR and Mika. Sahil performed next with 'Jalwa' from Fashion and 'Marjaani' from Billu Barber. Before each contestant performed, the audience were shown a quick recap of their journey on the show and their thoughts about reaching the finale. Coaches Mika and Sunidhi were very happy with Sahil's performance. Coach Mika then noted down his scores for Sahil and Parampara.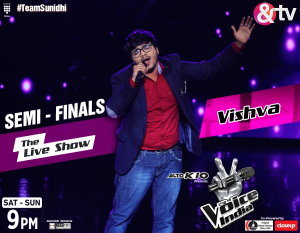 The came everyone's favourite 'Dhina Dhin Dha' moment with our favourite coach HR! This has really been one of the highlights of the show! God Bless coach HR for putting a smile on everyones face with his famous 'Dhina Dhin Dha'!
Team Shaan were next to perform on stage with Snigdhajit who sang 'Gallan Goodiyan' from Dil Dhadkhane Do. He received a standing ovation from coach Shaan. Snigdhajit sadly became a bit emotional as he felt he forgot the lyrics in a few places in the song. The coaches appreciated his honesty! Pawandeep was next on stage with 'Jai Ho' from Slumdog Millionnaire. Pawandeep also performed with an electric drum kit which Shaan revealed that Pawandeep had only seen the instrument for the first time the day before! He received a standing ovation from all four coaches! Coach Shaan then saved his results in the envelope.
Team Sunidhi performed next with Vishwa who sang 'Saiyaan' (Kailash Kher). Sunidhi was encouraging him throughout and she gave him a standing ovation. Rishabh was next and he sang the title song from the film Kurbaan. Coach Sunidhi was very happy and coach Mika mentioned the fact that he knows that Rishabh's mother also sings very well. He invited her on stage and they sang a popular Punjabi folk song together. Coach Sunidhi also saved her scroes in the envelope.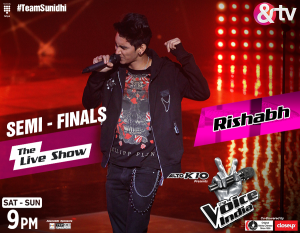 Team HR were last to perform with Deepesh who mesmerized everyone with his rendition of 'Piya Re'. Coach HR was seen cheering and encouraging Deepesh throughout his performance!  Deepesh received a standing ovation from all four coaches and coach Shaan stood on his chair! Sachet performed next with 'Tera Hero Idhar Hai' from Main Tera Hero. He received a standing ovation from coach Shaan. Coach HR said it is going to be extremely difficult for the public to decide who to vote for! Coach HR sealed his scores in the envelope.
Sunday's episode began an hour early as it was the grand finale! The audience were given a quick pre cap of what the show had to offer. Special guests for the finale included comedian Kapil Sharma, actress Elli Avram and a host of special singers from the music industry.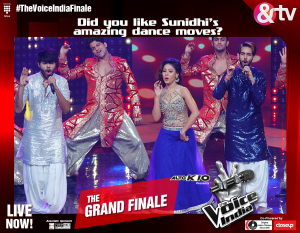 The finale began with all the contestants and coaches on stage as host Karan read the results of the scores and votes together. Team HR's scores were as follows: Deepesh received 70/100 and Sachet 30/100 plus public votes which meant Deepesh was safe but Sachet was eliminated. Coach HR told Sachet he will be recording with him so he is not to worry. Team Sunidhi's results were as follows: Rishabh received 60/100 and Vishwa 40/100 plus public votes meant that Rishabh was safe and Vishwa was eliminated. Team Mika's results saw Sahil recdive 60/100 plus public votes and Parampara with 40/100 plus public votes yet Parampara was safe and Sahil was eliminated. Sahil sang a few lines (!) of 'Dard e Disco' from Om Shaanti Om and he received a chain from coach Mika. Team Shaan's results were announced as follows: Pawandeep received 60/100 and Snigdhajit 40/100 plus public votes and Pawandeep was saved while Snigdhajit was eliminated.
Team Shaan performed first with Pawandeep (now each team only had 1 contestant!) who sang 'Selfie Le Le Re' from Bajrangi Bhaijaan. All of the fabulous four were seen dancing during Pawan's performance and of course, taking selfies! Team Mika performsx next with Parampara who sang the title song from Dil Dhadakane Do. Host Karan wanted a once more for the only girl left in the top 4!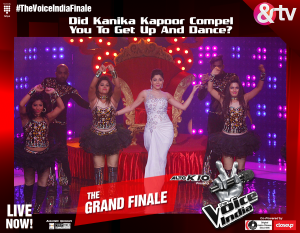 Team Sunidhi performed next with Rishabh who sang 'Sooraj Dooba Hai' from Roy. Sunidhi was dancing with Rishabh during his performance. Team HR were next with Deepesh who sang 'Mauja Hi Mauja' from Jab We Met. Coach HR was very proud of Deepesh and gave him a 'Dhina Dhin Dha' moment!
Next saw the entry of special guest Kapil Sharma who was there to promote his film 'Kis Kis Ko Pyar Karu'. Coach Sunidhi was then ready to perform and she performed to a medley of her songs: the title track of 'Aaja Nachle', 'Dilliwali Girlfriend' from Ye Jawani Hai Deewani and 'Chokra Jawan' from Ishaaqzade. Contestants Vishwa, Snigdhajit, Piyush and Sahil joined Sunidhi for her performance.
Special guest number two, popular singer Kanika Kapoor performed her hit songs 'Baby Doll', 'Desi Look' and 'Lovely'. Deepesh and Tanvir and Meet accompanied Kanika during her performance. The audience were then shown some hilarious outtakes from the 'fabulous four' during this season! Then special guest singers arrived to perform with the top 4. Ash King sang 'Meherbaan' from Bang Bang with Parampara, Neet Mohan performed the title song of Bang Bang with Akash and Rishabh, and Akriti Kakkr performed 'Saturday Saturday' from Humpty Sharma ki Dulhaniya with Sachet and Anish. Siddarth Mahadevan performed 'Zinda' from Bhaag Milka Bhaag with Pawan and Parth. Ellie Avram gave a special performance to promote her film with Kapil Sharma.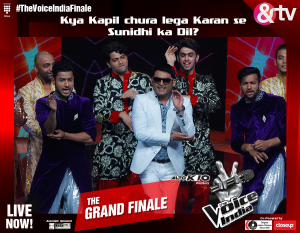 Next, coaches Shaan and Mika decided to perform in each others style! This saw coach Mika performing 'Jab Se Tere Naina' from Saawariya, 'Tere Naina' from Jai Ho and 'Woh Ladki Hai Kahan' from Dil Chahta Hai and coach Shaan performed 'Chinta ta ta' from Rowdy Rathore followed by 'Aaj ki Party' from Bajrangi Bhaijaan! There was a special entry by popular Tv actor Sharad Kelkar who came to promote his show forthcoming show 'Agent Raghav'.
Coach HR then gave a very unique and stellar performance with contestants Mona Bhatt, Jyotica and Shristi. Coach HR sang retro classics such as 'Haal Kaisa Hai Janab Ka' (with Mona), 'O Haseena Zulfon Wali' with Jyotica, and 'Dheere Dheere Se' with Shristi. Lastly he performed his 2014 hit song 'Ice Cream Khaungi' from The Xpose with Sanjana and all. This performance was a never seen before, real treat for all HR fans!
Before announcing the results esteemed directors Abbas-Mustaan gave a special appearance. It was then results time! Host Karan announced the results as follows: coach Sunidhi and Rishabh were fourth runner up, coach Mika and Paramoara were third runner up, coach HR and Deepesh were second runner up and coach Shaan and Pawandeep were declared the winners of the first series of The Voice India!
BollySpice congratulates coach Shaan and his winning contestant Pawandeep! We hope you enjoyed our written updates of the popular musical reality show.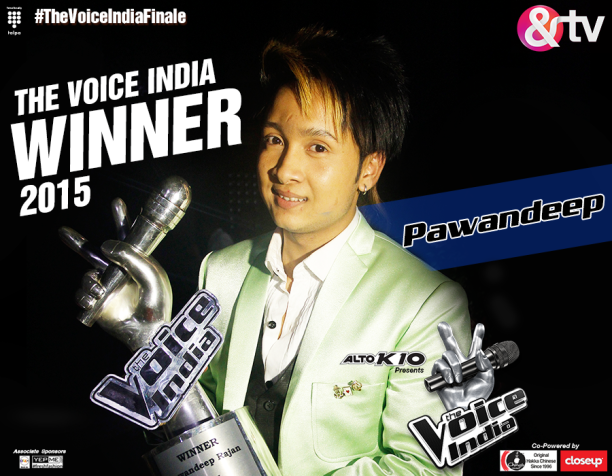 In association with www.himesh-reshammiya.com