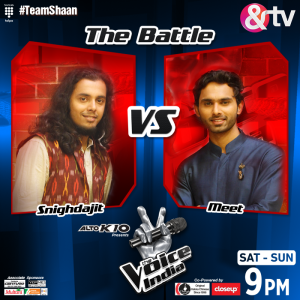 Finally, last weekend of The Voice India not only saw the show enter its second phase (battle rounds) but also gave the 'fabulous four' coaches the chance to wear a different outfit (yay!) During the battle rounds, the audience would see 2 contestants from the same team battle it out together by performing the same song. It would be their coach who would then decide after the performance, who is worthy of staying in their team and who will be eliminated.
Saturday's episode opened with an insight into how the coaches are preparing their teams, Coach HR then entered with Team HR contestants singing 'Hookah Bar' (Khiladi 786). Coach Shaan and team Shaan sang 'Deewangi' from Om Shaanti Om, coach Mika and team Mika sang 'Jumme Ki Raat' (Kick), whilst coach Sunidhi sang Move on from Tanu Weds Manu Returns, with her team.
Team Shaan was the first team to perform in the Battle Rounds. The first contestants that Shaan picked were Snighdajit and Meet. Coach Shaan chose the song 'Sree Ganesha Deva  from Agneepath. Coach Shaan had one half of the Music Director duo Sajid-Wajid, Wajid Khan, to help him mentor the contestants. After their performance, coach HR congratulated coach Shaan for the talent in his team. Coach HR felt Snighdajit has performed better in this performance. Shaan decided to keep Snighdajit and therefore Meet was eliminated. Coach HR however, said that he would give Meet the chance to sing for him as a playback singer, very soon!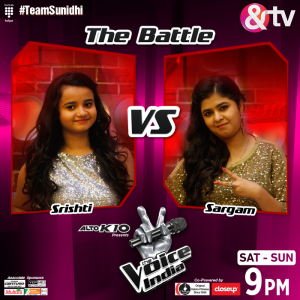 Team Sunidhi were up next to perform. Coach Sunidhi chose Srishti against Sargam. The song she gave them was 'Swing' from Dil Dhadakane Do. Hitesh Sonik helped coach Sunidhi to mentor her contestants. Both girls performed exceedingly well during their battle round! Coaches Mika and Shaan said they felt Sargam performed better but Sunidhi decided to save Shristi!
Team Mika were next up in the battle rounds. The audience were shown that coach Mika had organised a huge daawat (feast) for his team before they settled down for the rehearsals Coach Mika chose Tanu against Passam for the first battle rounds. Popular singer Kanika Kapoor helped coach Mika to train the singers. Coach Mika had given them a pure classical song 'Bayan Na Dharo O Balma' to perform. After the performance, coach HR said that it was very difficult to choose this time! Coach Mika chose to keep Passam and Tanu was eliminated.
Then it was time for our favourite team, Team HR! The audience were shown how coach HR (Himesh) coached his team. He chose Sayan against Sachet and gave them the melodious 'Jeena Jeena' from Badlapur. As mentioned in the last episode, coach HR had promised that Sachet would have his golden shoes and Sachet chose to wear them during his first performance in the Battle Rounds! Coach Himesh has years of experience within the music industry and therefore needed no one to help him coach his contestants. After the performance, coach HR chose to keep Sachet whilst Sayan was eliminated. The show ended with the fabulous four dancing to a medley of Mithun Chakraborty songs!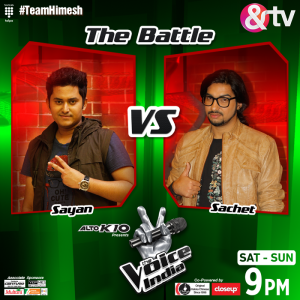 Sunday's episode opened with Team Shaan who were the first to perform. Coach Shaan picked singer Sai Shastri against singer Pawandeep. The song which coach Shaan had chosen for them was 'Aaj Din Chadiya' from Love Aaj Kal. This song was originally sung by Rahat Fateh Ali Khan. Coach Shaan had one half of the Music Director duo Sajid-Wajid, Wajid Khan, to help him mentor the contestants. Wajid felt that the scale needed to be changed from note A to E in order to make it more comfortable for both Sai Shastri and Pawandeep. After their performance, coach HR said that he appreciated Pawandeep's singing while coach Sunidhi also agreed. She said that Sai needed to make his 'sur' stronger. Coach Shaan decided to keep Pawandeep in his team, whilst Sai Shastri was sadly eliminated.
Next up were Team HR. This time, coach HR chose Mona to be against Shuchi. The song that HR chose for them was the original folk song 'Soniye Je Tere Naal' (incidentally, HR himself had revamped this song for his film Karzzzz!) This was a spell binding performance between the two girls and after a tough decision of who to keep, coach HR chose Mona. Shuchi was naturally upset but coach HR promised her a chance to sing playback for him as well!
It was then time for team Sunidhi to perform. Coach Sunidhi chose Rishabh against Atit. The song she chose for them was 'Haule Haule' from Rab Ne Bana Di Jodi. After their performance, Sunidhi had a real tough time with deciding and even had to rely on coach HR's famous countdown! In the end, she chose Rishabh whilst Atit was eliminated. To change the tensed atmosphere, coach Mika sang a few songs for Sunidhi!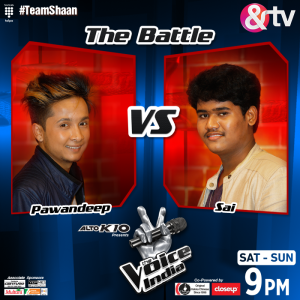 Team Mika were next to perform. This time, coach Mika chose Vinti against Harjot. He gave them the peppy dance number 'Hungama Ho Gaya.' It was an electrifying performance from the girls! Mika chose to keep Harjot and Vinti was eliminated. Last but not the least, we got to see team Shaan perform again! Coach Shaan chose Arpita against Saurav. This was the first time a male singer was performing against a female singer! The song coach Shaan chose for them was the retro classic 'Woh Hai Zara Khafa Khafa.' After their performance, coach Shaan chose to keep Arpita and sadly Saurav was eliminated!
We hope you enjoyed reading this weeks written update of The Voice India Battle Rounds! Watch The Voice India every Saturday and Sunday, 9pm only on &TV.
Stay with BollySpice for updates of your favourite show every week!
In association with www.himesh-reshammiya.com