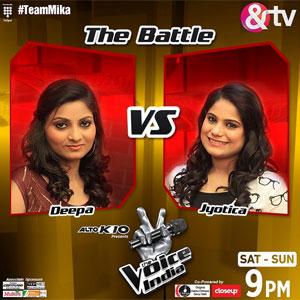 Last Saturday's episode of The Voice India opened with a recap of the Battle Rounds so far. Our favourite coach HR, along with coach Mika Singh opened the show on a peppy note as they sang their hit songs (that have been picturised on Salman Khan) Photocopy (Jai Ho) and Dhinka Chika (Ready)! It was wonderful to see coaches Sunidhi and Shaan dancing away whilst coaches HR and Mika were performing. Truly a great start to week 7 of The Voice India!
Host Karan then began to introduce the first team of the evening which was none other than Team Mika! Coach Mika chose to pair contestants Jyotica and Deepa together in this round and the song he chose for them was Duniya Main Logon Ko from Once Upon a Time in Mumbai. As always, everyone's favourite 'Baby Doll' singer Kanika Kapoor was helping coach Mika to train his contestants. After a superb performance, coach Shaan said that he felt Deepa sang better. Coach Sunidhi also chose Deepa while coach HR chose to remain neutral. Coach Mika chose to keep Jyotica and eliminated Deepa. Coach Sunidhi made it clear to Mika that she was not very pleased with his decision as she felt that Jyotica is a very limited singer and will not reach the finals with sucha strict singing genre!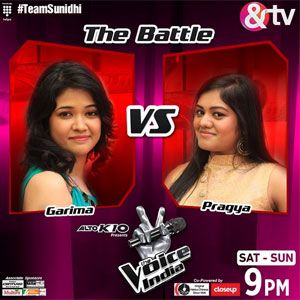 It was then time for team Sunidhi to perform. Coach Sunidhi chose Garima against Pragya. Coach Sunidhi gave them both the classical Mohe Pangat Pe from Mughal E Azam. As always, coach Sunidhi had Hitesh Sonik to help her guide her contestants. After the performance, coach HR said Garima performed better, however coach Sunidhi decided to keep Pragya and eliminate Garima.
Team HR were next to perform! Coach HR chose Kushal opposite Piyush. The song he gave them was Tu Hi Meri Shab Hai from Gangster. There were a lot of nice improvisations added to the song in this performance! After the performance, coach Shaan gave both contestants a standing ovation and said that he felt Piyush performed better. Coach Sunidhi also chose Piyush. Coach HR kept Piyush in his team and eliminated Kushal.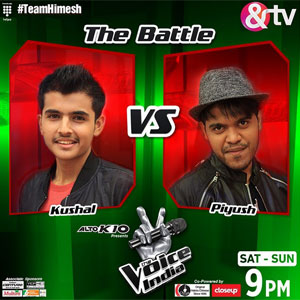 Team Shaan were next on stage. Coach Shaan had chosen Amrapali against Sana. He gave them the item song 'Humma' from the film Bombay. As always, coach Shaan had Wajid Khan (Sajid-Wajid) to help him guide his contestants. This performance had a very international feel and coaches Shaan and Mika felt that Sana sang better whereas coach HR veered towards Amrapali. Coach Shaan kept Sana in his team and eliminated Amrapali.
Team Sunidhi performed once again in this episode. This time, coach Sunidhi chose to pair Gopal opposite Premnath. She gave them the song Tere Naina from My Name is Khan. After the soulful performance, Coach Mika said Premnath had performed better whilst coaches Shaan and HR were partial towards Gopal. Coach Sunidhi decided to keep Gopal and eliminate Premnath.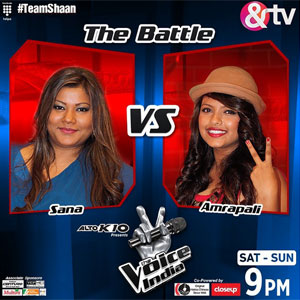 Sunday's episode of The Voice began with team HR taking the stage for the first battle rounds. This time round, coach HR paired Sanjana opposite Varsha. He gave them the song Ram Chahe Leela from Ram Leela. This was a super competitive performance and both singers received a standing ovation from all three coaches! Coach HR was so impressed with both Sanjana and Varsha, that he stood in the ring showing his support for them during the performance. Coach Sunidhi praised Varsha whilst coaches Shaan and Mika both praised Sanjana. Coach HR decided to keep Sanjana and eliminate Varsha. Unfortunately Varsha did not react well to being eliminated from the show but sadly the rules of the show must be followed!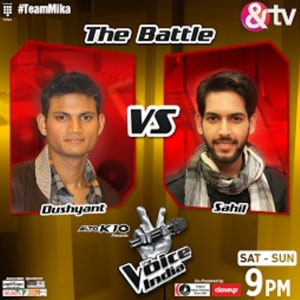 Team Mika were next to perform and this time Mika chose Sahil vs Dushyant. Coach Mika gave them the song Titli Dabochli. Kanika Kapoor was once again present to help Mika with his coaching. Coach Mika was so impressed with them that he sang with them after the performance! Mika chose to keep Sahil and eliminated Dushyant. Coach HR decided to take a selfie with Dushyant and the three coaches before Dushyant left the stage!
Team Sunidhi were next on stage and this time Sunidhi chose Anushman opposite Vishwa. The song she chose for them was Arziyan from Delhi 6. After the performance and before the results were announced, unfortunately Anshuman suffered a mild fainting attack but quickly recovered. Coach Sunidhi chose to keep Vishwa and Anshuman was eliminated.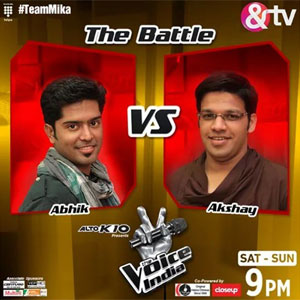 Team Mika performed again and in this round coach Mika chose Abhik opposite Akshay. He gave them the song Jab Se Tere Naina from Saawariya. They both performed a wonderfully improvised English lyric section at the beginning of their performance! Coach Mika chose to keep Akshay whilst Abhik was eliminated.
Last but not the least, it was time for team Shaan to perform on stage. Coach Shaan had chosen Ritu against Aishwarya. Surprisingly both Ritu and Aishwarya study in the same college and are rivals of each other! This affected their overall performance which was to the song Kyun from Barfi. Coach Shaan was disappointed that they had not listened to his guidance when performing but he kept Ritu and Aishwarya was eliminated.
Keep watching The Voice India every Saturday and Sunday 9pm on &TV and look out for weekly written updates of the show every week on BollySpice.com!
In association with www.himesh-reshammiya.com