Saturday's episode of The Voice India began with host Karan reminding the audience that the winner of The Voice India would receive a record deal contract and prize money!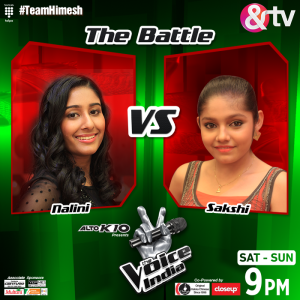 The first team to perform were Team Sunidhi. Coach Sunidhi chose Parth and Niyam for this round. The song she gave them was 'Wallah Re Wallah' from Tees Maar Khan. As seen with previous episodes, Hitesh Sonik was helping coach Sunidhi guide her contestants (similarly we still see Kanika Kapoor with Mika Singh and Wajid Khan with Shaan. Coach HR's own experience proves he needs no such extra help). After a wonderful performance from both Parth and Niyam (they received a standing ovation from the coaches), it transpired that coaches HR, Shaan and Mika were neutral with their decisions! They could not choose between the two singers. This naturally made the decision tougher for coach Sunidhi. She eventually chose to keep Parth and Niyam was eliminated even though she said she had no reason to eliminate either of them!
The next team to perform were our favourite Team HR! Coach HR chose Rohan opposite Anish and he gave them the funky song 'O Hum Dum Suniyo Re' from Saathiya. Coach HR had added a very well improvised introduction to the song which both Rohan and Anish performed wonderfully! They both also performed the rap that features in the song. Coach Shaan felt Anish performed better whilst coach Mika chose Rohan. Coach HR decided to keep Anish and so Rohan was eliminated. Coach HR felt that choosing Anish was better for the long term even though he did slip during this performance.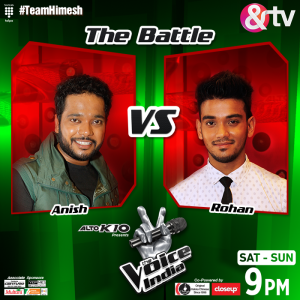 Team Mika were next on stage. Coach Mika chose Manisha against Parampara and he gave them the song 'Pataka Guddi' from Highway. Both girls received a standing ovation of appreciation from the coaches after their performance! Coach Shaan felt that Parampara performed better whilst coach HR thought Manisha did very well. Coach Sunidhi felt Parampara did better and coach Mika decided to keep Parampara and eliminate Manisha.
It was then time for Team Shaan. Coach Shaan chose Varsha opposite Deepmala and he gave them the song 'Bhare Naina' from Ra One. After a wonderful performance, coach Sunidhi chose Deepmala, coach Mika remained neutral and coach HR chose Varsha. Coach Shaan decided to keep Varsha and Deepmala was eliminated.
Our favourite Team HR were then ready for their next round. This time coach HR chose Boston USA's Nalini opposite Saakshi. Coach HR gave them the song 'Malang' from Dhoom 3. Whilst being shown the rehearsals of this performance the audience learnt from host Karan that due to food poisoning, Nalini fell ill and came straight from the hospital to perform! After the performance, coach Sunidhi chose Sakshi whilst coach Shaan chose Nalini. Coach HR decided to keep Sakshi and eliminate Nalini.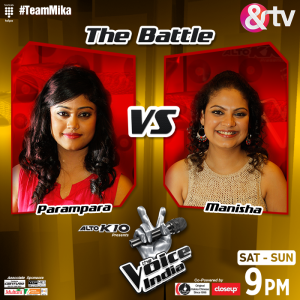 Sunday's episode opened with coaches Shaan and Sunidhi singing their song 'Boys are Best' from the film Chura Liya Hai Tumne. Coach HR has given the music to this popular song!
Team Mika were the first to perform. For this round, coach Mika chose Tanvir opposite Deepak. He selected the song 'Humko Peeni Hai' from Dabangg for them. This was another strong performance that saw coaches Mika, Shaan and HR go on stage afterwards to congratulate both Tanvir and Deepak. Naturally, this praise meant that it would be a tough decision call for coach Mika! Coaches HR and Shaan remained neutral whilst coach Sunidhi chose Deepak. Coach Mika decided to keep Tanvir and Deepak was eliminated. Coach Mika told Deepak to sing one of his favourite songs before he left the stage and Deepak amazed everyone once again with his singing. Coach Mika then said that if ever Deepak decided to cut an album, he would be prepared to pay the expenses.
Our favourite Team Himesh were ready to perform next! Coach HR chose Jaysinh opposite Deepesh. He gave them one of his own (beautiful) compositions 'Bichdann' from Son of Sardaar. As this was coach HR's own composition, he added a wonderful introduction which both Jaysinh and Deepesh performed, before the actual song began. A special mention to the outstanding musicians of The Voice India who are giving such fantastic Music to these performances! Coach HR added a special saxophone part too! After this wonderful performance, coaches Sunidhi and Mika were partial to Jaysinh whilst coach Shaan preferred Deepesh. Coach HR decided to keep Deepesh and eliminate Jaysinh.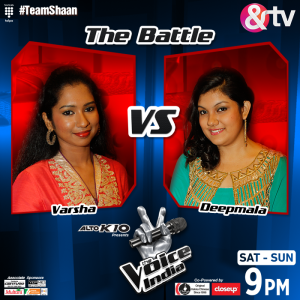 Team Sunidhi were next to perform. Coach Sunidhi chose Oishwarya opposite Shrinidhi and she gave them the song Pyar Ki Ye Ek Kahani Suno from the film (check). After the performance, coach HR chose Oishwarya, coach Mika also chose Oishwarya. Coach Sunidhi decided to keep Oishwarya and Shrinidhi was eliminated.
The last team to perform on the last week of the Battle Rounds were Team Shaan. Coach Shaan chose Akash opposite Mohit and he gave them the song Surili Ankhiyon Wale from Veer. After the soothing performance, coach Mika said that Mohit reminds him very much of Shaan and upon hearing this, coach HR gave Mohit the nickname of 'chota Shaan'! That is a huge compliment for Mohit! Coach Mika, however, felt that Akash had performed better. Coaches HR and Sunidhi felt Mohit had performed better. Coach Shaan decided to keep Akash and suprisingly eliminate Mohit.
Each team now has 7 contestants all of which will compete in the Live rounds which will begin from next weekend! Watch The Voice India every Saturday and Sunday at 9pm only on &TV. Stay with BollySpice for a written update of the show every week!
In association with www.himesh-reshammiya.com