In The White Tiger, Balram Halwai (Adarsh Gourav) narrates his epic and darkly humorous rise from poor villager to successful entrepreneur in modern India. Cunning and ambitious, our young hero jockeys his way into becoming a driver for Ashok (Rajkummar Rao) and Pinky (Priyanka Chopra Jonas), who have just returned from America. Society has trained Balram to be one thing – a servant – so he makes himself indispensable to his rich masters. But after a night of betrayal, he realizes the corrupt lengths they will go to trap him and save themselves. On the verge of losing everything, Balram rebels against a rigged and unequal system to rise up and become a new kind of master.
In THE WHITE TIGER, which has just been longlisted for 7 BAFTA awards (including Best Film, Best Director, Best Actor and Best Supporting Actress), the car represents Balram's (played by newcomer Adarsh Gourav) submission to servitude as he tries to climb the social ladder whilst being confined to driving his rich masters (Priyanka Chopra Jonas and Rajkummar Rao).
The critically acclaimed film is being celebrated in a very unique way in the UK. Netflix has partnered with two leading British Asian artists, Inkquisitive and Chila Kumari Burman, to explore the concepts of ambition, class, society, and entrepreneurship from the film by creating visually stunning interpretations of the infamous 'White Tiger Driver' car and putting their own distinct style on two otherwise ordinary-looking cars.
With a legion of worldwide fans and celebrity following of his unique artwork, Inkquisitive AKA Amandeep Singh, is known for his abstract and vibrant ink sketches and using his artwork as a creative platform for commentary on faith, popular culture and global issues.
"I had heard about the book so when the opportunity arose to work on The White Tiger, I knew it would be something special," says Inkquisitive. "I loved the film ‒ the themes of the underdog, ambition, and hustle amongst the wider social context of India. I wanted to focus on the storyline of the main character in my art; exploring the duality of Balram's humble beginnings in the village to what he does and what he becomes – using striking imagery and bright colours, peppered with words that resonate closely to the film, and finishing with the white tiger at the top of the car, to reflect Balram's final status in society."
"It's great that Netflix is giving British Asian artists a platform to share their work ‒ it's been a decade since I started creating my art, and this unique partnership has been an incredible way to celebrate my journey thus far," says Inkquisitive.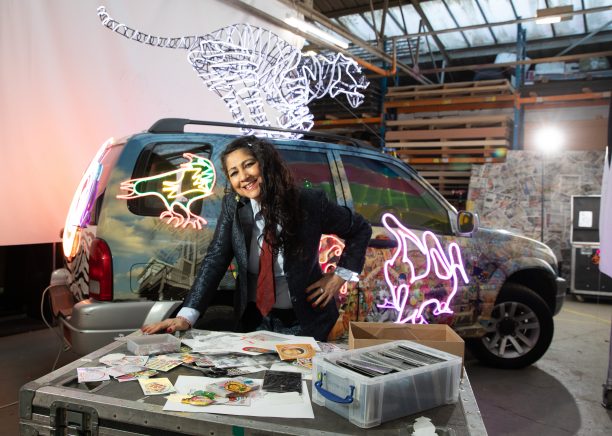 With a lauded body of work over the years, 2020 saw Chila decorate Tate Britain's iconic façade as part of the 'Winter Commission' project. Challenging stereotypical assumptions of Asian women, her experimental and distinctive pop artwork is informed by popular culture, Bollywood, fashion, gender, and identity.
"The collaboration with Netflix has been wonderful the whole time I was making my car," says Chila. "I've taken inspiration from every scene in the film and tried to cover its main themes, from capitalism and corruption to injustice and poverty. Using imagination and creativity, I've handcrafted digitally and transferred my ideas onto the car with fun and dynamism. The animated tiger on the roof captures the solitary pounce of the white tiger and contrasts with the bold neon, colour, and overall design of the car."
Netflix UK is exploring options to display the cars once the national lockdown has eased. The creation of the cars and assets adhered to government COVID guidelines.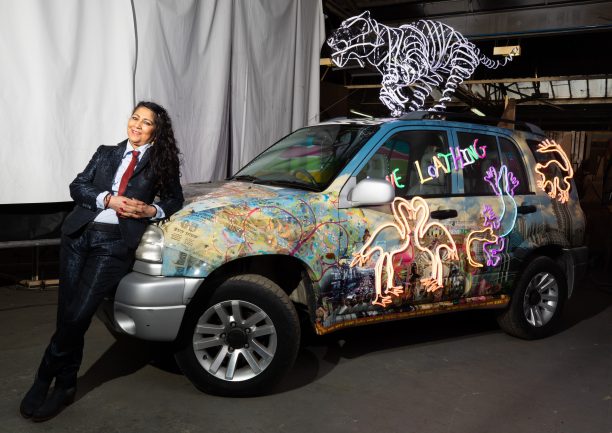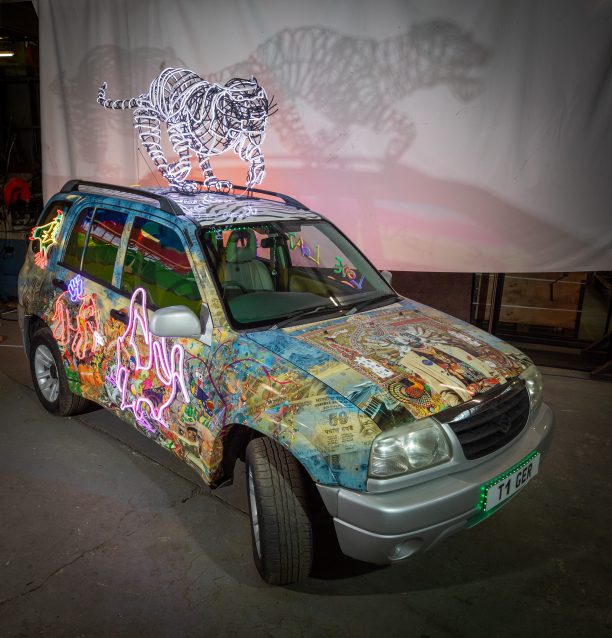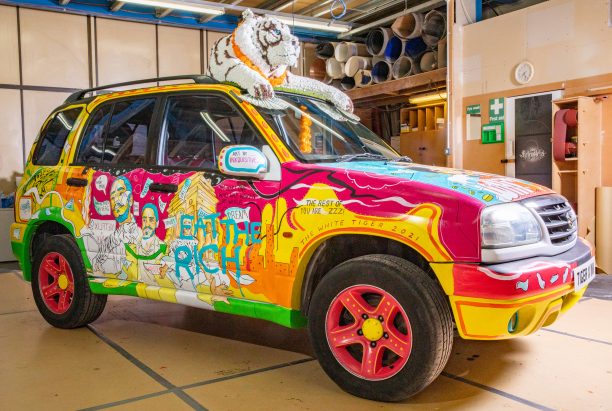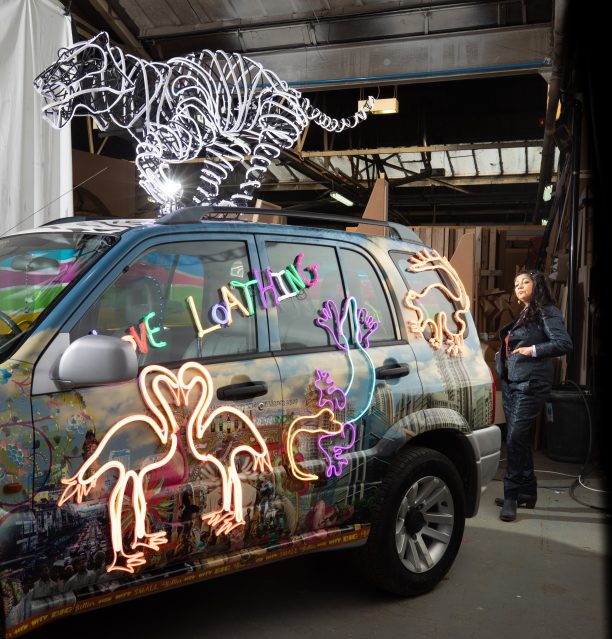 Follow the artists here:

Ink
www.twitter.com/Inkquisitive
www.instagram.com/inkquisitive/
www.facebook.com/InkquisitiveIllustration
www.youtube.com/user/Inkquisitive

Chila
www.twitter.com/CKBURMAN
www.instagram.com/chilaburman/
www.facebook.com/chila.burman

THE WHITE TIGER is on Netflix now.

The Netflix Original Film THE WHITE TIGER, which is based on the New York Times bestseller and 2008 Man Booker Prize-winning novel of the same name, began streaming on January 22nd. Starring Priyanka Chopra Jonas, Rajkummar Rao, and Adarsh Gourav, the film was directed by Ramin Bahrani.