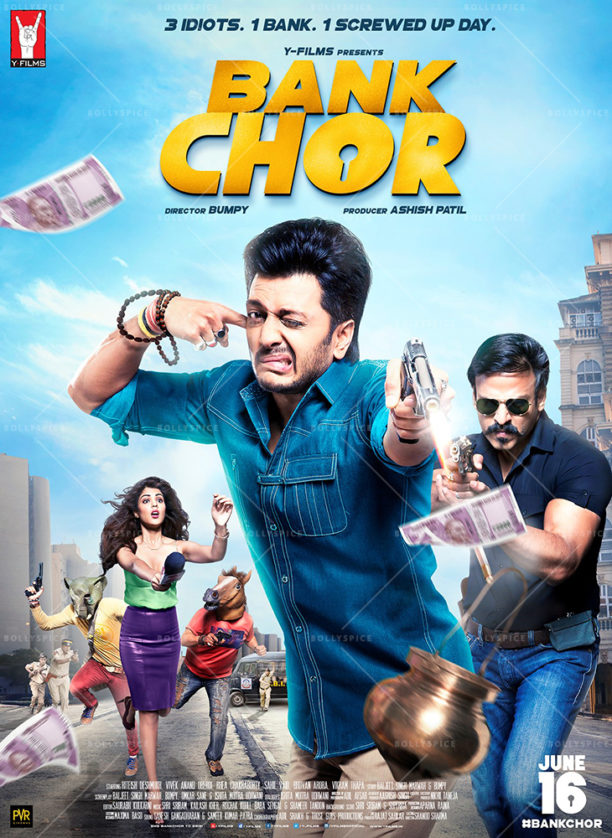 Bank robbery films have always been cool, sexy & dangerous. And the legacy of the Dhoom franchise is testimony to that. Now Y-Films, the youth wing of Yash Raj Films, is all set to destroy that with their new feature, BANK CHOR.
The film's trailer launched today, introduces the worst bank chor EVER: Champak Chandrakant Chiplunkar, a simple Marathi manoos played by Riteish Deshmukh who picks the worst day possible to rob a bank. To make matters worse, he recruits 2 idiots from Delhi who've never even picked a pocket in their lives. Top that with the craziest bunch of hostages including a high-strung housewife, a hyper chef, a possibly undercover cop… and Baba Sehgal [yeah, 'Thanda Thanda Pani' wala!]. How could it get any worse, right?
Wrong! Enter tough as nails supercop, CBI officer Amjad Khan played by Vivek Oberoi, who shoots first and interrogates later. And a mad media circus outside led by fashion journo turned crime reporter Gayatri Ganguly aka Gaga played by Rhea Chakraborty. Now you know the bank chors are up for the worst day of their lives. Yet. The film promises to be a crazy roller-coaster ride with thrills, chills and certainly lots of spills.
Says Riteish Deshmukh about his role in the film, "It's been my childhood dream to work in a Yash Raj Film one day. Since that hasn't happened despite repeated attempts, I settled for the next best thing, a Y-Films production. Jokes apart, Champak is a really fun & relatable character, the kind you probably have around you every day but never notice until the day he does something outrageously stupid. Well, this is that day when you will certainly sit up and take notice!"
Adds Vivek Oberoi, "Bank Chor features three idiots who need rescuing from their own buffoonery. As Amjad Khan, I will not be able to rescue the chors but I will definitely try to rescue the film by giving the worst bank chors the worst day of their lives ever."
Finally, producer Ashish Patil says, "After so many web series, Y-Films is getting to make a movie again! Ganpati Bappa Morya, Let's Rock!"
Self-confessedly India's STUPIDEST comic thriller, Bank Chor, directed by Bumpy and produced by Ashish Patil, is all set to embarrass its makers when it releases it's trailer in theatres on May 16. The trailer of the film is out on YouTube.com/YFilms today and the movie will be in theatres from June 12. Please watch it. Pretty please.