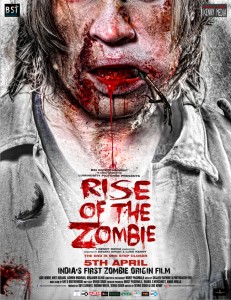 Rise of the Zombie, India's first zombie origin film has a new release date which is the 5th of April 2013. Barely two weeks away from becoming India's first zombie flick to hit theaters, the excitement is palpable.
Says an upbeat Luke Kenny, "We are all anticipating the response towards this humble project when it releases 2 weeks from now. I would like to thank everyone for supporting and helping bring this genre into Indian cinema." From coming out with its original film merchandise and even a game, Rise of the Zombie has tried to extend this horror genre to the reach of those who might not have heard of it before.
Rise of the Zombie is India's First Zombie Origin Film releasing in March. The story follows the transformation of Neil Parker, a wildlife photographer, as he is clenched into the darkness to only rise again as a monster.
Presented by: BSI Entertainment & Kenny Media
Produced by: Kenny Media
Directed by: Devaki Singh & Luke Kenny
Written by: Devaki Singh
Cast: Luke Kenny, Kirti Kulhari, Ashwin Mushran, Benjamin Gilani.
Check out some of the other stuff from the movie!
Game app: https://itunes.apple.com/us/app/rise-of-the-zombie/id607672662?ls=1&mt=8
Music: http://soundcloud.com/rizeofthezombie
Zombify App: http://bit.ly/ZombifyYourself