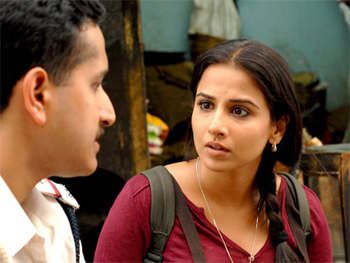 Vidya Balan is more than excited about her new release Kahaani. The versatile 34-year-old actress has recently won a National Award for her performance in The Dirty Picture.
In Viacom 18's Kahaani, Balan plays the role of a six-month pregnant girl from London. The film has opened to positive reviews worldwide. The actress spoke to our London reporter Sunny Malik about the film, marketing strategies, the director Sujoy Ghosh and much more.
Can you tell me a little bit about the story of the film?
As you must have gaged from the promos, this is a story of Vidya Bagchi who is six months pregnant, whose husband goes missing in Kolkata. Since he has no one else, she comes down to look for him in this condition. She comes to Kolkatta, a city she does not know, people she does not know, a language she does not know and yet she braves it and comes here looking for him only to be told that they have not encountered anyone by the name of Bagchi. She knows that he does exist as she is carrying the biggest proof of his existence, his baby. So who is speaking the truth and who is lying and why? There is a Kahaani in a Kahaani in a Kahaani. There is a story in a story in a story with lots of twists and turns and that's the mystery of Kahaani for you.
What was to most challenging part of your character?
You know, obviously I am wearing this prosthetic stomach and that is not a pillow. It does weigh some amount which put some pressure on my back. But what was challenging and yet fun was shooting on the street of Kolkata, in little by lanes and alleys. I must say the people of Kolkata were extremely cooperative and I had a great time shooting there.
Your character comes from London. Does that mean that you somewhere have a British accent in the film?
No, not at all because she is actually someone who has been in London just for a bit. She is not born and bred in London.
What's the secret of a blockbuster?
The interesting thing Sunny, is that today there is no formula of a blockbuster. Kahaani was the most unlikely film to be a choice to be one but yet proved to be a blockbuster. There is no particular type of film that is in short a success at the box office. It's just interesting films that are doing well. As long as I continue to do that I am happy.
Do you get involved in the marketing of your films?
It was actually my idea to promote the film in the pregnant look. It was supported by the director and the producers Viacom 18. But it was my idea primarily because when you have a distinct look in a film it just helps to carry forward that look into the promotions. The moment people see you in that look, they make an association with that film. That is the entire point of promotions. I am just taking advantage of the distinct look that I have in Kahaani.
How did you react when you the trailer for the first time?
As a matter of fact, I must be honest with you Sunny. I shot for the film and it was a while later when I saw the promo. They were showing the promo to me and I suddenly in the end I went huh you know (laughs) because I was not expecting it either. They have done a great job with the promo because people are reacting wonderfully to it.
How was it like working with Sujoy Ghosh?
I really think Sujoy Ghosh is a very knowledgeable and well-read, intelligent, witty, observant man. I really felt it has all come together in this one script which is an original script where we worked really well together. He has put in everything that he has into this film.
As it's a different film, was it difficult to get financial support?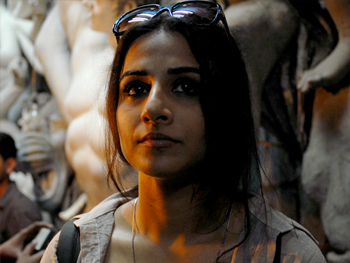 You know, there was time when no one was ready to back this film because it was a woman oriented film and No One Killed Jessica had not yet been released. People did not know what the prospect of such a film would be. A lot of people were telling Sujoy "why you don't cast a male superstar in a cameo or in a special appearance." He stood his ground and I have great respect for him for that and also, he could have adopted an easier route and maybe casted a real male superstar in a special appearance but he did not do that because he believed that the USP of this film is story, the Kahaani. At one point he felt that there was not much support he was getting in terms of financial backing and he told me that even if I have to mortgage my own house, I will go ahead and do it. I am so glad that Audio then financed the film and then of course Viacom 18 took over after watching the film. Therefore, I really hope it does well for all of us. I am really feeling like I am delivering my child. Having said that, for him besides anyone I hope the film does well.
Were item songs ever considered for the film?
No, never because they don't fit in with story of the film.
When are we going to see you here in the UK?
I haven't been there in some time and I assure you the next time I come, I will do a proper one to one interview.
What would you like to tell the UK audience about Kahaani?
Kahaani is a unique Kahaani and there is a Kahaani in a Kahaani in a Kahaani. If you want to understand what exactly I mean by that, please go and watch the film. Besides, Sujoy Ghosh comes from Darlington, UK, so this is truly your film so come and watch it.
Kahaani is out now.