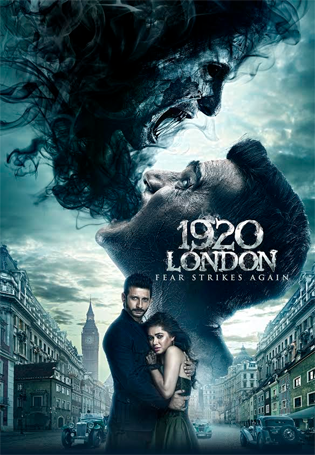 1920 London, the third installment of the successful franchise 1920, remains steady at the box office, having collected 14.35 Cr in eleven days! 1920 London is the most successful small budget film to have such a great success. The film, starring Sharman Joshi and Meera Chopra, not only raked in moolah at the box-office but also garnered appreciation for the actors. The movie is one of the best successful running horror franchises of Bollywood.
The film saw a good opening of Rs. 2.50 Cr on the very first day Friday, 2.32 Cr on Day 2, 2.91 Cr on Day 3, 1.42 Cr on Day 4 and 1.23 Cr on Day 5, Wednesday – 1.07 Cr on Day 6 and Thursday – 1.00 Cr on Day 7, and the second weekend accounting to 1.6 Cr and second Monday grossing up-to 30 Lakhs making an impressive total of 14.35 Cr!
The film opened with 3,600 shows per day and the positive reactions from the audience made the multiplexes to add over 250 more shows making it 3850 show per day on the very first day all over India.
The film, which opened overseas in markets such as Dubai, Australia and Singapore, received a phenomenal response. Not just that, the film has opened avenues for similar genre films abroad since it has received an overwhelming response at the box office there.
The satellite rights of the film too were sold well before the release of the film, which already explains that the film is living up to its legacy.
Aditya Choksey, Distribution head of Reliance Entertainment, says "As a studio reliance entertainment is very happy with the outcome of 1920 London as the success of the franchise continues . Before the release of the film a major part of the cost was recovered from the satellite , music and other ancillary rights. The film was released in a week of multiple films and the biggest endorsement of sucees came from the fact that 250 shows got added by first day night evening shows."
And for the second week, there's almost 50% of the sustainability of the shows of Week 1 compared to other movies and territories like CP , CI and West Bengal retaining almost equal showcasing. In-spite of the close competition,1920 London has managed to stay decent at the box office and is sustaining well.
Indeed, 1920 London has managed to scare the people and looking at the shows the movie has turned out to be a profitable venture for Reliance Entertainment.