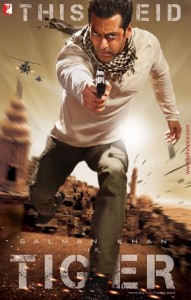 In the dark world of intelligence and espionage… there are shadows without faces… and faces without names…
Governments fight shadow battles through these soldiers of the unknown… Battles have no rules… No limits.
Nobody on the outside knows what goes on in these secret organizations… All information is guarded in the name of National security…But some stories escape the fiercely guarded classified files… stories that become legends.
This is a film about one such story, a story that is spoken about only in hushed whispers… a story that shook the very foundation of this dark world… But like all reports that come out of this uncertain world… nobody will ever confirm those events… It may or may not have happened…
This story is about an agent named TIGER… It may now be told.
Directed by Kabir Khan and Produced by Aditya Chopra, Yash Raj Films' romantic-thriller Ek Tha Tiger, starring Salman Khan & Katrina Kaif, is slated for an EID 2012 release.
Catch Salman Khan in the teaser trailer of Ek Tha Tiger in theatres with Ishaqzaade releasing today.
httpvh://youtu.be/yqz5WTJMLEw