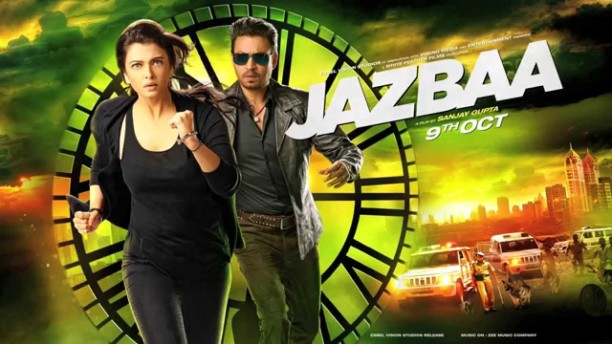 Produced by Zee Studios, the Irrfan, Shabana and Aishwarya Rai Bachchan action thriller Jazbaa, has received a grand welcome at the Box Office. It also features Jackie Shroff, Siddhanth Kapoor, Chandan Roy Sanyal, Atul Kulkarni and Priya Banerjee. With a grand first day opening collection in the Middle East of 1.2 million Dirhams which has sustained and grown since its release on 9 October, Zee Studios has announced that the film is being dubbed in Arabic due to popular demand from the audiences in the region. The film will also be dubbed in Telugu.
Having recovered its costs in Week 1, the film received strong reviews in its favor and the collections are expected to further increase with dubbed Arabic and Telugu versions. The music of the film has also become chartbusters with each song in the film being played in Top 10 lists. The fresh pairing of Irrfan and Aishwarya in the film has won the hearts of the Bollywood celebs. They have praised the film and the actors' performances on social media. Jazbaa has had a limited release in 40 countries, including the traditional overseas market.
The film has sparked conversations as poignant scenes question society's attitude towards rape victims. Jazbaa also scores because of the stellar performances by the talented ensemble cast and delivers a strong message about how our legal system fails to deliver justice on time.
After Talvaar, Irrfan has once again garnered appreciation for his role in Jazbaa. A tense, dark and straight-faced Irrfan gives a performance that stands out as he portrays a flamboyant character. The actor narrates crisp one-liners that make audiences crack up in laughter in this action packed thriller. Jazbaa also boasts of edge of the seat performances by Shabana Azmi and Irrfan with Aishwarya giving her best performance while conveying a gamut of emotions with equal aplomb.
Lead actress and producer Aishwarya says, "This is a very good time for film-making business. I think business has found its security. As industry exhibition has increased and continues to grow, it gives the opportunity to make more prints and certain returns are assured to the investors. So I think there shouldn't be any loss-making business in the film industry, and if it is well planned no film can flop."
Jazbaa is pure thrill, action & suspense in equal measures with power packed performances, gripping narration & hard hitting dialogues. Slickly filmed with high dose of drama and twists in Mumbai like it's never been seen before, this is surely a film to watch this weekend.