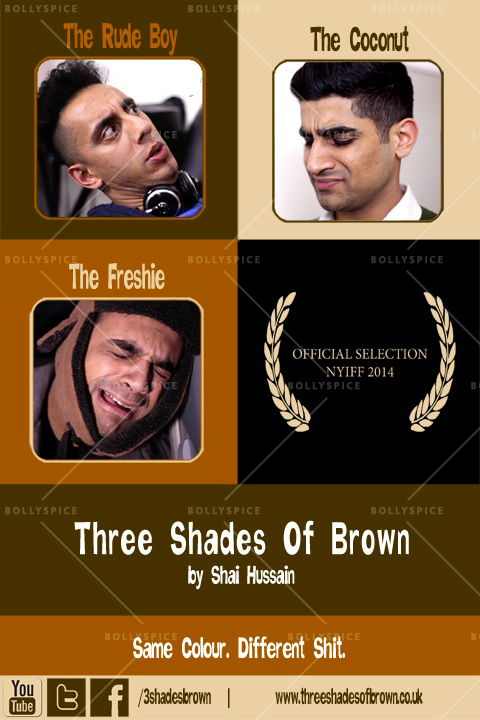 Officially selected for the New York Indian Film Festival, British webseries Three Shades of Brown will hold its World Premiere in the United States on Tuesday 6th May 2014, being shown in its entirety as a stand-alone 40-minute film.
Receiving the good news before even the pilot episode was released, Creator Shai Hussain remarks, "It's great to see the faith that NYIFF holds for Three Shades, selecting to screen it even before we had a chance to prove there was an audience for such material."
The film will be shown with English subtitles, due to feedback that one of the character's Northern dialects was difficult to understand for the American ear.
Shai Hussain will be flying over to attend the festival, alongside one of the show's stars, Omar Khan, and Associate Producer Hena Hussain. Executive Producer Pulkit Datta will also be in attendance, whose latest short film Acetate Diary was named one of the 12 must-see films at the Tribeca Film Festival 2014.
Cast and Crew:
Starring the best of upcoming Brit-Asian talent: Omar Khan (Yeh Jawaani Hai Deewani), Muzz Khan (Four Lions) and Navinder Bhatti (the upcoming Amar Akbar & Tony). Featuring Lena Kaur (Hollyoaks) and cameos from BBC Comedy Awards finalist Tez Ilyas and founder of UK Asian, Poonam Joshi.
The technical team comprises the award winning talents of Director of Photography, Louisa Rowley (Yellow Fever International Film Festival winner) and Italian Sound Recordist, Brando Mosca (David Di Donatello winner) at the helm.The series Executive Producer is Pulkit Datta, a US-based writer and filmmaker, who has in the past worked with Mira Nair.
Shai Hussain previously wrote the successful radio plays Reality Check and the co-written Resolutions broadcast on BBC Asian Network and Til Jihad Do Us Part broadcast on BBC Radio 4.
Synopsis:
A 'rude boy', a 'freshie' and a 'coconut' move into a flat together in London. Here be a full house of highly conflicting personalities that can only spell DOOM.
When HARRY tells his best friend RAVI that he's moving to the capital to start a new job, Ravi advises him to move in with his close family friend, NAS. However, when Ravi's girlfriend dumps him, he accompanies Harry to London and looks to stay on the sofa until (he expects) his ex will eventually realise her mistake.
Immediately presented with his new flatmate's slobbish, offensive and obnoxious behaviour, Harry wonders whether he can stay a week let alone a year with this creature.
Faced with both his Family friend of 25 years and his University best friend of 4 years, Ravi must choose where his loyalties lie.
Nas, unimpressed with both Harry's straight-laced personality and Ravi's unexpected length of intrusion, soon plans to throw them both out. But an unexpected twist of events may have him begging for them both to stay.
Three Shades of Brown. Same colour. Different shit.
Catch the must-see series of the year as episodes release worldwide every Monday at 6pm BST.