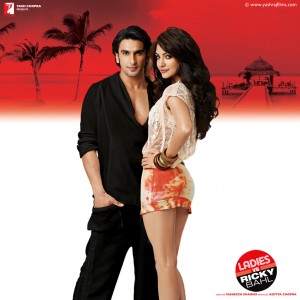 Get ready because the war between Ranveer Singh's Ricky Bahl and Anushka Sharma's Ishika Desai will hit theaters on December 9th, when Ladies Vs Ricky Bahl hits the big screen.
First up we have the story!
Dimple Chaddha (Parineeti Chopra), a brash 19 year old Delhi college girl falls in love with Sunny Singh, a fitness trainer.
Raina Parulekar (Dipannita Sharma), a 28 year old independent and successful corporate woman in Mumbai does business with an art dealer Deven Shah.
Saira Rashid (Aditi Sharma), a 24 year old sweet, hard working widow in Lucknow makes a new friend, the shy Iqbal Khan.
Three very different girls who each get taken for a lot of money by each of these three men.
The problem is that it is actually just one man – Ricky Bahl (Ranveer Singh), a suave and charming con-man who revels in the game and is only after the Money.
A chance encounter brings these three women together who vow to take down Ricky Bahl and get their money back. The next step is the actual plan. Enter Ishika Desai (Anushka Sharma), a young and ambitious girl whose street smart ways will one day, very soon, get her to the top. The furious trio, one professional con-man and a girl who loves adventure. The game is set in Goa. The rules will be made as they go along.
It's the Ladies vs Ricky Bahl. Who will win and who will lose? Let the rollercoaster ride begin.
Check out this totally cool new song promo of 'Thug Le' sung by Vishal Dadlani and Shweta Pandit to see what's in store!
httpvh://www.youtube.com/watch?v=LEYXdZ_rVbo