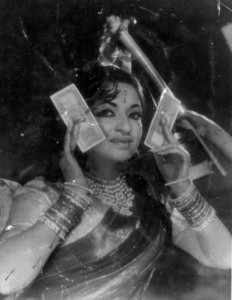 On the heels of the Toronto International Film Festival with its focus on the films and filmmakers of Mumbai, the TIFF Cinematheque presents, as part of its fall offerings, a series on the relationship between German Expressionist films and those of Indian cinema pre-Bollywood.  Renowned Indian cinema curator Meenakshi Shedde presents a programme that highlights the links between Indian and German filmmaking, and includes a slate of films that illustrate a fantasy India as seen in German films such as Franz Osten's Light of Asia as well as films that inspired and influenced Indian cinema, such as Josef von Sternberg's classic 1930 film The Blue Angel, which was remade by V. Shantaram as Pinjra in 1972.
Indian Expressionism runs at the TIFF Bell Lightbox from November 14 to 21.  Film screenings include (all information via the TIFF Press Office):
Wednesday, November 14 at 6:15 p.m.
Light of Asia (Prem Sanyas/Die Leuchte Asiens)
Franz Osten, 1925, India/Germany
In contrast to such flamboyant Orientalist fantasies as The Indian Tomb, which were produced and directed by Germans and intended for Western audiences, this Indo-German co-production on the life of Gautama Buddha (adapted by Niranjan Pal from Edwin Arnold's poem of the same name) was initiated by Indian theatrical impresario Himansu Rai, who imported German director Franz Osten and cinematographers Josef Wirsching and Willi Kiermeier to India to make the film with an Indian cast. Living an indolent life in a luxurious palace, Prince Gautama (Rai) is insulated by his family from the harshness of the world outside. But he is destined to learn greater truths: shocked to discover the pain and suffering of so many in his kingdom, he abandons his privileged existence, and his wife Gopa (Seeta Devi), to become a wandering teacher, eventually finding enlightenment and founding Buddhism. Featuring superimposed images and deep-focus shots that were highly impressive for the time, Light of Asia astutely combines a deeply felt spirituality with the surefire attraction of Indian exotica, which helped make it a considerable success in Europe.
Wednesday, November 14th at 8:30 p.m.
The Blue Angel (Der Blaue Engel)
Josef von Sternberg, 1930, Germany
One of the earliest German talkies and an acknowledged classic of world cinema, The Blue Angel made Marlene Dietrich into an international star — although at the time its biggest draw was Emil Jannings, who had just returned to Germany after winning the very first Academy Award® for Best Actor. Dignified educator Immanuel Rath (Jannings) is scandalized when he discovers that some of his students have been frequenting a sordid cabaret called The Blue Angel, whose star attraction is alluring songstress Lola Lola (Dietrich). Heading to the club to have it out with Lola, Rath instead falls in love with her himself, and their ensuing affair and marriage results in the professor's progressive debasement, finally ending up as a pathetic clown clucking like a chicken to the derision of the club's customers. Marvelously photographed by Günther Rittau and featuring Sternberg's suffocatingly luxurious mise en scène, The Blue Angel was a profound influence on visiting Indian filmmakers Himansu Rai and V. Shantaram; the latter would remake the film as Pinjra in 1972.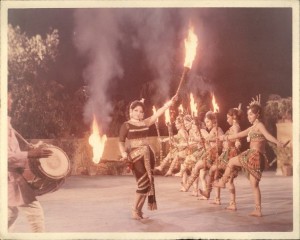 Thursday, November 15 at 6:30 p.m.  With an introduction by Meenakshi Shedde
Pinjra (Cage)
V. Shantaram, 1972, India
A remake of Josef von Sternberg's The Blue Angel by the great Indian director and social reformer V. Shantaram, Pinjra retains the core of the original film's story — an upright teacher who falls from grace when he falls in love with a seductive dancer — but Indianizes it in both setting and theme. Where The Blue Angel was on a certain level a bourgeois horror story about the corruptive (and seductive) influence of the underclass as embodied in Marlene Dietrich's Lola, in Pinjra Shantaram valourizes his heroine Chandrakala (Sandhya), dancer of the lowly tamasha, a robust, sexy folk song and dance. Shantaram draws on religion and literature to defend Chandrakala's profession: when she does an erotic dance in a river, the accompanying song refers to Lord Krishna stealing the clothes of bathing women; later, the classic Sanskrit poet-playwright Kalidasa is quoted to validate the affair between the dancer and her teacher-social reformer lover. But Pinjra also packs in plenty of melodramatic twists to suit Indian tastes, culminating in the teacher being sentenced to death for killing . . . himself!
Saturday, November 17 at 1:00 p.m.
The Indian Tomb  (Das indische Grabmal)
Part One:  The Mission of the Yogi (Die Sendung des Yoghi)
Part Two: The Tiger of Eschnapur (Der Tiger von Eschnapur)
Joe May, 1921, Germany
Full of scheming maharajahs, magnificent palaces, ferocious tigers, erotica, adultery and revenge, this Weimar-era Orientalist adventure-fantasy spectacle was one of the first German films to be set in India (though it was shot in Berlin, with white actors in blackface and turbans and tigers borrowed from the zoo). An Indian maharajah (Conrad Veidt) orders a yogi (Bernhard Goetzke) to bring a European architect to his kingdom to build a tomb for his queen, Princess Savitri (Erna Morena) — even though she's not dead yet. Rather, the adulterous consort is having an affair with a British officer, and the maharajah plans revenge by entombing her alive and chucking her lover into a handy tiger pit. Featuring inventive special effects and compelling performances by Veidt and Goetzke, this lavish epic was scripted by Thea von Harbou and her then husband Fritz Lang from von Harbou's novel; Lang himself would direct the colour remake of the diptych on his return to Germany nearly four decades later.
Sunday, November 18 at 1:00 p.m.
The Tiger of Eschnapur/The Indian Tomb (Der Tiger von Eschnapur/Das indische Grabmal)
Fritz Lang, 1959, Germany
Unintentionally hilarious, unabashedly racist and tremendously entertaining, Fritz Lang's remake of the original 1921 Indian epic (which Lang himself was slated to direct, until producer Joe May decided to do it himself) is the epitome of the Gollywood (German Bollywood) film: a luridly colour-saturated adventure packed with action, romance and revenge. German architect Harald Berger (Paul Hubschmid) is brought to India by the maharajah Chandra (Walter Reyer) to build schools and hospitals. Berger rescues the beautiful temple dancer Seetha (Debra Paget) from a tiger, and the two fall in love. But the jealous Chandra, who wishes to marry Seetha himself, drops his reformist spirit and plans a brutally archaic revenge for the two lovers. The unquestioned high point is Paget's near-naked dance with a clunky fake cobra to prove her innocence before the temple priests (all played by Europeans in blackface). A big box-office success in Germany and a precursor to modern action-adventures like the Indiana Jones series, Lang's last great epic is pretty outrageous German neo-colonial snake oil, all the more startling considering that India had gained its independence more than a decade earlier.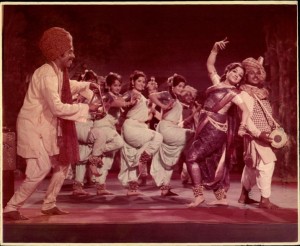 Monday, November 19 at 6:30 p.m.
Amrit Manthan (The Churning of the Oceans)
V. Shantaram, 1934, India
A trip to Germany to process and print India's first colour film Sairandhri in 1933 marked a turning point for brilliant Indian film director V. Shantaram. While his earlier films were mainly lumbering mythologicals and historicals, Amrit Manthan, made immediately after his return from Germany, clearly reflects the powerful impression that German Expressionism had made upon him, while also reflecting his own perennial themes of social reform. When a progressive Hindu king bans animal sacrifice, he is opposed by a wicked priest, leading to a series of deadly intrigues and last-minute rescues. A heartfelt plea for a more humane religion, Amrit Manthan — its title referring to the "churning of the oceans" by gods and demons in search of the elixir of immortality — is also an action-packed spectacle featuring elaborate sets and costumes and impressive special effects, with Shantaram employing a host of techniques and devices learned from the German cinema: deep shadows, canted compositions, and, in one startling moment, a telephoto shot that offers an intense close-up of the evil priest's glaring eye.
Wednesday, November 21 at 6:30 p.m.
Mahal  (Palace)
Kamal Amrohi, 1949, India
A stylish, atmospheric black-and-white ghost love story that clearly reflects the influence of German Expressionism, Mahal was shot by German cinematographer Josef Wirsching, who had earlier shot Light of Asia and a number of other films for Himansu Rai's studio Bombay Talkies. Hari Shankar (Ashok Kumar) comes to live in an old mansion, where he is astonished to discover that he resembles the portrait of the house's late previous owner. The gardener tells of how the former owner and his lover Kamini died tragically, with the owner promising her he will be reborn to reunite with her some day. Soon after, a beautiful woman (Madhubala) appears, and Hari falls in love with her — but some melodramatic twists later, it becomes clear that at least one of the lovers hails from the spirit world. Madhubala is gorgeous as the stately phantom, and her song "Aayega aayega aayega aanewala" (The One Who Is To Return, Will Return) remains popular in India even today. An enormous box-office hit, Mahal inspired many more ghost/reincarnation love stories, including Madhumati, Karz and Om Shanti Om.