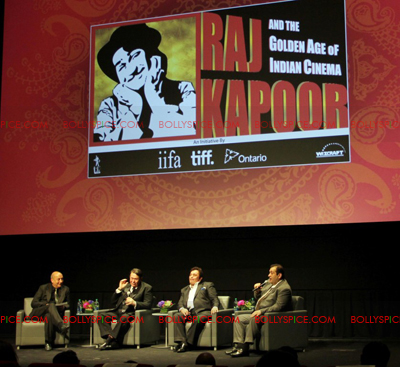 A retrospective of the films of the legendary Raj Kapoor – the first in nearly three decades – has been organized by the Toronto International Film Festival (TIFF), and to launch the event, TIFF, in collaboration with IIFA, held a tribute event in honour of the great showman last Sunday.  Raj Kapoor and the Golden Age of Indian Cinema is designed to carry on the work begun by IIFA in Toronto, showcasing not only many of Raj Kapoor's finest films (including Barsaat, Awaara, and Shree 420), but also some of the finest films to come out of Indian cinema starting in the 1950s.
Noah Cowan, artistic director at the TIFF Bell Lightbox, noted that "TIFF has a long-standing commitment to South Asian programming which we've demonstrated during our annual film festival, in our year-round programming, and we're honoured to be presenting a tribute to the legacy of the legendary Raj Kapoor and the extraordinary moment in cinema that he was instrumental in creating. Raj Kapoor's influence as an actor and a director continues to this day. His importance in global film culture is undisputed, but he is not as well known in North America as he should be.  This tribute, this retrospective should change that for good."
Premier Dalton McGuinty of Ontario spoke of Raj Kapoor's "deep understanding of his times and his audience.  His genius drew upon earlier Indian cinema, Hollywood, and his desire not only to entertain,  but to enlighten.  He challenged the way Indians looked at each other, and captured their hopeful spirit, and thanks to IIFA and our very own Toronto International Film Festival, we too can now be entertained and enlightened by an international genius of film."
"If you see a film that we share with you, at the end of this retrospective," noted Sabbas Joseph, director of Wizcraft International Entertainment, "you'll see that probably the first person to believe in this global vision of cinema was Raj Kapoor."  Joseph called Raj Kapoor "[a] visionary director, a distinct voice in the history of Indian cinema, and an institution of cinematic craftsmanship."
One of the highlights of the tribute evening was a wide-ranging conversation with Raj Kapoor's three sons:  Randhir Kapoor, Rishi Kapoor, and Rajiv Kapoor, and hosted by the great Indian actor Anupam Kher.  From Raj Kapoor's working habits, to his inspirations, to insights into his films, the audience was treated to their observations, and even a few surprises, including Rishi Kapoor's revelation that Archie comic books served as part of the inspiration for the teenage rebellion romance, Bobby (a film Rishi noted was made not for his launch, but purely as a vehicle for Dimple Kapadia).
"I think in Raj-sahib's films you saw heart more than the craft," said Anupam Kher.
"Love, thy name is Raj Kapoor," added director Ramesh Sippy, of Sholay fame. who noted that his favourite Raj Kapoor film was Shree 420, most particularly for the song "Pyaar Huwa Ikraar Hua".  "To me," said Sippy, "it was absolutely beautiful, and it was simple.  It was in the rain, and an umbrella….what it brought to my heart was, my god, I've never felt love so strongly."
"The films that Raj Kapoor has made were for the common man," said his son Randhir Kapoor. "which he made not from the brain, but from the heart  […] it was speaking straight from the heart, and I'm very glad, I'm extremely happy that various people of the other worlds rather than India are also seeing his work and learning to appreciate the films of Raj Kapoor."
His brother Rishi Kapoor added:  "What I learned earlier was that the place we are at, Bell Lightbox, is supposed to be the church of cinema, and thank you, church, for exhibiting Raj Kapoor's works."
Raj Kapoor and the Golden Age of Indian Cinema will run from July 1st through August 7th, and in addition to the films, there is also a display of RK Studios memorabilia in the TIFF Bell LIghtbox atrium, including such items as the famous shoes and hat from Shree 420, the accordion from Sangam, the clown doll from Mere Naam Joker, and one of Dimple Kapadia's dresses from Bobby.