"The 5,000 or so dabbawalas in the city have an astounding service record. Every working day they transport more than 130,000 lunch boxes throughout Mumbai, the world's fourth-most-populous city. That entails conducting upwards of 260,000 transactions in six hours each day, six days a week, 52 weeks a year (minus holidays), but mistakes are extremely rare."
– Stefan Thomke, Harvard Business Review, Nov. 1, 2012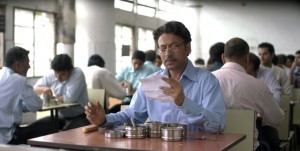 It's one of those "extremely rare" mistakes that Stefan Thomke writes about that results in the dabba (lunchbox) that Ila (Nimrat Kaur) has prepared for her husband landing on the desk of Saajan (Irrfan Khan). Ila is a housewife whose busy husband ignores her, prompting her to take the advice of the upstairs Auntie to spice up their relationship by spicing up the food she puts in his dabba; Saajan is a widowed, middle-aged government claims adjuster whose weariness and sadness envelop him. When Ila realizes that the special dabba she has prepared that day has gone to someone other than her husband, she sends a note with the next one, and what begins as a mere exchange about the quality of Ila's cooking ("Dear Ila," writes Saajan tersely, "the food was salty today." Ila's response is to send a perfectly salted but chili-laden dish the next day) evolves into an exchange of memories, ideas, reflections on life and on the nature of happiness.
Writer-director Ritesh Batra's first feature film is delicately and meticulously crafted, its characters deftly etched. We never see Upstairs Auntie, Mrs. Deshpande (veteran Marathi and Hindi actor Bharati Achrekar), but the layers of her character and her life with her own husband are revealed through her exchanges with Ila, and with the letters Ila shares with Saajan. Similarly, Nawazuddin Siddiqui's Aslam Shaikh appears at first to be just an overly eager upstart, keen to take over after Saajan's retirement; but Batra peels back his layers like a proverbial onion, endearing him to the audience, and having him gradually worm his way into the life of the melancholic Saajan. It helps, too, that Siddiqui is a fine actor who is able to translate that in another of the film's fine, nuanced performances. Batra's film is also an incredible homage to the dabbawalas of Mumbai, despite that one mistake that trips up their otherwise impeccable delivery record. Their work, what it takes to transport those many, many lunchboxes everyday, is woven deftly into the film's fabric, just as it is woven in to the fabric of Mumbai.
Irrfan Khan's ability to slip into the skin of a character and to make us feel what he is feeling has never been more present than it is in The Lunchbox. His Saajan believes he is an old man, and we feel the weight of that in Khan's every movement, in his face, in his eyes. In the course of the film, Khan transforms him from a man feeling at the end of everything into a man who realizes he isn't old, he just feels old; into a man who suddenly realizes that he still has things to look forward to, to dream about – and he does it with a subtletly and delicacy that is, truly, breathtaking.
Nimrat Kaur is a perfect counterpoint to Khan, equal to him in her expressiveness and ability to shift it every so subtly. She brings incredible grace and radiance to the character of Ila, revealing the lively spirit that still bubbles under the surface of the stifling existence of a middle-class housewife with nothing to do but look after her daughter, fix her husband's lunch, and wait for him to spare her a few moments of his time.
When I spoke with Irrfan Khan on the red carpet at TIFF, he suggested that The Lunchbox was not only a very romantic film, but also an incredibly sensual one – and in the most literal sense of that word (that is, that which appeals to the senses) he is right. Most obvious is the film's connection to food through the dabba that Ila prepares each day – each dish more mouthwatering than the next. But the film also appeals to other senses as well, with fans that whirr overhead, and trains that clatter. "Paradesi, Paradesi" from Raja Hindustani plays on Ila's radio; children busking on the train Saajan travels on sing it, too. Ila sniffs her husband's shirts, and that tells us more about her life than if Batra had merely scripted it out.
Batra gives us a story rooted in India, in Mumbai, in a city where people live, work, struggle, where they eat from a dabba, or perhaps only have two bananas for lunch; a city where people can feel old, nameless, faceless; yet a city filled with joy and life as well as sadness. And yet, it's a film that asks questions that could apply to any place. Does it matter that the wrong train gets you to the right station, as Aslam notes it sometimes does? Or that, as Ila suggests, sometimes the right train gets you to the wrong one? In the end, all that matters is that you get on a train, any train, travelling in any direction, and that you keep moving forward. "What do we live for?" Ila asks Saajan in one of her letters to him, and it's a question that, perhaps, forms the core of Batra's film. In the midst of it all, Batra asks the question that we all consider at one point in our lives, no matter who we are, where we live, what our social status: What do we live for? Somewhere along the way during their exchange of letters and lives, Ila and Saajan each find an answer to that question – one that transforms them, and which shows them the possibilities that life still holds for them.
We are going with a 4.5 but it leans very strongly to a full 5 stars!