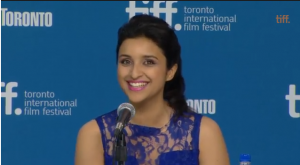 A press conference was held in advance of the Gala Premiere of Shuddh Desi Romance at the Toronto International Film Festival on September 11th, 2013. The press conference was moderated by Toronto producer Mohit Rajhans and attended by one of the film's stars, Parineeti Chopra, along with director Maneesh Sharma, writer Jaideep Sahni, and Avtar Panesar, the Vice-President of International Operations for Yash Raj Films.
Maneesh Sharma emphasized the script as being very quirky: "It's set in what we consider to be a small town in India, but what is perceived as very urban issues of commitment, of love, all those issues for the first time in Indian cinema we were seeing dealt with by real people in kind of a small town space. And in a strange way, this romantic comedy is basically a comedy which is taking a spin on the romance part of things in real life."
When asked about the mixed response to the film, Jaideep Sahni suggested it was something they had expected. "Traditional societies have a syllabus of how people should conduct their relationships, and in the case of India, the way the film industry has shown relationships has also added to that syllabus. The whole thing has become one. But what was happening in real life with the young people was completely not like what we've been traditionally been showing in movies. So we expected that the young people are in a bit of a flux, in the sense that they have their feet in two boats. And there's this constant rubbing of tradition and modernity against each other in every town, every street, every shop, every home, and that's just so interesting to do. But we were aware of that there's almost a legacy of how love stories should be told, so in a way, audience and film makers and writers have been trained to make and see relationship stories in a certain way, in a certain template, and we knew we were breaking that. But we were also confident that what we were saying is pretty much true to what is happening. So there would be a section of people who would say, "this is no way to tell a love story". It's a bit like an elders thing at home – but there would be people whose story it is, and they'd say, "this is our life." So we were ready for the conflict and we were ready for the whole debate, and we are happy to be a part of it and happy to be saying our bit in it now."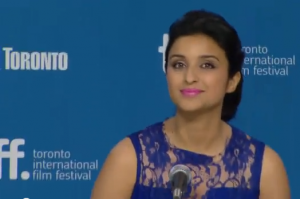 Avtar Panesar added, "I think we've been very honest with the positioning of the film from Day One. We've never projected it as anything else, the campaign's been exactly that, and we've been very clear that, "Hey, this might not be for you. This is what the film is, this might not be for you, so perhaps we won't see you at the cinemas."
Parineeti noted: "When it comes to the diverse reactions to it, I think whether or not you like the film depends on how you approach love and relationships in your own life. Unfortunately, YRF has painted a very beautiful but larger than life picture, and that's great fun to watch. But nowadays, the audience is definitely looking for relatable scripts, relatable characters. They want to see themselves on screen. They want to see their own stories on screen, and this does that. So those who've loved it have definitely seen a part of them. Those who haven't – and there will be a lot of elders who are not open to such a brave thought, there will be youngsters who already have kids and have been married for ten years – who will not see anything. But everyone has their own taste, everybody has their own approach in life, and it's perfectly okay to have mixed reactions. I think it's more fun that way, anyway."
Maneesh Sharma spoke about the reaction of his team (including writer Sahni and YRF producer Aditya Chopra): "If I may say so, we are surprised at the positive reaction than the negative reaction. We were quite prepared for a very huge divide in terms of the reaction that's going to come through … We were aware that a certain generation of people will have a not so great reaction towards it, but let's still have a dialogue with them, in the best way possible, in the most respectful way possible. There was a very conscious choice of presenting the whole story and the scenario in a very warm way. And then we took the liberty of keeping things very lighthearted and entertaining."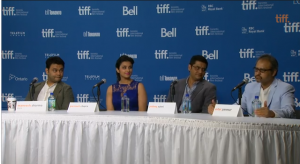 When asked about the bold colours of the film, Maneesha Sharma shared that the phrase "chaos theory" summed up what he, his cinematographer, costume designers and production designer were trying to achieve. "We were very conscious that, especially a town like Jaipur, these are very bustling cities, our characters are bustling with whatever they are going through, emotionally speaking, or, you know, the confusions that are within themselves. The whole environment was supposed to be chaotic, through and through."
On the film's music, Sharma confessed that the film was, originally, not supposed to have songs. "When we had set out to make this film, we had decided not to have any music in the film. In the course of workshopping with the actors, and when we were getting into more detailing, Jaideep and I shared this thought that we should have as minimalistic songs as possible, and we'll make sure that they're helping the screenplay." In the end, there was an effort to "break the songness of things", making sure that the songs were embedded in the narrative and moving it forward in a way that couldn't have been done as well if it had just been mapped out in a series of scenes.
Jaideep Sahni added, "Storytelling in films using songs as an aid, in the manner that we do, is something uniquely South Asian. The great masters before us probably did it better than we did. We are the generation who's slightly restless with it, but we are not able to let go of it also because we've enjoyed it so much while growing up. So on the one hand, when you're telling a story like this you feel that this thing is much more real than what usually happens, and why should these guys start singing? But, on the other hand, you also have this thing that, hey, is only alive in South Asia in the whole world, and how can we just let go of it? Like the young people in the film, we are also in two boats.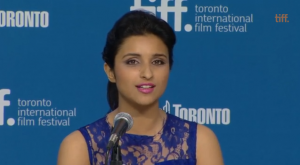 "So, for example, "Tere Mere Beech Mein", what it helped us to do was save screenplay time, because these two people meet, and this guy Raghu, who Sushant is playing, he hasn't had a relationship before and he's looking, and the character Parineeti is playing has had a few before, she's a little more experienced in that sense. So if we had done that in scenes, it also might have been a little bit boring or it might have become serious. In a song, what you can do is, in a charming kind of a way, you can have a bit of a negotiation with both the characters: "Fine, let's go ahead with it, but this is how I'm going to be, and this is how you're going to be, and these are my boundaries and these are your boundaries. And if it kind of works, fine, we'll take it to the next level." So we just thought it was a much better way to do it in a song."
When Parineeti, was asked about her relationship with YRF, she revealed how she started with them: "With Yash Raj, my first job when I came back to India after I studied in Manchester was with Yash Raj. I started as a PR in marketing intern, and that turned into a full-time job – in fact, I used to work with Avtar in the office – my understand of films, my acceptance of the world has happened only post-Yash Raj. Before that I was a banker, used to not think much of films, actors, and the industry – I used to think it was kind of beneath me because I was this hot shot banker –but all my love and understanding has happened only after I joined YRF. So the fact that I started out with them, that I'm being accepted with them, it's like home to me."
We gave you the highlights but you can watch the whole press conference here!