Part 1 of director Anurag Kashyap's sprawling family saga of power and revenge did two very important things: it introduced the character of Faizal Khan (Nawazuddin Siddiqui), and it left me with a definite appetite to see Part 2. I had the chance to do just that a screening held in advance of the presentation of both parts at TIFF 2012.
Part 2 begins where Part 1 left off, with the death of Sardar Khan (Manoj Bajpai). Part 2 sees his eldest son, Danish (Vineet Kumar), begin to take over the reins, and exact punishment for his father's assassination, but he soon is taken down by Sultan Qureshi (Pankaj Tripathi). Thus it falls to the perpetually stoned Faizal to step up and exact revenge – a role that no one, not even his mother Nagma ("Look at your eyes, dead with drugs," she tells him), feels he is fit for.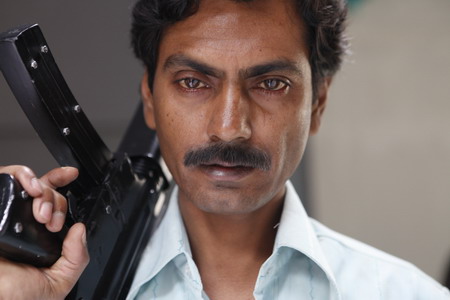 And it's true – the days pass, and Faizal seems incapable of action. But when he does finally swing into action, he does so in a spectacular and brutal fashion, proving himself to be more cold-blooded and brutal than any of his brothers – no mean feat that, because all of Sardar Khan's sons – including Perpendicular (Aditya Kumar) and Definite (Zeishan Quadri — who impressed me as much as Nawazzudin Siddiqui did) – are cold and ruthless.
Two of the three screenings of Gangs of Wasseypur at TIFF2012 will allow viewers to watch Parts 1 and 2 back to back (with a short break in between screenings), and although seeing them this way is the film lover's equivalent of running a marathon, it does, I think, give you a sense of the shape and scope of Kashyap's vision. Part 1 lays out the groundwork, peppering us with dates and events, layering the history of these families over the history of the region, even the country they live in. In Part 2, the focus is laid squarely on the sons of Sardar Khan and their opponents, and as the film progresses, the bullets fly more frequently and furiously, and the body count rises almost alarmingly. The film is not for the faint of heart – and yet, as bloody and violent as it is, everything is filmed almost artfully and poetically – dust flies, water pours from a pail shot out by police, gunshots ring and shell cases clatter to the floor.
It would be too easy to see Gangs of Wasseypur as an exercise in self-indulgence by one of India's most uncompromising filmmakers – yes it is long, and yes, it frequently requires much patience on the part of the audience (more so in Part 1 than in Part 2, for me at least). But Kashyap's vision also reveals that he is unparalleled technically, and that he is able to reference the films and filmmakers who inspire him and yet create something that is totally his own. His trademark dark humour is more in evidence in Part 2, providing a welcome counterpoint to the ever increasing violence. Kashyap is easily unrivalled in how he makes use of music in his films, whether it's the old Bollywood songs that are sung at funerals or weddings, or that chirp out as ringtones for cell phones, or whether it's in the use of original songs such as the ones Sneha Khanwalker created for the films. The romance of Mohsina (Huma Qureshi) and Faizal (easily one of the highlights of Part 2) takes place to the strains of "My lover has a dark heart" – so true in the case of the cold-blooded Faizal. And Faizal's signature song with its refrain of "Whatever's wrong, set it right," neatly highlights Faizal's motivating force. And finally, "Why are you trying to hold water in your palms, fool – its nature is to slip away" played as Faizal finally avenges his father's death by killing Ramadhir Singh (Tigmanshu Dhulia) only serves to underline the futility of this seemingly never-ending cycle of violence and revenge.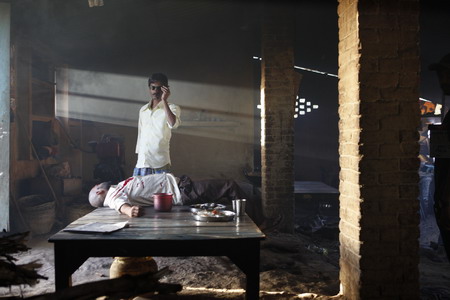 Because the business of Wasseypur is not coal, it's not cloth, it's not iron – the business of Wasseypur is revenge, a cycle of violence handed down from father to son like a beloved family tradition. Sardar Khan chose his two wives, Nagma (Richa Chadda) and Durga (Reema Sen) well – they both raise their sons, in the words of Durga, "to be killers, not cowards." That the films present us with a whirlwind of characters is, I think, intentional – it's an almost bewildering and never-ending cycle, further underlined in Part 2's final frames, when only one of Sardar Khan's sons is left standing, and we see the son of Faizal Khan, who we can only assume will be groomed to take up the torch to exact revenge for his own father.
Gangs of Wasseypur also stands as a testament to how far things have come in Hindi cinema since Anurag Kashyap first started kicking at the edges of it. His first film Paanch (unreleased because it was refused a certificate for what was felt to be excessive use of drugs and a glorifying of violence) now seems almost tame in comparison, especially as we watch Faizal toke and kill his way through Part 2. Kashyap's tireless and uncompromising attempts to push at the boundaries of what is acceptable in commercial Hindi cinema may come across at times as single-minded and self-indulgent, but when the result is Gangs of Wasseypur (even with its flaws), and the rise of a whole new generation of filmmakers who are able to share their own uncompromising visions, then I'm prepared to indulge Anurag Kashyap, and to look forward to where he will go now that he has Gangs of Wasseypur out of his system.