Ishaqzaade ("Love Rebels", rechristened "Born to Hate, Destined to Love" for TIFF2012) tells the story of Zoya (Parineeti Chopra) and Parma (Arjun Kapoor), and is set against the backdrop of the political wrangling that divides their two families.
"Here comes Ms. Earthquake," says Zoya's father of her when she arrives home after using her gold earrings to buy herself a gun. If that surprises us, we soon realize it shouldn't – Zoya lives in a place divided by religion (her family is Muslim, Parma's is Hindu) and, more importantly, by politics, with the two clans, the Qureshis and the Chauhans, vying to win elections. This is an incredibly testosterone driven world, with Zoya trying to match the machismo with her spunk and spitfire and carve out a place for herself that is equal to that of the male members of her family.
At first it would seem that she has nothing in common with Parma Chauhan – who is a cad of the first order, rude, boorish, loutish and thuggish. Whereas the educated Zoya works to help her father be re-elected, Parma has a lot of half-baked, ill-thought out, ill-considered plans. What they have in common, we come to realize, is that neither of them is truly taken seriously by their respective families. The male members of Zoya's family laugh at her when she talks about becoming an MLA like her father. Parma's grandfather constantly tells him he's a good-for-nothing who can do nothing right. It's this sense of being outsiders, I think, that finally draws the two of them together.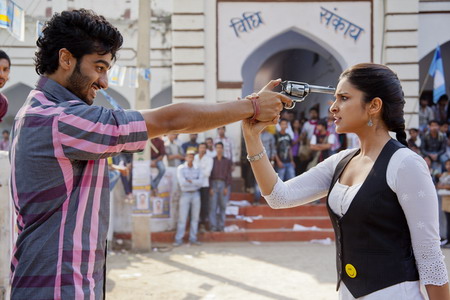 Zoya's life (and Parma's too) is changed by one small action she takes – when Parma points a gun at her, she decides that the retribution she must dish out is to be the first to slap him. It's that slap that changes the course of both their lives.
It is incredibly difficult to write about Ishaqzaade without giving away the main plot twist (that happens just before the interval). Let me just say that the relationship that appears to be blossoming between Zoya and Parma is not what it seems, and results in the betrayal of Zoya by Parma in a way that is both unexpected and shocking. And it changes both their lives in a way that Parma could never have predicted when he came up with the idea to try to seduce and marry Zoya – another of his half-baked plans that almost looks set to succeed (and which finally gains him the respect of his grandfather), but for his mother's deathbed insistence that he must make amends for what he has done to Zoya, and because, unexpectedly, he actually falls in love with Zoya (and she with him). This finds them not only at odds with both their families, but on the run as both families set out to deal with them in the only way they know how – violently.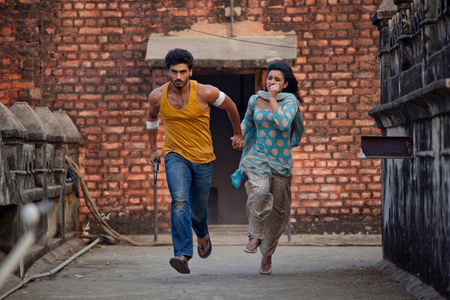 I hadn't expected that Ishaqzaade would turn out to be a film about honour killing. In fact, the film is a whole series of "unexpecteds" for me: unexpected from director Habib Faisal (he of one of my most recent favorites, Do Dooni Chaar, about a middle class family trying to make ends meet, and dialogue writer of the delightful and light-hearted Band Baaja Baaraat); unexpected from Yash Raj Films, from whom I expect frothy entertainers; unexpectedly gritty and violent – in fact, Ishaqzaade makes an interesting counterpoint to Anurag Kashyap's Gangs of Wasseypur (also screening at TIFF2012), exploring a similar kind of lawless, almost frontier environment (though I'd argue that Kashyap's films do a much better job of capturing the flavour of that environment).
Totally unexpected, too, is the film as the launching pad for newcomer Arjun Kapoor. Parma is no hero — and although the film sets out to redeem him, he still spends most of it as something of a villain – incredibly unlikeable, and with a sneaky smile that almost makes him repulsive. This is not a man with whom anyone falls in love, and I have to admire the risk that takes in an industry obsessed with the perfection of the leading man. Parma's betrayal of Zoya is both heartbreaking and cruel, and it's almost distressing to think that the one scheme he has that redeems him in the eyes of his grandfather is also the one with the potential to destroy the feisty Zoya.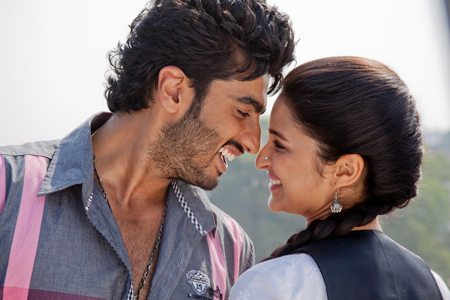 Where Ishaqzaade falls down, for me at least, is in the romanticizing of the relationship between Zoya and Parma – and here's where the Yash Raj connection shows, trying to convince us that it's in Zoya's best interest to reform the man who betrayed her, and that he will be a better man for it in the end. The film allows Parma to redeem himself in fulfilling his mother's dying wish that he make amends, but this comes at the expense of Zoya, who is left with limited options as to how she can retain any control in her life. And as much as Parma might change, even truly falling in love with Zoya, still we can't forget that his roots are in the misogynistic setting the film presents us with.
There are, of course, better films dealing with the subject of honour killings – for example Love Sex aur Dhoka, from Dibakar Banerjee (whose Shanghai is screening at TIFF2012) lands a sucker punch on the subject, using humour as a counterpoint to almost lull us into complacency, and then shock us by delivering the unexpected. It's an uncompromising film, but so is Ishaqzaade in some respects, and that is a strength. Also interesting are the women to be found in this extremely macho setting – Parma's mother succeeds in stopping Zoya when she makes her way into the Chauhan family compound, and she exacts a promise from Parma that he will make amends, something no other (male) member of his family would do. There's also the prostitute Chand Bibi (the wonderful Gauhar Khan), who takes a risk to help the pair out – even though she herself loves Parma. And there's Zoya herself, played magnificently by actress Parineeti Chopra, who, in the course of two films, has proved herself a force to be reckoned with in Bollywood. In the end, though, they are all caught in this cycle of violence with no way out of it, and the shooting of Parma's mother shows just how expendable and worthless they are to the men in this society.
Some have argued that the film is regressive. The problem with Ishaqzaade is not so much that it is regressive; it is that it dares to promise something more – to give us a heroine who is powerful and who goes after what she wants with no concessions – and then snatches it back by reverting to typical filmi form. Love makes Zoya vulnerable, and it's that vulnerability that Parma exploits, to great effect in the film. But it also dilutes her strength, her passion, and her power as a character. The film does redeem itself somewhat in the end, thankfully, when Zoya makes a decision that allows her to take control over this misogynistic cycle of violence and repression she finds herself caught up in. But the one option that is left open to her to retain that control, over how she will live, and how she will die, well, that one option just left me absolutely heartbroken. And perhaps, in the end, that was Habib Faisal's intention all along.