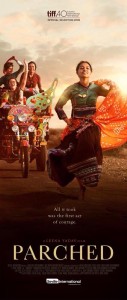 Finding true empowerment is an uphill battle in Leena Yadav's Parched, which takes audiences on a harrowing journey towards freedom as her four protagonists break their chains of oppression.
We meet Rani (Tannishtha Chatterjee) a widow and former child-bride, is now marrying off her 17-year old son Gulab (Riddhi Sen) to Janaki (Lehar Khan), who is 15. When Janaki appears with shorn hair, and brings shame to her family, Rani soon enacts the same harsh treatment she received from her mother-in-law with Janaki. Rani is heartbroken when Gulab rejects Janaki, preferring to hang out with his friends and chase prostitutes in the city. There's also Rani's best friend Lajjo (Radhika Apte), a fun and raucous presence, who is unable to have a child, and routinely beaten by her violent husband. Rounding out the trio is their friend, Bijli (Surveen Chawla) a dancer in a traveling sideshow, disparaged for bringing in the town's men to her shows and her bed. As these three women commiserate over their fates, until Bijli mentions offhandedly that the problem may lie with Lajjo's husband. It's these small catalysts that accrue for each of the women to set off their quest for empowerment.
Every scene in the film bristles with an anger at the discrimination and subjugation of these women. In setting the film in a remote Rajasthani village, Yadav mines the locale for her critiques of patriarchal norms that enslave the women in the village. The script allows each of these women to undergo their self-actualization through several harrowing experiences. For Rani, it's seeing herself in the bewildered Janaki who's raped and beaten by Gulab when he comes home drunk. Yet, Yadav also highlights how systemic oppression can become so lodged over time, where the women blame themselves for their circumstances and lash out at each other in frustration from the male entitlement that's abound in their village. Yadav makes sure that the trio's victories are hard-won and earned, in spite of how convenient it all happens towards the finale, because you root for these women to break their patriarchal thinking.
Cinematographer Russell Carpenter's visuals create such a warm and sensual colour palette from the stark desert landscapes to the boisterous songs that Bijli performs. Yet, it's the frank intimacy that you can't help but marvel at, because touch and feeling is so important for Rani, who's been celibate for so long, that she can't help but reach out to Lajjo when she's often nursing her wounds. It speaks less to a suggestion of same-sex love, but that they've both been denied that carnal craving for requited and tender affection. So when Lajjo meets someone who touches her with a feeling that she hasn't known for a while, it's one of the most acrobatic but deserved love scenes ever.
The actresses give such committed performances and have such an easy and beautiful chemistry with each other that immediately has you rooting for them. Chatterjee has the trickier part going from an enabler of patriarchy to the disrupter who breaks the cycle of abuse in her family. Apte and Chawla are equally wonderful, particularly Chawla who breaks the tension with her ribald humour and impeccable timing. Yet, it's Apte, who's the heart of the film, and walks away with the audience's sympathies.
While the conclusion ends on a tidier note, Parched is a strikingly original and tough film that earns much of its triumphant appeal with its stunning performances from three actresses at the top of their game.