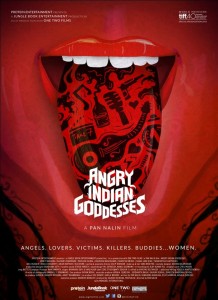 Pan Nalin's Angry Indian Goddesses is being heralded as "India's first female buddy movie," which is such a welcome change for Hindi cinema. But it's also an overtly feminist film that balances its themes with such witty dialogues and powerful performances.
Nalin introduces to an ensemble of friends who are routinely the subject of sexist micro-aggressions at work and in life. There's Joanna (Amrit Maghera) an Anglo-Indian who's struggling to make a name for herself in Bollywood and suffering through B-films to make a living; Pam (Pavleen Gujral) a housewife who has business ambitions but thwarted by a unconvinced husband; Mad (Anushka Manchanda) a singer whose albums aren't getting picked up; Freida (Sarah-Jane Dias) a photographer struggling to balance her art with a commercial job; Laxmi (Rajshri Deshpande) a maid who's taking her harassers to task; Nargis (Tannishtha Chatterjee) an activist who's got a personal beef with Suranjana (Sandhya Mridul) a businesswoman who's building a factory in a disputed area.
While it may seem like there's a lot of characters to keep track of, Nalin makes sure that each woman in the film gets her own story arc that's refreshingly real and honest. The women all assemble for Freida's imminent wedding and her betrothed is shrouded in secrecy for part of the film, which leads to some hilarious banter between the gang. This is one rare film that passes the Bechdel test with flying colours, because there are frank discussions of sexuality – "She means happy-wallah gay right?" says one – suicide, workplace drama, sex, and having it all. The dialogues keep from being too overwritten, because each actress rolls with the improv feel of the film so seamlessly that you almost want to become their friends as well.
There are some storylines that completely hook you in like Suranjana's struggling to balance her career and family. You really feel for her predicament, especially when she takes it out on her young daughter Maya or swearing profusely when confronted by Nargis. Often, depictions of a woman's struggle with the work and life balance can force an unnecessary ultimatum. It feels revolutionary to see that Nalin doesn't offer a tidy resolution to everyone's story and lets them be unlikable and selfish, but we grow to love them all. It's an interesting choice, but also reflective of reality.
Mridhul is one of the complete standouts of the film, along with Manchanda who lets us into Mad's conflicted inner world, Dias who has greatly improved as an actress and Chatterjee who makes Nargis rise above some of the activist clichés. It's so amazing to see such a fine ensemble cast of women who bring everything to their roles and emerge with the audience's sympathies.
When the film shifts gears in its final act, we finally get a glimpse at the film's title when the women get furious and avenge the wrongs against them. This section gets dark fast and confronts the women about the social realities of true empowerment. It's difficult to talk about without spoiling it, but the film finds its angry groove in the finale, which earns the audience's respect in spite of this rushed section.
It feels as if Nalin packed in all the issues in case another film this witty and powerful would never get made again, which partly works in his favour. It's a must watch film that will likely spark a dialogue around women's issues, which is so vital at this time.