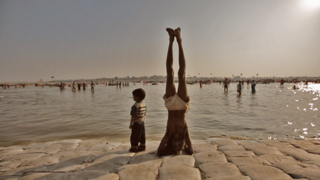 "My father told me," says director Pan Nalin, "I should travel to the ultimate pilgrimage of Hindus, Kumbh Mela, and fetch him a bottle of holy water. He told me that the Kumbh Mela is the biggest gathering on earth, and there I shall feel the force of faith that connects us all."  Nalin decides to bring his father back some stories along with his bottle of water, and the result is the incredible Faith Connections, having its World Premiere at the 2013 Toronto International Film Festival.  Nalin brings us the stories of pilgrims and policemen, of sadhus and small children – stories of people like Hatha Yogi Baba and Baby Bajrangi, Mamta Devi and Sonu and their missing son, Sandeep, the sadhus Vivekanandji and Umeshji; and, perhaps most importantly, the story of ten-year old Kishan Tiwari, who has run away from home, and who claims to be an orphan, when he isn't joking about becoming an underworld Don, or considering his own future as a sadhu.  Through them, Nalin reveals to us that force of faith, and the strange and surprising ways it connects people.
There is(not surprisingly given the nature of the Kumbh Mela) a distinct focus on the sadhusfor much of the film, naked, ganja-smoking, yoga performing or otherwise (including the Pant-Shirt Baba and the iPad Baba, each taking their name for their decidely un-sadhu-like clothing wearing and iPad use); and yet, what I take away from the film is something that reminds me of my reaction to one of Nalin's previous films, Samsara (also a film that explored an aspect of faith)– the place of children, whether lost (like little Sandeep, whose family searches for him endlessly), abandoned (like tiny Bajrangi, abandoned at birth, and being raised by a sadhu who, it is obvious, adores the child, and acts as mother and father to him); or a runaway, like Kishan, wise beyond his years and yet filled with more sadness than a boy his age should be, "Master of all at such tender age", as one of the Mela's food vendors describes him. "Energy flows," says one of the sadhus, talking about Kishan, "but which path will it choose?" If there was one thing he was sure of, though, was that whatever Kishan chose to do, he'd be the best at it. The stories of these children will alternately break your heart and also fill it with great joy.
Nalin's camera gives us the view of the vastness of the Mela and the sheer magnitude of the numbers of people attending it.  People come, people go, crossing footbridges set out across the river, wandering through camps.  But he also pulls in, giving us views of people's faces, their feet, their hands, allowing us to forge a very personal and emotional connection with the people whose stories are unfolding on screen.  Nalin doesn't have to lecture us about the nature of faith, of renunciation, of wonder – his camera shows it to us, the people he follows enlighten us about it through their stories.  I found myself praying throughout the film for the safe return of Sandeep; that Kishan would find a way to stay safe and would not become the Don he jokes about; that Hatha Yogi Baba's hopes for Bajrangi – that he will attend a proper school – will be fulfilled.
Nalin gives us a film filled with sadness and joy; with tenderness, devotion; with gentle humour and with incredible seriousness.  There are many, many people who come to the Kumbh Mela, many lives transformed, and many stories.  Nalin shares only a few with us, but oh, how interesting and inspiring they are, and to experience them is to understand what faith truly is, how it connects people in ways we might never have imagined, and that, in an uncertain world, miracles do sometimes happen.
Faith Connections will be shown three times at the Toronto Internation Film Festival:
Friday September 6:  TIFF Bell Lightbox 3 at 1:45 PM
Saturday September 7: TIFF Bell Lightbox 3 at 9:45 AM
Sunday September 15: Scotiabank 11  at 9:00 AM
For more information about the film and screenings, visit the TIFF website.