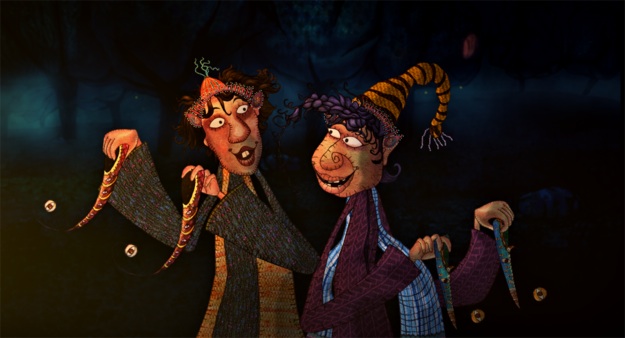 It's hard to imagine a film that would stand up to Satyajit Ray's 1969 film Goopy Gyne Bagha Byne (based on a story by Ray's grandfather, Upendrakishore Ray), but book illustrator and animator Shilpa Ranade manages to do just that with her animated version, Goopi Gawaiiya Bagha Bajaiiya (The World of Goopy and Bagha), screening at the Toronto International Film Festival. The bones of the story remain the same: singer Goopi and drummer Bagha meet in the forest after being banished from their respective kingdoms – both love the music they make, but their lack of talent and its resulting cacophony does not endear them to anyone. However, the king of the ghosts hears them, and, oddly enthralled by them, decides to grant them a number of boons: delicious food that appears when they clap for it; a pair of wonderful shoes that will transport them wherever they wish to go; a boon to be held in reserve for later; and, perhaps most important of all, their music will transfix and transport anyone who hears it.
The two quickly become embroiled in a dispute between the King of Shundi and his twin brother, the King of Hundi (who, we discover, is under the spell of his evil General and a wicked wizard). Through their music, they are able to gradually break the spell and bring the two brothers back together. Like Ray's film, Ranade's carries a message, about the nature of peace, and giving ordinary people a voice.
Ranade's animation matches her story: colourful, inventive, and playful. Two-dimensional, marionette-like figures people a background and decor that makes use of patterned cloth to create texture and depth. The film is, truly, a visual feast, mixing pattern, texture, colour, and light in a way to delight the eye. Add in the wonderful and rhythmic music from veterans 3 Brothers and a Violin and the lyrics of Rohit Gahlowt (the screenplay and dialogue writer for 2011's coming-of-age film Bubble Gum), and you have a film that is not to be missed!
Goopi Gawaiiya Bagha Bajaiiya will screen twice at TIFF 2013:
Saturday September 7: TIFF Bell Lightbox 4 at 4:00 PM
Sunday September 15: Scotiabank 10 at 3:15 PM

For more information about the film, visit the TIFF website.