From the 2013 Toronto International Film Festival we revisit our Qissa review.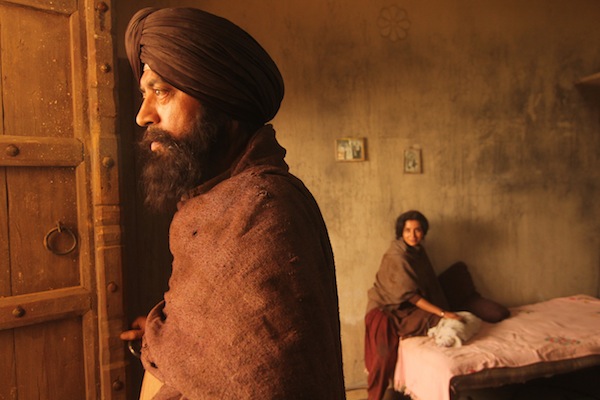 Set in post-Partition India, Qissa ("Folktale") introduces us to Sikh patriarch Umber Singh (Irrfan Khan). Forced to leave his village (in Pakistan territory), Umber takes his family (consisting of his wife, two daughters, and a newborn baby girl whom he refuses to look at – "I've seen enough girls," he tells his wife, Mehar) and sets out to rebuild his life. "The Partition scattered us like birds in a storm," he says, and Qissa sets out to examine the effect of the loss of home, nation, identity; showing how, in Umber, it affects how he relates to his family. "Who am I?" asks Umber. "What am I? What curse have I brought down on myself?"
The curse, for Umber, takes form not only in the loss of his home, and in having to rebuild in Indian Territory, but also in the form of the endless string of daughters his wife Mehar gives birth to. Four years after having fled Pakistan, Mehar becomes pregnant again, and is fearful of Umber's reaction, as she is convinced the baby is another girl. Umber is a man capable of tenderness and brutality in equal measure, and in a society that places no value on girls and women, Mehar is right to worry about her fate and that of her unborn child.
Umber breaks into the birthing room just as that child is born, snatches it away from the midwife and declares that he finally has a son. And thus, Umber's fourth daughter is raised as a boy, learning to hunt, to drive a truck, and, eventually, in circumstances Umber cannot avoid, married off to Neeli (Rasika Dugal), setting up more questions of identity as Kanwar (Tillotama Shome) must live up to his/her father's expectations, and come to terms with his/her own sexuality, and with an identity that has been forged and decided upon by his/her father.
Irrfan Khan's performance is powerful, giving us a man who is to be pitied as much as he is feared. But, ironically in a film where the fate of women is decided by men, it's the women in the film who bring it much of its power, especially Shome as she struggles with self-loathing and sexual identity, between loving her father, and hating him, between being herself, and living up to society's expectations of her.
Qissa is a fascinating film, setting itself up as a kind of folktale to explore this dark and troubling environment, and the effect of these events on the human psyche. Discordant music echoes the divisions and troubles inherent in each of these characters. This is a dark film that raises difficult questions about the nature of identity, patriarchy, and loss. It is, at times, a brutal and challenging watch, and it does not entirely succeed in its attempt to marry reality with a kind of allegory (that folktale of the title). It is a film that is sure to divide; but in doing so, it is also sure to foster debate about the issues at its very core, issues that more than sixty years after Partition still shape people's identity and their view of their world.