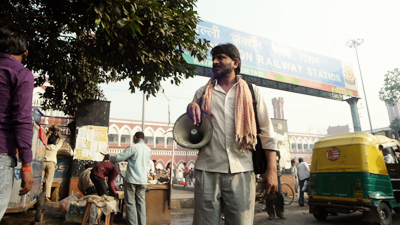 Canadian director Richie Mehta follows the success of his 2007 film Amal (which also screened at the Toronto International Film Festival and went on to win numerous awards) with this emotional and devastating story of a Delhi chainwala's search for his missing son.
Mahendra Saini (Rajesh Tailang) has sent his 12-year-old son Siddharth (Irfan Khan) hundreds of miles away to Ludhiana, in Punjab. The family is in a bad way financially; Siddharth will work in the factory of the distant cousin of Mahendra's brother-in-law. The family hears from Siddharth when he arrives, promising his sister he'll return to celebrate Diwali with the family in a month's time. Diwali arrives, but Siddharth does not, and Mahendra begins a search to find out what happened to his son.
This is, not surprisingly, no easy task. Mahendra has no money. He's illiterate, and doesn't even know how to use the family's cell phone. He has no photo of his son, and can barely remember if he's twelve or thirteen. His description of his son prompts people to tell him he's described every 12-year-old boy out there. He's scolded by the police officer taking down the information of Siddharth's disappearance, who tells him child labour is against the law. Mahendra doesn't understand what having a son is for, if not to have him work to contribute to the family.
Mahendra's search takes him to Ludhiana, where he speaks to Siddharth's roommate, who also works in the factory. The owner insists Siddharth has run away; the roommate tells Mahendra that Siddharth was happy, and wouldn't have left his things behind if he'd run. Instead, he reiterates what Mahendra has heard from the police, the possibility that Siddharth has been abducted. He tells Mahendra that everyone says that if a kid is taken, they end up in Dongri.
It's this slimmest of clues that prompts Mahendra to ask everyone he meets if they know where Dongri is, intending to go there to find Siddharth. The film gets bogged down on this one detail – Mehta has said that the idea for the film came when he spoke with a chainwala who asked him to help him locate Dongri, but it is hard to imagine that Mahendra wouldn't run into someone who hadn't heard of it, infamous as it is as the home of the Mumbai mafia. Nevertheless, the film clearly illustrates the difficulty of Mahendra's search and the limitations that poverty and lack of education place on people. Mahendra gradually realizes the desperation of what has happened to him and his family. He grasps at things to do to atone, to fix things, taking a photo of his young daughter Pinky (irony: she must show him how to do it), borrowing money from friends to finance his travels. His despair is palpable when he realizes that he is rapidly forgetting what his son looks like; and never is a man more broken than when he must phone his own father (Naseerudin Shah in an off-screen cameo) and hear that if he's done all he can, then he needs to leave things in the hands of God.
The only problem with that, though, is even when we leave things to God, we can't always expect a miracle. To Mehta's credit, he doesn't try to give us one, and his film is all the more powerful for it.