"He didn't understand how it had happened. Undoubtedly he never would. These moments are like shooting stars. They pass before us, leaving only a luminous trail impossible to decipher. Where do they come from? What do they plunge toward?"
From the novel Z by Vassilis Vassilikos
A controversial political activist fighting the displacement of people in the face of a development project is mowed down as he leaves a rally. When his wife calls into question the nature of the "accident", the Chief Minister sets up an enquiry, headed by a rising bureaucrat who is expected to confirm the official reports and get things settled quickly. When he begins to investigate, and when he is provided with evidence by Shalini (one of the leader's followers) and Joginder Parmar (a videographer and part-time pornographer) he discovers that things are not what they seem, that the "accident" was, in fact, a premeditated attack on the leader with the collusion of the police and the powers that be.
The "Shanghai" of the film's title stands as a metaphor for a kind of modern progress, where skyscrapers and housing developments are the new gods, and where India jostles with China to see who will come first in the race of emerging world powers. As with anything new and shiny and powerful, it comes with a price, where political corruption and slippery morality displace other values; where people can be removed from their homes and relocated simply because it serves the purpose of those with more money; where murder becomes the way to deal with those who inconveniently shine a light on problems.

Most of Shanghai's characters are outsiders: the bureaucrat Krishnan (Abhay Deol) is a Tamil working in the North of India. Dr. Ahmedi (Prosenjit Chatterjee) is a social and political activist who lectures in the United States; Shalini (Kalki Koechlin) is marked as a foreigner; Joginder (Emraan Hashmi) is a pornographer; even the two murderers, the truck driver Jaggu (Anant Jog) and Bhagu (Pitobash) sit at the fringes of a movement that they hope will help them (Jaggu wants to pay off his truck, Bhagu wants to learn English so he can rise to put on a tie an manage a pizza place), but which is only too willing to toss them aside when they're no longer useful. All of them find themselves confronted with a system that is rife with corruption and that is only too willing to play with their lives.
The novel Z by Vassilis Vassilikos (on which Shanghai is based) is sweeping and clinical, almost a documentary account filled with a vast cast of characters. It's as if the author needed to document a version of events occurring in Greece at the time he was writing, to make sure these stories were told, and not covered up in the face of massive political corruption. There's frequently a sense of bewilderment on the part of many of the characters, as events almost seem to be beyond their comprehension. The author seems to be bearing witness to events that seem almost overwhelming.
And it's that sensation I get at times from Banerjee's film – and the film stands in sharp contrast to the director's previous work (the films Khosla Ka Ghosla, Oye Lucky, Lucky Oye! and Love Sex aur Dhoka), where humour and satire worked to provide social commentary in a way that was thought-provoking and often surprising. Shanghai is darker, more intense. It doesn't seem to have any easy answers; nor does it seem to be a direct call to arms, and its ending makes me wonder if Banerjee himself is simply documenting a system that never seems to change, if his intention is in simply lifting up a rock and letting us see what's squirming there when the light shines on it.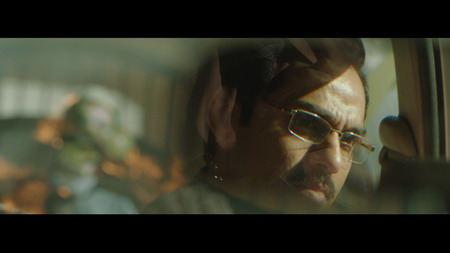 What hasn't changed is Banerjee's remarkable attention to detail. Characters slip on a freshly mopped floor, symbolizing the shaky ground they find themselves on. A basketball bounces in the inquiry room, suggesting that what is going on is more of a game than anyone realizes. I particularly love the quirky little details that help us learn more about Abhay Deol's Krishnan – his striped socks, the tie he carries but only puts on at the last minute, both perhaps suggesting his willingness to break with convention. The computerized puja he performs, marking him as modern and yet sincere and devoted at the same time.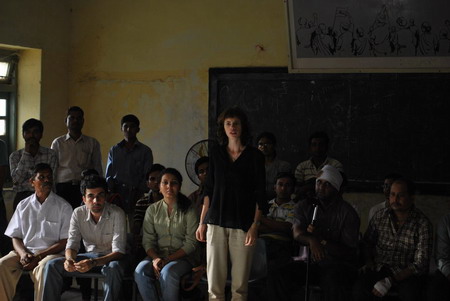 Other characters, too, make an impression. Kalki Koechlin's Shalini is too tightly wound and too high-pitched for my taste, but the film occasionally uses that to great effect, for example, when she bites the hand of one of the men trying to attack her and Joginder. In contrast, there is Tillotama Shome as Dr. Ahmedi's wife, weeping for him on the one hand, and yet brutally aware both of his dalliances with other women (including Shalini), and the politics that separate her from her husband. Bengali actor Prosenjit Chatterjee is an inspired choice as Dr. Ahmedi – the role is small, and needed someone to make an immediate impact, and Chatterjee brings the full force of his charisma to the role. As much as I hated Pitobash's Bhagu and his willingness to gleefully embrace violence and to almost blindly follow party orders, I could sympathize with his desire to make something of himself. And I have to state: this is the first time I have ever enjoyed Emraan Hashmi in a film – he manages to make a character as morally slippery and almost pathetic as Joginder into someone noble enough to get involved to try to make sure the information he has gets into the right hands.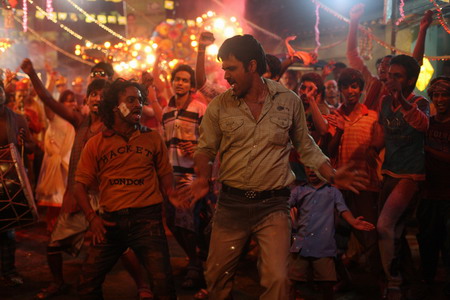 There are heartbreaking moments in the film too, such as when Jaggu, having been beaten by an angry Shalini after she discovers he was the one driving the truck that hit Ahmedi, notes dejectedly that he knows he is nothing to her, but equally, she and the supporters of the doctor are nothing to him. This statement more than anything underlies the futility of everything they are doing, no matter which side they are on. An observation by the young journalist in Vassilis Vassilikos' novel applies equally to Banerjee's film: "There is something shattering about all these people who've somehow got mixed up in this sinister affair."