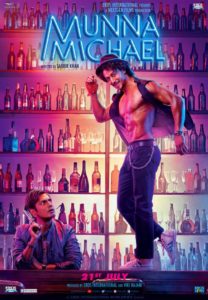 They have been teasing us but now we have our first look of Tiger Shroff in Munna Michael and it is epic!
Munna Michael is a first of its kind in Bollywood being both a dance and action film, director Sabbir Khan has said, "We're keeping all the quintessential elements of Hindi cinema -heroism, music, dance and action -intact while trying to raise the bar".
Tiger's dancing is incredible and he will be seen imitating some of Michael Jackson's most iconic dance moves, including the `toe-stand', `crotch grab', `moonwalk', `feet shuffle', `MJ spin', `anti-gravity lean', `sideslide', 'robot' and `jacket throwback'.
Says producer Viki Rajani, "As we all know Tiger is one of the best dancers in Bollywood and this movie will distance him for the others. He moves like magic and in Munna Michael people are going to see some unbelievable moves from him. With this movie we are looking to leave a benchmark for dancing in Bollywood".
Check it out!
Besides Tiger's amazing moves we also have to mention Nawazuddin Siddiqui who is taking on a brand new very quirky avatar and dancing? too! Talking about what drew him to Munna Michael says Nawazuddin, "I'm tired of the intensity. Bus ho gaya maar-dhaad aur khoon. There's a lot of romance, apart from the dancing, in this film. Sabbir makes commercial films but he's focused on detailing, doesn't overdo things on the set and wants the film to look realistic."
Munna Michael starring Tiger Shroff and Nawazuddin Siddiqui, introducing Nidhhi Agerwal will release on July 7, 2017.