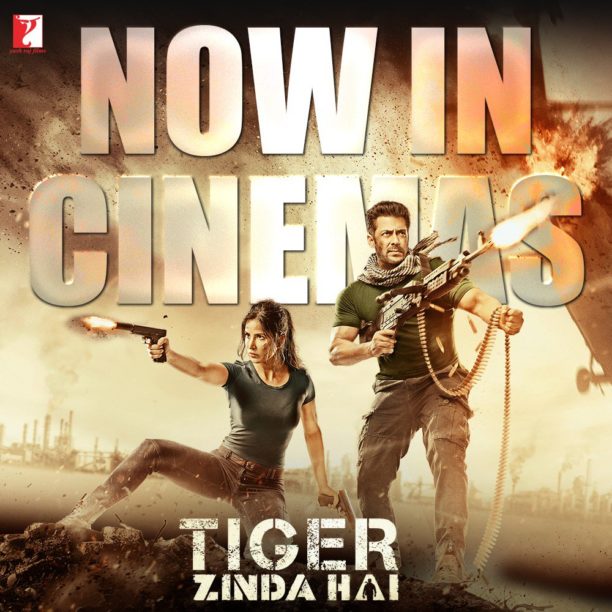 Records tumble as Salman Khan's mega action blockbuster creates history again on Day 4, records Biggest Ever collection by a Hindi film during a 4-day extended Holiday weekend and increased the boxoffice even more on day 5!
YRF's Tiger Zinda Hai is on a rampage at the box office. The pure adrenaline, high-octane entertainer is decimating records at will and is creating history every single day! On Christmas Day, the film earned an incredible 36.54 crore nett in India to record the Biggest Ever 4-day extended Holiday weekend of 151.47 crore nett by a Bollywood film.
By doing so, Tiger Zinda Hai has smashed 4 huge box office records in the first four days of its release. The first one came on Day One, it tore apart the Biggest Ever Non Holiday collection record by a Bollywood film as it took out the previous record held by Dhoom 3 (also a YRF film). On Day 3, it set two big records. First, it recorded the Biggest Ever single day collection by a Bollywood film as it collected 45.53 crore net. Second, it also breezed past the previous record of the Highest Ever 3-day weekend collection held by Sultan (again a YRF film), as it amassed 114.93 crore nett in India in just 3 days! Now in day 5, the film has hit 173.07 crore.
The film is also a hit overseas and collected $8.55 million (₹54.79 crore) in its extended opening weekend through Monday, 25 Dec 2017.
Not only is the movie a blockbuster but the music by Vishal Shekhar has been a huge hit, in fact the songs of Tiger Zinda Zai just hit 100 MILLION+ STREAMS across music streaming platforms.
Directed by Ali Abbas Zafar, Tiger Zinda Hai also stars Katrina Kaif in the lead role as she reprises the role of Zoya, a super-spy.