Tip Top proudly presents a slate of our film releases in the UK over a 12-day period:
28th September 2012:
Umesh Shukla's OMG – Oh My God! (in association with Viacom 18), starring Akshay Kumar, Mithun Chakraborty, Paresh Rawal, Sonakshi Sinha and Prabhu Deva
Vikram Dhillon's Pinky Moge Wali (Punjabi), starring Gavie Chahal, Neeru Bajwa, Geeta Zaildar and KS Makhan
5th October 2012:
Sanjay Khanduri's Kismet Love Paisa Dil, starring Vivek Oberoi, Mallika Sherawat and Neha Dhupia
12th October 2012:
Sachin Kundalkar's Aiyyaa (in association with Viacom 18), starring Rani Mukherjee and Prithviraj Sukumaran
First to release from the Tip Top slate, on 28th September 2012, are OMG – Oh My God! and Pinky Moge Wali. Please see films details as follows: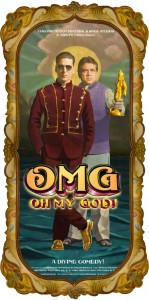 OMG – Oh My God!
Director: Umesh Shukla
Star Cast: Akshay Kumar, Sonakshi Sinha, Mithun Chakraborty, Paresh Rawal, Prabhu Deva
Synopsis:
Kanji Mehta (Paresh Rawal) is an atheist who runs an antique shop. For him, God and religion are nothing more than a business proposition. He buys religious idols and sells them off as 'antiques' for double, triple and even ten times the original price.
Then one fine day, the tremor of an earthquake shakes the city but causes the destruction of only one shop – Kanji's. As they say, man proposes, God disposes, or in this case, insurance company disposes as it rejects his claim, citing the earthquake an 'Act of God'. Frustrated and left with no option, Kanji decides to file a case against God on the premise that if God is responsible for his loss, then it is God's responsibility to compensate him for his losses. What follows is a journey of epic proportions, self-realisation, legal masterstrokes and borderline insanity.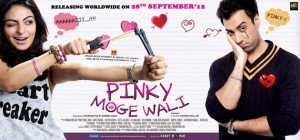 Pinky Moge Wali
Director: Vikram Dhillon
Star Cast: Gavie Chahal, Neeru Bajwa, Geeta Zaildar, KS Makhan, B.N. Sharma, Avtar Gill
Synopsis:
Pinki Moge Wali revolves around the life of a fun loving girl called Pinki. She belongs to a rich family, however her mother passed away years before and she has been brought up by her father, who lacks in love and affection for his daughter. In order to gain his attention, she hatches a plan whereby she is kidnapped. Through this, Raj, a boy from a poor family, comes into her life. During the kidnapping plot, the two of them fall in love with each other, adding a further twist to the plot. As a result, not only does Pinki need to win over her father's approval, but also the approval of her blossoming relationship with Raj.
Aiyyaa
Director: Sachin Kundalkar
Star Cast: Rani Mukerji, Prithviraj
Synopsis:
The story is about a Marathi girl Meenakshi Deshpande (Rani Mukerji) falling in love with a Tamil artist Surya (Prithviraj). It is a quirky and funny love story with the backdrop of a Marathi-Tamil cultural clash.[1] The lead female protagonist woos the stranger she desires as he smells good.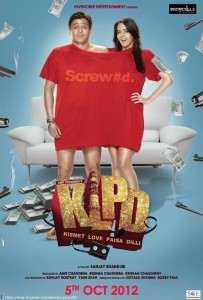 Kismet Love Paisa Dilli
Director: Sanjay Khanduri
Star Cast: Vivek Oberoi, Mallika Sherawat
Synopsis:
Set in Delhi, 'Kismet Love Paisa Dilli' is a one night madcap story of Lokesh and Lovina. Lokesh is a college going middle class guy and Lovina is the girl next door , who miss their last metro back home and a series of on the edge moments occur through the night where Lokesh and Lovina run across Delhi on this roller coaster of a night from cold streets to glitzy farm house parties… all… to gradually fall in love.