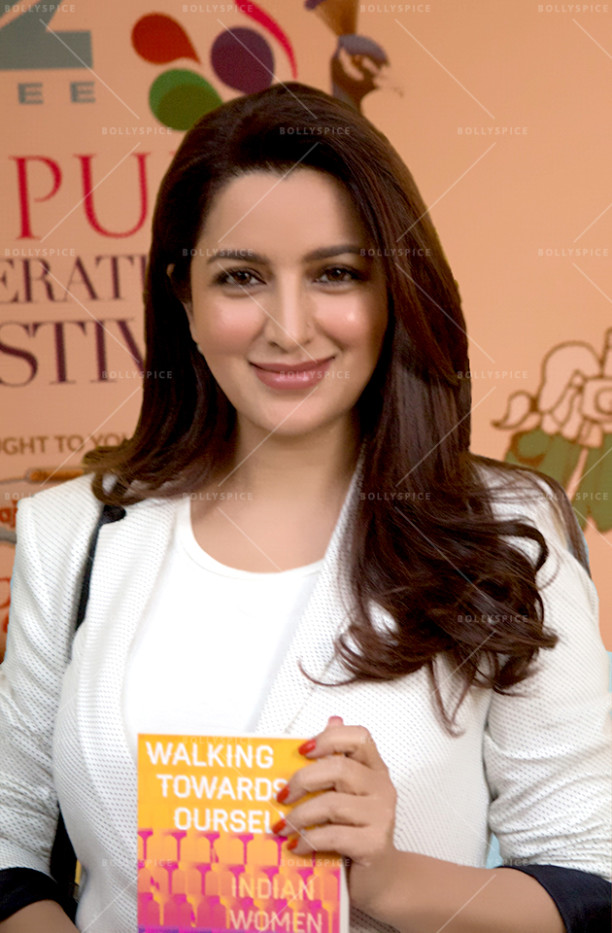 The year has begun on a winning note for Tisca Chopra! After wowing Bollywood and bagging a much-coveted award for her powerful performance in Rahasya, the actress is now set to make her mark as a writer. The actress recently attended the prestigious Jaipur Literature Festival as a Guest of Honour to launch a book she has written one story in,  Walking Towards Ourselves on 23 January, 2016.
The book – an anthology of stories by 12 prolific Indian women writers – is Tisca's second book after 'Acting Smart'. Thrilled with the book being launched at the Lit-Fest, Tisca shares, the book started out as something small, but then snowballed into something bigger. "It's an exciting time, now that the first copies of the book are out in the world. I've been getting enthused feedback already, from those who purchased the initial copies at the Jaipur Lit Fest," says Tisca.
The book which is earning high praise for its vibrant approach to Indian women is equally being celebrated for its modern take and a strong connect with readers across ages. Talking about the book, which besides India, is also being published in the UK & Australia, the actress reveals that these were stories waiting to be told. "While women in India are getting raped and not just physically, and this is the truth the world sees, there is another world of brave, undaunted and even audacious women right here that the world also needs to hear about. 'Walking Towards Ourselves' is that special book, which has caught the rise of India women mid-stride. While there are stories in the book, of things yet to change, there is much that shows the pluck of India women. It is a collection that demands TO BE READ!" says Tisca.
As for her story, 'Cast Away', a humorous and witty take on Bollywood written in a rather sassy, tongue-and-cheek style, Tisca says, "Cast Away is about an outsider negotiating her way around Bollywood – a humorous take on Bollywood from an actress's point of view."
She has her hands full with her second book, several films including the soon-to-release Ghayal Once Again and Loveshhuda as well as the many offers coming her way, and Tisca says she wouldn't have wanted it any other way. "It's all part of the creative process – writing, acting, working with one's imagination is involved either way. And juggling between all of it is something I am enjoying," she smiles.
Adding further, she says,"I look forward to driving stories that need telling. So maybe producing is something I want to do next."