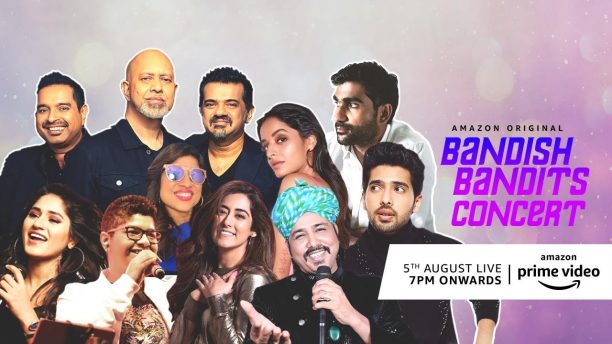 An exciting virtual music concert of the Amazon Original Series, Bandish Bandits has been announced to celebrate the release of the musical drama. Directed by Anand Tiwari, Bandish Bandits follows the story of Radhe and Tamanna. Radhe is a singing prodigy determined to follow in the classical footsteps of his grandfather. Tamanna is a rising pop sensation desperate to become India's first international popstar. Radhe's world is turned upside down when he falls in love with Tamanna. Torn between helping her achieve superstardom and staying true to his own music and his family's legacy, will he succeed in juggling both at the risk of losing everything he has?
The concert will be headlined by composers Shankar-Ehsaan-Loy and will feature acts by some of the most popular names from the Indian music industry such as Armaan Malik, Jonita Gandhi, Prateek Kuhad, Shivam Mahadevan, Mame Khan and Pratibha Singh Baghel. Presented as a special offering a day prior to this year's Prime Day event, the virtual musical extravaganza is open for all and will stream live on August 5 on Amazon Prime Video's official Facebook and YouTube page. A melange of classical and pop music, the concert will feature songs from Bandish Bandits' much loved soundtrack along with other hits by Prateek Kuhad and Shankar-Ehsaan-Loy.
"We have received an overwhelming response to the soundtrack of Bandish Bandits", said Shankar-Ehsaan-Loy, "The album is a seamless amalgamation of classical and pop music and features some of the most extraordinary melodies from Indian classical music alongside some really peppy tracks. We are ecstatic with the reaction the soundtrack has received and are thrilled we get to perform some of the best tracks from the soundtrack at the Bandish Bandits concert."
Singer Armaan Malik said, "It is always exciting to perform live for my fans online and I am really looking forward to being a part of the Bandish Bandits concert alongside Jonita and Shankar-Ehsaan-Loy!"
"We're thrilled with the response to the Bandish Bandits soundtrack. It is a really special album, and an equally special show", said Aparna Purohit, Head of India Originals, Amazon Prime Video, "It is our first musical and Shankar-Ehsaan-Loy have done complete justice to the story of Bandish Bandits with their soulful soundtrack. We are excited about the Bandish Bandits concert and can't wait for our customers to immerse themselves in the colorful and melodious world of this series."
We loved the series and especially the music but more on that later! Be sure to check out the concert and the 10 episode series!